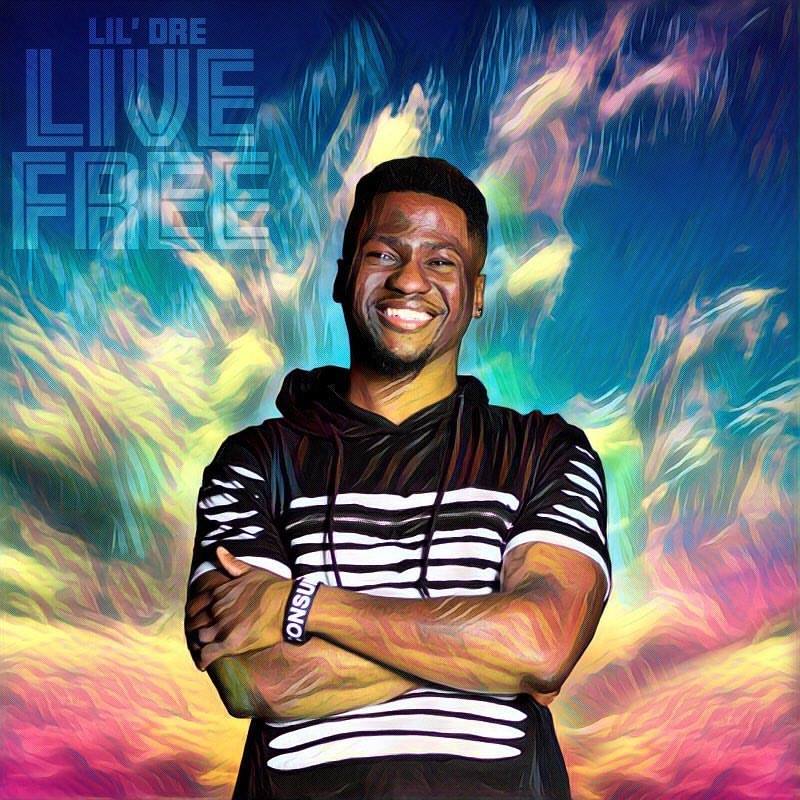 For over a decade now, Lil' Dre has been making some of the most consistent, on-point, spirit-filled, smooth hip-hop music around. From his unreleased projects, all the way to his 2015 masterwork Homework, Dre has proven to be one of the most underrated rappers in the hip-hop world. Though he has opened for guys like Flame and Lecrae here and there, partnered with Dre Murray a few times, and worked hard to make a name for himself in the south, Dre has bafflingly never gotten the attention his level of skill and precision deserves.
With his latest album Dre finds himself facing a whole new chapter in his career… retirement. Billed as potentially his last public release, Dre swings for the fences with Live Free and knocks it out of the park more than a few times in the process. Just as the opening track proclaims, "If it's my last go-round, gotta make it count…" So, if this album is, in fact, Dre's swan song, it is a fittingly powerful album to end on.
What makes Live Free stand out are the very things Dre has shown remarkable consistency in over the past decade. Dre writes deeply intelligent lyrics that lean heavily into witty similes and metaphors, balances sharp rhymes with smooth crooning, and a incorporates a passion for Scripture so deep Shai Linne would have no choice but to approve.
Live Free clocks in at about 55 minutes of musical goodness. Each track builds on the last to form a very cohesive experience, yet also takes the album comfortably in it's own unique direction. While there are a few moments here and there that don't shine as much as others – for example, Dre's vocals were fairly muted into the background on the final track in my review copy – most every track fits well with the surrounding songs while also standing on their own to avoid getting skipped in a playlist.
This is most certainly due to the fact that Dre continues to play to his strengths. While his raps are sharper than ever, he's not trying to imitate the spitfire speed of Canon, nor the aggressive style of NF. Similarly, while Dre weaves in a buttery smooth sound, he's not aping Social Club Misfits, either. Fans of Trip Lee will see some similarities here and there, yet, Live Free leaves a distinct mark that is none of the above, and yet familiar to each.
Adding to his signature blend, Dre has invited along a bevy of guests that add their own unique flair and variety to the experience. Garis Diffee on "We Win" adds an island sounding flavor, Big T brings a more aggressive style (with a deep palate akin to This'l), Denver Duncan brings a falsetto style, Tavian Anthony brings a more varied sound to the plate, and Dillon Chase kills it when it is his turn. Each guest brings just the right level of variety at just the right time.
Still, the greater strength of this album is the lyrical depth. Dre has always dynamically incorporated Scripture, life lessons, personal transparency, and theological themes with each track. Ten years in, this album exemplifies the writing of a follower of Christ who has been refined in powerful ways through both God's Word and life's trials.
Album Breakdown:
"Beginning of the End" examines Dre's pending hanging up of the gloves, while also digging into Christ's frightening parable of the unprepared virgins. "Boss," one of the highlight tracks on the album, examines our tendency to crown ourselves as king juxtaposed to Christ's powerful reign. Here Dre proclaims with a wink:
"Young boys wanna be Al Capone. Climb to the top like staircase. Say hello to my little friend. Gotta go out banging like Scarface. Gangster life we idolize. I'll tell you why before you interrupt. Cause some feel like the President, government, policemen all corrupt. So if the good guys do bad things too, then the bad guys can't be all bad dudes. Sounds good, but let's think this through, not an occupation, but a sin issue…"
"High Mileage" walks through a bit of Dre's life story while giving a nod to the desire to endure to the end. "Trill Talk" examines James 1:22 and living authentic in what we believe and speak. "Live Free," the title track, proclaims freedom in Christ while battling the chains of sin. The central lyric "rely on the blood like a vein, worthy of the Lamb Who was slain," is catchy and powerful.
My favorite track on the experience "Scottie Pippen" examines the culture of our world and condition of our hearts that makes us battle to be (and put our focus squarely on) number one. A treatise on humility, the track's central thematic hook is that everyone wants to be Jordan, but the world needs more Scottie Pippens… and in fact, Jordan couldn't' have been what he was without his buddy.
Perhaps I am most drawn to this track because it is, in some ways, the fulfillment of and in other ways the antithesis to one of my favorite rap songs of all time. For about a decade, my guilty pleasure was "Hit 'Em High" from the Space Jam soundtrack. There was just something about LL, Busta Rhymes, Cypress Hill, and crew all coming together to sing about Jordan and Bugs Bunny, while flexing their bravado all over the place. "Scottie Pippen" is the truth-filled counter-argument as Dre and a few pals examine the reality that building our own kingdom only ends in dust, as we are called instead to be like the servant King. Dre's piece on this track sums it up powerfully.
"We want the hoop thrown to us, because don't nobody care who's lobbin'. I remember having Batman toys, because don't nobody want to be Robin… They want to be the greatest, number one. But we all one in the Son. They wanna be the man, but something missing. Too many Michael Jordans, but no Scottie Pippens… "
"G.O.A.T." proves to be another stand-out track. Here, Dre and Big T proclaim that hope is found only in Christ;  the Greatest Of All-Time. Again, powerful lyrics steal the show as they boldly say, "you can keep the Pope, I need the G.O.A.T., Greatest of All-Time, Christ the only hope." "We Win" examines the truth that victory is already ours in Christ while creatively riffing Charlie Sheen.
"Take Heart" brings encouragement through key moments in Dre's family history, bringing a more intimate feel and setting the stage for "My Pleasure;" which is a spiritual follow up to 2015's incredibly powerful "Dissertation" from Homework, and which shows how Dre and his wife have worked through struggles to have an even more loving marriage in Christ. This intimate feel continues through "I Believe," in which Dre examines some scary moments with his kids' health and how that caused his faith to be both shaken and renewed. Leaning into one of my favorite verses ("I believe, help my unbelief"), this track is both intimate, honest, and encouraging and concludes a beautiful arc in this part of the album that resurfaces the themes explored in Homework while also bringing them to a powerful conclusion.
Another stand-out track can be found in "P.O.V." Here Dre and Denver Duncan examine the all-too-timely and ever present issue of how we speak to each other critically and of each other divisively whether in person or on social media. "My mouth can be a pistol. My tongue can be a sword… sometimes I stick my foot in my mouth, you can't take it back homie once it comes out. Though I really didn't mean what I said… it's like two in the chest and then one to the head." "P.O.V." tackles some of the big hot-button issues of our time and gives a Christ-centered answer to how each of us should behave in light of the world we live in.
"Freeway" continues the theme of living free by encouraging the listener to flee the enslavement of sin and find freedom in Christ. Just as "Scottie Pippen" was the antithesis of "Hit 'Em High," "Freeway" is the antithesis of the self-idolizing and entirely idolatrous anthem "I Did It My Way" as it proudly and wisely proclaims, "It's not my way, but is Yahweh."
As Dre has done in the past, the album closes with a worship track. "Doxology" should be familiar to many Christ-focused fans. If you don't recognize the title (or understand its meaning), you're likely to know the chorus, "Praise God from whom all blessing flow. Praise Him all creatures here below…" As mentioned before, unfortunately Dre's worthy addition to the track was very muted on my review copy, but overall, I continue to applaud Dre for his heart in making every last moment all about Christ and closing his albums with a pure heart of worship.
Overall: Lil' Dre brings what may just be his final album to the world with Live Free. With a plethora of guest spots and Dre sharper than ever, the album is more than a worthy final bow. Tracks like "Scottie Pippen," "G.O.A.T." "My Pleasure," and "P.O.V." provide the album with more than its fair share of hits and memorable moments, yet it is the deeply engaging, deeply personal, and intimately theological lyrics that set Dre apart from the pack.
If this is, in fact, Dre's last album, the hip hop world has just experienced a great loss… but Lil' Dre did in fact "end on a high note." Live Free is one of the truly must-listen albums of 2017 so far.