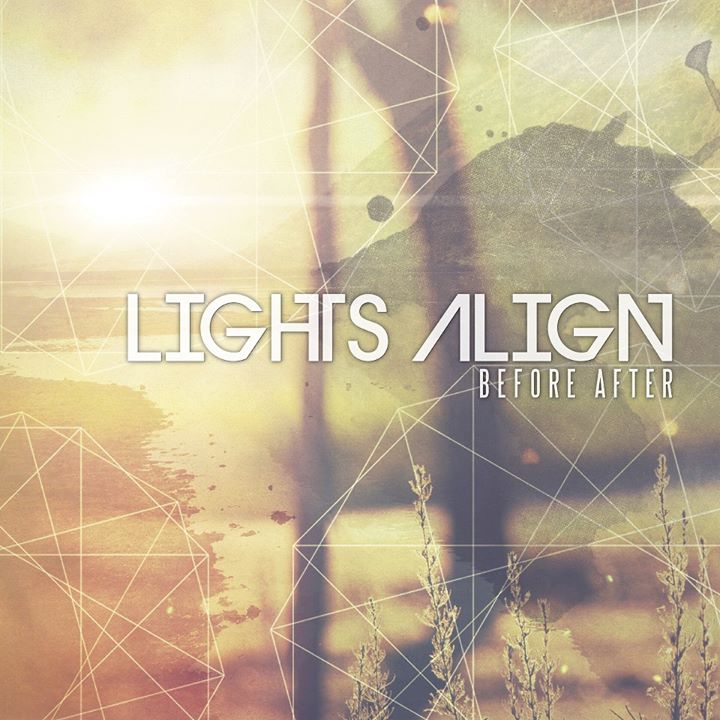 Artist: Lights Align
Title: Before After
Label: independent
Release Date: 5/14/13
Reviewer: Jonathan Andre
Tracklisting:
Without You
Helpless
Your Name
Brightest Day
Holy
Collision
Mercies
Wandering Heart
From Your Truth
You Lifted Me
Holy Spirit
Birthed out of the Visible Music College in Memphis, Tennessee, Lights Align are an independent worship band destined to be popular amongst the younger generation of worshippers and music enthusiasts as the band incorporates electronics, power ballads, anthems and infectious guitar hooks to deliver some hard-hitting songs on their debut album Before After. Started by Ken Steorts, founding member of Grammy award nominated band Skillet; Visible Music College's mission statement is to '…train and equip musicians, technicians, and business professionals in skill and character for effective service in the music industry and in the Church…' Providing opportunities to further their tertiary education through part-time or full time degrees, Lights Align consist entirely of members of the college's campus, reminding us that it is never too young to bring to the fore the things that God longs for us to accomplish for ourselves and for Him. Releasing their debut album in May of 2013, this is a band that's certain to go far in the independent and major label industry (if they do sign to a major label), with parallels musically between the band and other contemporaries, from The Digital Age, Crowder and The Ember Days, to Gungor and Owl City. Fans of these types of music will almost certain latch onto Lights Align, with myself also being impressed by this indie band since I first heard of them less than a week ago. With electronics being the central musical element across all songs as a beat and backbone to develop a worship-dance atmosphere, we are given melodies of hope and adoration as Lights Align develop a culture who's not ashamed to stand up for Christ as depicted by these powerful and compelling songs. From the eerily refreshing and poignant 'Mercies' to the light keyboard prominent and harmonious 'You Lifted Me' and the dance orientated 'Your Name'; each of these songs uplift and motivate, and are a joy to listen to regardless of your preference of music genre.
The first radio single from the album, 'Your Name' presents to us a song full of electronics and an 'oohhh' moment that channels a bit of Rend Collective Experiment. With Lights Align delivering some of their strongest moments of the album on 'Your Name', we are reminded that every corner of creation is declaring the name of Christ, and that '…You are joy despite the pain, in the darkest days, you are the summer rain that comes down softly, all around, you bring life from this broken ground…' That's more than enough for anyone to declare the name of Jesus, and with lead singer Kyle Pruzina sounding vocally like Relient K frontman Matt Thiessen and Owl City; that's definitely another reason to check out Lights Align's debut album, especially all the songs Kyle leads on Before After. Possessing a strong drum kick and light electric guitars, the electronic keyboards and other unique sounds are in the foreground of just about every song, with the lead single being a taste and a pre-cursor to how the music would sound like throughout the rest of these 12 tracks. As we are encouraged to declare along with Kyle the name of Christ; we are invited to take on a musical journey with some of the most unique and different indie artists of the year so far.
Also leading the songs 'Brightest Day', 'Mercies' and 'Wandering Heart'; Kyle reminds listeners of God's goodness through these energetic, upbeat, and lyrically simple yet equally profound and possibly life-changing songs for some people as the theme of looking forward to a brighter day and being thankful for God's grace and mercies showered over us the theme of these three melodies. Starting off with an electronic organ sound to set the musical scene, 'Brightest Day' unveils a confession of sorts, as we witness a moment where Kyle declares that he has tried other things without Christ, and that now, '…God, my God, You're the only one that brings my heart to the place where it always longs to be, I'm pure in Your eyes though my hands are far from clean…' Reminding us that we humans will still be sinful (no matter how hard we try to be perfect) til judgement day and Jesus comes to take us all home; we are given hope and anticipation, expectation and assurance that all will be made right, and the striving we feel will be replaced with reverence and joy. With music that Capital Kings will be pleased with, 'Brightest Day' is perhaps one of the most musically experimenting songs on the album. 'Mercies' also remind us of God's great favour upon us through the big drum beat emphasis and Kyle's distinctly lower vocal range on this song as we are given a somewhat subdued song to reflect upon; and while the rap can somewhat feel a little out of place, it does change up the song a bit and offers something for those who love rap and hip-hop. 'Wandering Heart', the last song that Kyle leads, starts off with an interesting keyboard and acoustic guitar riff that brings to the fore a moment of thankfulness and prayer as we understand that God leads our wandering hearts, knowing what is best for us even if we think we know better. Reminding myself of Psalm 139, the reflective nature of the melody and great backing vocals and harmonies by Nicki Sarra and Brooke Pals gives the song a tranquil nature, giving listeners opportunities to bask in the song and relax from the busyness of life and come find solace in Christ. Well done Lights Align and Kyle especially for these four songs of redeeming love and hope.
'Collision' is a uniquely different song compared to anything else on the album. Featuring a keyboard and violin to create an emotional moment of worship and devotion; Brooke Pals places on her Kari Jobe hat to give us nearly 4 minutes of quiet reflection full of moments of surrender and devotion to the God of yesterday, today and eternity. As we are given a vivid picture of God speaking and a collision happening within our hearts as we wrestle and struggle with the notion of whether to follow God's voice or to just ignore and succumb to what we currently know; Brooke offers up comfort in the words '…we fall to our knees, creation cries glory and the heavens shake…' as we understand that the all-knowing all-powerful God who shakes the heavens is intimate enough to send His Son for our ransom, showing us the unending love He has for us both now and forevermore. One of the most humble and lyrically poignant on Before After; 'Collision' is one of many songs led by Brooke. The song simply titled 'Holy' delivers to us a repeated refrain for most of the entire song, simply through the words of giving praise to the Lord in the form of '…holy, holy, holy, is the Lord God almighty…' While listeners can sometimes be frustrated with such repetition; the song does remind me of similar repetition on Hillsong UNITED's 'Oceans (Where Feet May Fail)' and the repetitious bridge that often rouses and stirs up congregations with its insightful and powerful lyrics and music. Similarly, 'Holy' from Lights Align does a similar thing to myself, and while it may be the most unoriginal lyrically in the entire album, it does demonstrate that sometimes songs with an absence of sophisticated words and phrases can often be the most honest, challenging and comforting.
'Helpless' is a fun song that presents to us the electronic keyboard and the driving electric guitar as the main instruments in delivering a moment of offering trust to God and knowing that it is in His time that situations as helpless as ours can be turned around to reflect Himself and be used to shape our own lives and destiny in Him; while 'You Lifted Me' is a duet between Brooke and Kyle with light acoustics and powerful harmonies to deliver a song about how Christ has lifted us from darkness and carried us into '…Your glory, I am finally free, here in Your presence is where I want to be…' Lights Align also delve into issues of wishing we were there with Christ all those years ago witnessing Him perform miracles and such so that we can believe in His truth and promise much more easily than we can currently ('From Your Truth'), while it is the album ender, 'Holy Spirit' (no not the 'Holy Spirit' from Bryan and Katie Torwalt) that truly sums up the entire album and delivers some great worship moments to end the 11 tracks. Starting off the song declaring that God is our comforter, Brooke once again sounds similar to Kari Jobe in a song that has most instrumental moments on the album. With such a simple yet equally profound and eye-opening, the Holy Spirit is called our comforter, helper, counsellor and promise before the instruments start to rise up and declare their own worship song, with the guitars, percussion and electronic keyboards rising up to offer free worship and paving the way for listeners to continually bask in God's glory. Sometimes songs without words offer us to just reflect upon God's goodness, and that is exactly what happens at the end of 'Holy Spirit' as Brooke declares the words '…lead us into You…' A good and emotional end to an album that has taken me by surprise, 'Holy Spirit' is perhaps one of my favourite reflective songs on the album. Well done Brooke, Kyle and the rest of Lights Align for delivering such biblically sound songs that reflect God's glory!
Overall: Formed through the fact that each of these band members attend Visible Music College, Lights Aligns have delivered a musically genius album full of electronics that will certainly bring in listeners of the electronic-worship genre. Though unsigned, Before After is sure to place them on the map in the genre of electronic/experimental worship, with the album being a must purchase if you enjoy artists like Rend Collective Experiment, David Crowder Band, Owl City or The Digital Age. A great balance between the songs led by male and female; we are met with a great collection of songs with a variety of different styles, from reflective to upbeat and dance-pop. From first single 'Your Name' to other standouts like 'Collision' and 'Holy Spirit'; Lights Align have a bright future after releasing their album. Well done guys for such a thoughtful and enjoyable collection of emotional and uplifting songs of praise and devotion!
RIYL: Owl City, The Digital Age, An Epic No Less, David Crowder*Band, Rend Collective Experiment
Buy the Album: iTunes/Amazon mp3