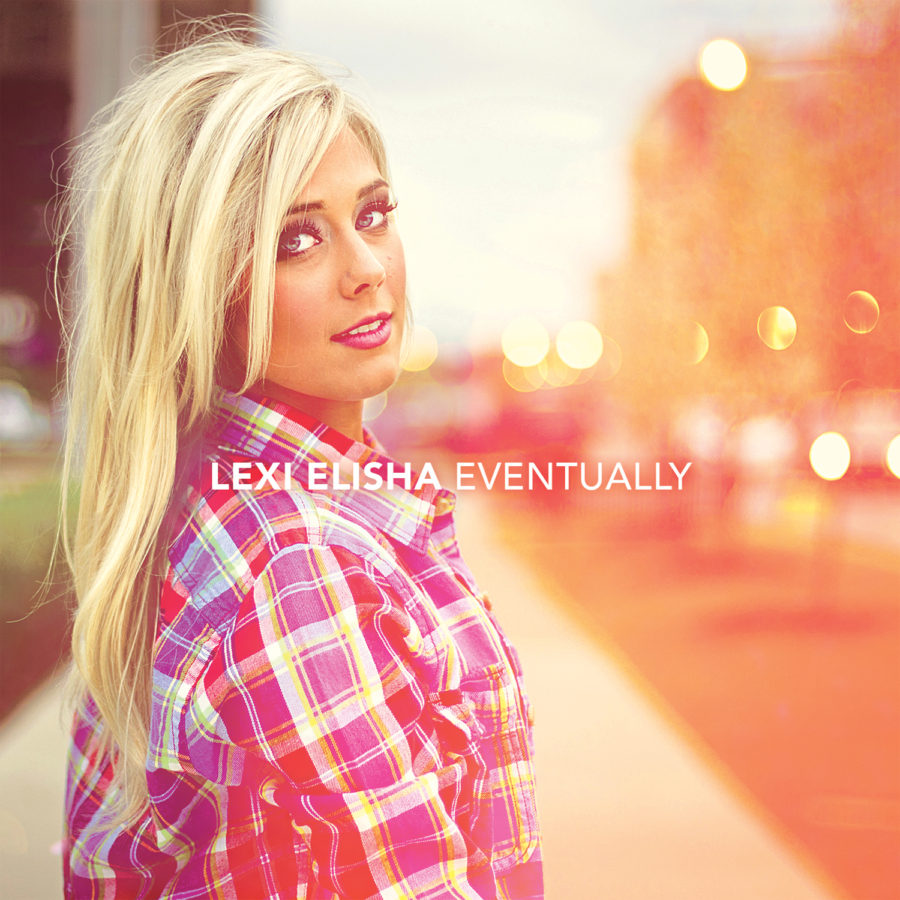 Artist: Lexi Elisha
Title: Eventually EP
Label: independent
Release Date: 8/27/13
Reviewer: Jonathan Andre
Tracklisting:
I Choose Love
Eventually
This Heart
Stay
Safest Place
County Line (feat. Heath McNeese)
'…Eventually is an honest record, a really honest record. It exposes me like nothing else could. Myself along with my incredible co-writer took my last two years and put it into six songs. If there's anything to be taken away from this record, I want it to be the beauty in not being perfect because there's a God that loves us so much that He gave us unending grace. Because of the grace, we get to tell the world our story and make Him known doing it. We are loved; we are wanted…' Independent artist Lexi Elisha, set to release her second EP Eventually at the end of August, sprung into CCM during 2011 with her powerful November album release Let Go, featuring her hit single 'Without You'. With the music video of 'Without You' premiering June 2012 on NewReleaseTuesday (as well as her recent music video for her radio single 'I Choose Love' also debuting on the same site); we are given a glimpse into this Indiana native as she writes songs that serve both musical genres- songs about God, faith and Christianity, as well as other melodies about love, loss, relationships, hurt and how to deal with life in general. While not necessarily the most popular or publicised artist, her exposure on NRT (one of the premier and pioneering websites relating to Christian Music) will sure to gain and increase interest by listeners and they check out her music. Releasing a 6 song EP with a combination of honest melodies to God as well as singing about relationships and other relatable life topics, fans of pop-dance artists like Britt Nicole, ZoeGirl and Mandisa will certainly enjoy Lexi's music, as we are reminded through these heartfelt songs about the crucial necessity for us to pursue, treasure and protect the relationships with have with God and with others around us. From the first radio single 'I Choose Love' to the last song 'County Line', a duet with fellow Christian indie artist Heath McNeese; Lexi's second EP effort is sure to place her on the map of Christian indie artists, with a hopeful full-length album on her radar in the not too distant future (possibly next year or the year after).
The title track from the album, 'I Choose Love' is a daily reminder to continuously choose it every day of our lives, not just because it's the 'right' thing to do, but rather, God compels us to share and showcase His love for us to people we meet, and therefore the only way we can do that is if we choose to love (both God and others) right from the start. With a pop dance melodic atmosphere similar to something Britt Nicole would do, the electronic beats and the dance vibe form the skeleton of a song that's great to dance along to, but also providing us with a hard-hitting message of continuously making love in all its facets a priority in our lives. As Lexi opens her heart in a recent interview on IndieVisionMusic, we are all reminded that '…Love doesn't just happen; it's a choice and a commitment…[I am] continually exposed to my own selfishness in my relationships. I don't always feel love. Sometimes I get frustrated or upset. I frequently find it difficult to know how to love my neighbor as myself. It's easy to love on my best days. But when the rubber meets the road, love is what I am commanded.  I am to love like Christ loved…' A sobering reminder to actively pursue love even when it hurts, is uncomfortable, or even downright unsettling in some circumstances; we are all called to be vessels of Christ's love to others. Lexi's upbeat musical backdrop coupled with a message everyone needs to hear is something that places this pop 3 minute melody at the top of my list in terms of favourite songs from Eventually. Accompanying this song with a music video of her singing around various locations in Chicago, as well as her home church; Lexi's infectious enthusiasm is a great asset and highlight of both the song and video. Well done Lexi for such an enjoyable first track!
'Safest Place' and 'Stay' both remind myself of the theme of closeness and the need for constant security and love, and whilst in 'Stay' Lexi sings about a relationship and in 'Safest Place', she directs her words towards God; these songs aren't too different and are certainly two of my favourite songs on the album (alongside 'I Choose Love'). Starting off the song 'Safest Place' with a light electric guitar introduction, we are met with a humble moment of vulnerability with Lexi declaring that in some circumstances '…I tell myself that it gets better but I can't forget my past, spent a lifetime on the road of compromise, too scared to walk the narrow path…', something that I'm sure each one of us can relate towards in our lives. There are certain instances where we may think issues aren't working out like we hoped them to be, or our past may catch up to us or even try to define us. As Lexi reminds us through this poignant melody that the safest place to be in those circumstances is in the arms of Jesus, we are called to re-evaluate our own lives to see if we Jesus is our first choice or our last resort when it comes to solutions for our daily problems. A song that feels like a great pop-inspirational track fit for radio (in fact, 'Safest Place' should be considered as single No. 2 after 'I Choose Love'); 'Safest Place' is the Christian counterpart to 'Stay', another melody pondering on a failed relationship and longing for the other individual to stay with her and '…don't leave me all alone picking up the pieces…' While 'Stay' can seem somewhat bleak, we know as Christians that God stays with us always, and is always present if we ever need someone with us to let us know who we are (rather than let relationships, circumstances, the past or even ourselves define who we are in the process). While the lyrics can also be read in the light of us asking God to stay with us (there can and probably will be times where we have a Job-like moment, when all that we have left to hold onto is God); 'Stay' invokes a feeling of constant need and want, something that Christ continuously gives each day. The light electric guitars and Lexi's powerful voice dominate a track that can certainly thrive in the mainstream market. Some of the two best tracks that showcase the best of Lexi vocally, both 'Stay' and 'Safest Place' remind us that it is God who we can lead on whenever these circumstances arise in our lives (and they do). Well done Lexi for such honest, poignant and emotional melodies that remind us that '…there's nothing for me without you, where was I before I knew you?…' ('Stay').
With 'Eventually', 'This Heart' and 'County Line' (featuring the vocals of indie artist Heath McNeese) all songs shown from the point of view of an earthly relationship and its struggles, it can be easily as believers of Jesus to write these songs off even before hearing them (because who'd want to listen to relationship songs when we can worship and listen to songs about Jesus?). But rather than shy away from these melodies, each of these three songs still has something good to say and reminds us that even earthly relationships need Christ at the centre if they want to succeed. 'County Line' is an acoustic track that portrays the persona offering a prayer to another, longing for them to come home, reminding myself of the parable of the prodigal son; while the title track 'Eventually' '…means eventually a man will realize I'm the one, or not, and I may have to walk away from the one I Iove…' A song that'll be a hit amongst listeners of mainstream music, the song still places some meaningful messages within the 3 and a half minutes, and is essentially a cry out to a significant other to love and accept them for everything they are. But it is the poignant and somewhat upbeat 'This Heart' that I'm sure will be a hit song in weeks and months to come. 'This Heart' is about the remnants of what happens after a failed relationship, with Lexi lamenting her choices she made and making a firm statement in the chorus that '…this heart, does what it wants and nothing else…' A bold statement about how the heart 'wants what it wants' regardless of whether that particular relationship ends badly or not; we are reminded through this melody that sometimes the heart can betray us and be sinful, or we can choose decisions based on impulse more than anything else. With this song reminding myself of the Bible verse that lets us know that we ought to guard our hearts and shield them away from making decisions (because they can be deceived) but rather we should lead our hearts in the ways of the Lord; 'This Heart' is a good reminder that our own hearts need constant checking to see if we ourselves are basing our decisions on Christ (who doesn't change) or on our feelings (which change all the time).
Overall: Lexi's second EP speaks about both facets of relationships- between God and each other, and remind listeners of the need to keep both these types of relationships healthy, thriving and strong. With a pop music backdrop a la Britt Nicole, Lexi's powerful vocals and beats that form the backbone for each song is what strengthens the album holistically. Releasing on the same day as the much anticipated album All In from Stellar Kart and the 4th studio album Overcomer from Mandisa; Lexi's passion for music shines through in her music, with fans of Britt Nicole, Mandisa or ZOEgirl hopefully enjoying these songs by Lexi. Hopefully releasing a full-length album soon, these six songs showcase some of Lexi's best vocal performances and overarches the theme of how God's love permeates very decision and circumstance in our lives and the love He continuously gives each day is something we must readily accept as we consciously choose love each day of our lives. Blending serious messages with fun-filled pop musical moments, well done Lexi for such a fun and enjoyable EP.
RIYL: Mandisa, Britt Nicole, Kerrie Roberts, ZoeGirl
Buy the Album: iTunes/Amazon mp3