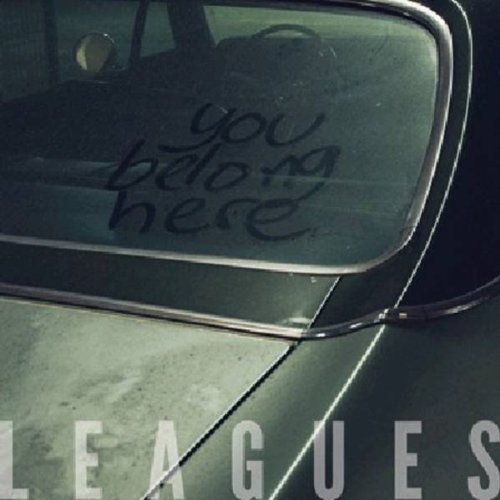 Artist: Leagues (iTunes) (Spotify) (MTV Hive Stream)
Title: You Belong Here
Label: Bufalotone Records
Release Date: 01/29/13
Reviewer: Carter Fraser
Tracklisting:
Spotlight
You Belong Here
Haunted
Walking Backwards
Lost It All
One Hand
Magic
Mind Games
Pass My Way
Friendly Fire
Leagues are one of Nashville's newest offerings to the indie scene. Already racking up a minor celebrity endorsement or two, this three-piece's simple sunshine pop melodies are among the most pleasantly easy-listening tunes to be associated with the Christian market in quite some time. Leagues consider themselves a dance-along-band as much as a sing-along-band, and while it's difficult for this reviewer to imagine anyone completely letting loose to You Belong Here, it's easy to caught up in the summery warmth of exhilarating cuts like "Haunted" and the title track. The infectious lead single "Spotlight" also captures Leagues's romantic naiveté quite well with its brazen, unashamedly poppy chorus.
Leagues utilize a remarkably clean guitar sound, almost to the point of being too polished sometimes. Perhaps this is simply a stylistic thing that disagrees with me personally, but there are times when Leagues seem to scream "huge flourish" and never pursue it. Leagues tend to go subtle on the nuances before going bold, which does provide some worthwhile replay value, but the occasional reckless moment might have done some good. There's a lot of textures going on here that one can notice with close listens, but a little more immediacy might have been nice on such an up-front, playful album. "Magic", from their self-titled EP released last year, brings this to the forefront; there are some verses that just feel a tad empty. The problem (and perhaps the only real problem with You Belong Here) is the lack of energy this issue creates. Leagues are only a three-piece after all, and sometimes it feels like they are only one extra snappy layer of sound—be it another guitar, keyboard, strings, something—from having something exceedingly impressive. It becomes more apparent the longer You Belong Here goes on, but thankfully the album's relatively short length minimizes this concern.
Closer "Friendly Fire" avoids this issue entirely because it's a piano ballad. It shows off Thad Cockrell's effeminate tenor greater than any other song, rivaling the elegance of mellower artists like Sleeping At Last and Anchor & Braille. "Lost It All" is another notable deep track, firmly denoting the halfway point of the album with its venturous, persistent tone. Thematically, Leagues stick to romantic love as their peppiness would suggest. Lines like "everybody's got a heart worth breaking / everybody's got a love that got away" and "every falling out brings us back to love / oh what's the first thing all about / you and me we were made for the mind games" don't suggest much lyrical depth, but You Belong Here doesn't demand anything more really. Leagues are more than content to play pop songs, deftly creating something just too complex to be labeled a guilty pleasure.
Overall: Leagues give this winter some summer flair with You Belong Here. Perhaps they'll strike you as relaxing; perhaps they'll make you want to dance. Either way, they have some undeniably entertaining charm.
RIYL: Deas Vail, Death Cab for Cutie, Copeland, Youth Lagoon, Anchor & Braille