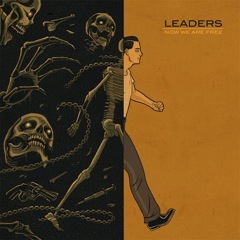 Band: Leaders
Album: Now We Are Free (Buy Here)
Label: Facedown Records
Release: March 27th, 2012
Reviewer: BrodyB
Overture
Conviction
Instance
Deportes
Send-Up
Te Necesitio
Leaders
Real
Alone
La Onda
Fresh starts are things that are often overlooked. For instance, if I get stuck on a Super Mario level that I simply can not beat, I don't want to turn the system off because even in my near frenzy like anger at the game, I still believe I could have a breakthrough and beat it any second now. Speaking from experience, nearly every time I have ever encountered a situation like this, it's best just to walk away and come back with a renewed vigor and a clean slate. While this was a totally random example of the importance of a fresh start, I felt it necessary to show how much of an impact it can have.
Hollister, California's Leaders is a band that has the advantage of a fresh start on their side. With a new place to call home in Facedown Records and a new name (formerly known as ALLORNOTHING), the band is prepared to storm the hardcore scene and make a name for themselves.
"Now We Are Free" begins slowly with a primarily vocal driven intro track to lull the listener into a false sense of security before the relentless thrashy hardcore riffing of Conviction explodes through the speakers. Conviction is the perfect track to first showcase the overall sound Leaders is going to assault the listener with for the remainder of the album. Mainly focusing on thick, beefy riffs and battering drums with a slight glimpse of melody for good measure. The song also features an absolutely phenomenal breakdown at around the 1:45 mark. I am totally a sucker for breakdowns that change the tempo of the whole song. Send- Up is a fast paced, old-school hardcore sounding song, clocking in at less than 2 minutes that will have the room spinning in a massive circle pit during live shows. As a whole, leaders keep the tempo at a blistering hardcore pace through out the whole record with the exception of the slowly sung (In Spanish mind you) song, Te Necesitio. Normally something that killed the tempo so much would annoy me, but I thought it was pretty cool that the band would sing in Spanish. I thought it added a nice touch. Leaders is possibly the showcase of the album. This song has a great balance of in your face, dirty tones and gritty vocals and smooth and clean melody in the instruments. La Onda is a great way to end the album. I loved the light clean vocals in the background behind the rough shouts of lead vocalist Lazarus Rios. I thought they pulled this dynamic off very well, and using it so sparingly throughout the album made the impact of it coming through at the end all the more powerful.
My main qualm with "Now We Are Free" was that the majority of the songs were almost identical in structure, tone, and feel. Now this is certainly not an over all negative thing as the sound they have seems like it would be incredible for a high energy live show and is amazing for working out to, it is not necessarily the best thing if you're just trying to sit and digest a whole record as it is a reviewer's job to do. With this formula, many of the groove-centric hardcore anthems started to blend together a little.
Leaders provides a great blend of old and new hardcore sounds, creating a massive wall of groove, that is sure to have anyone bobbing their heads at the least. "Now We Are Free" is a solid debut album on their new home and is bound to find them a broader audience. I think with a little more variety in song structure and playing around with some tones could be what really allows Leaders to live up to their namesake in the hardcore genre they call home.