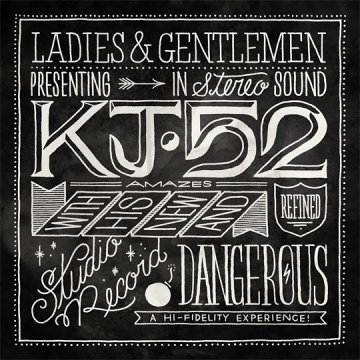 Artist: KJ-52
Title: Dangerous
Label: BEC Recordings
Release date: 04/03/12
Reviewer: Lee Brown
Tracklisting:
It's Going Down (Feat. Canton Jones)
They Like Me (Feat. Lecrae)
Superhero
Dangerous
Facemelt
Shake Em Up (Feat. This'l)
Do the Bill Cosby (Feat. George Moss)
So Far Apart (Feat. Emily of Shine Bright Baby)
Brand New Day
Speed That Light (Feat. Rhema Soul)
That Was My Life (Feat. Dre Murray)
Go


KJ-52 (Pronounced "Five-Two") has been in the rap game for well over a decade, now. It's no wonder then that coming into the new album Dangerous KJ has had plenty of time to establish himself in the eyes of many of his fans and critics alike. If you've been following KJ across his many albums then Dangerous will not come as a surprise to you. The album follows after several established patterns that KJ tends to weave through his releases. He mentions how he sounds like Eminem, he makes fun of himself, and he takes the message of Christ and mixes it in through a few serious and a few out-right silly songs. This is not to say that KJ doesn't take his sound any place new. It's just that the new is hung on the framework of those basic patterns KJ loves going back to.
Over all, Dangerous is a solid album. Unlike 2007's The Yearbook, which ventured one too many times into what could only be described as a pity party over VH1's attack on him, Dangerous comes across with a power and confidence that fans have come to expect from his tracks. In fact, this album seems a little more focused than his past works. This may be due to the fact that this is by far KJ's shortest album. Whereas past albums have had upwards of 24 songs, Dangerous checks in with just 12. Though some may feel like they are getting less bang for their buck with a shortened track list, I feel that this actually helps bring what is more important into focus and doesn't allow for as much wandering.
The record begins with the track "It's Going Down," which gives off a good "party-starter vibe." KJ uses this track to both re-introduce the listener to his particular style of flow and simultaneously to recap the themes from several of his past songs. Immediately following is the track "They Like Me," which covers the theme of racial tension in and outside of the church. This is perhaps one of the best songs on the album due to both the importance of the topic and the guest appearance by the always on-point Lecrae. "Superhero," one of the more fun tracks on the album, follows the familiar pattern KJ has used in past songs such as "47 Emcees" of telling the story of Christ while name dropping everyone in the Avengers and the Justice League alike. The title track "Dangerous" delves into the reality that following Christ is not an easy walk. It serves to encourage the Body to live… more dangerously for Him. Even though "They Like Me" is just a little more well-crafted song, I would have loved to see the title track show up after "It's Going Down" to set the tone for the rest of the album, which follows aspects of its theme.
The remainder of the album has many highs and a few lows. To me, the song "Facemelt" was the most forgettable of the entire album. "Do the Bill Cosby" brings the listener full circle back into the "Tweezy Dance," only this time with KJ doing a pretty good impression of Bill Cosby (who else) to open the track. Later songs on the album such as "So Far Apart," "Brand New Day," and "Speed that Light" follow closely to KJ's patterns for his serious songs and parallel past songs like "Broken People, and "You Can Still Come Back."
The biggest highlight of the album are the several guest appearances. Across his past albums, KJ has had many many great guest spots from the likes of Trevor from TFK, Rob Beckley from Pillar, Knowdaverbs, The Ambassador, GoldenChild, and even Toby Morell from Emery. In my opinion, the guest spots are what really push this record. From the first guest appearance by Lecrae till the penultimate track featuring Dre Murray, Dangerous features a fantastic array of guest vocals that span across all styles of hip-hop.  So, in the same album you have the raw and gritty style of This'l on "Shake 'Em Up" (along with one of my favorite lines on the album; "I got a passion for Christ like Jim Caviezel.") set alongside strong female vocals on  "Speed That Light" and "So Far Apart" by Rhema Soul and Emily of Shine Bright Baby, respectively, and some simply great flow from Dre Murray.
The album ends strongly with "Go," which fans of Hillsong United will immediately recognize as KJ-52's Hip-hop spin on the very popular and famous worship song.  Beyond all the tracks that precede it, "Go" serves as the shining example of what KJ-52 is all about. Theologically, KJ is always on point attempting with each track to bring the listener before the feet of Christ. That attitude of worship comes to crescendo in this track, which does a great job of mixing the heart of the source material and KJ's signature blend of hip-hop.
Overall: If you've never heard KJ-52 before and are looking for a good place to start, Dangerous is a fantastic place to begin. The rapping is clever (if not too cheesy in parts), the beats are solid, and the guest appearances really make the album something special. However, if you've listened to KJ for years, you may find that this album covers a little too much familiar ground in places, and even apes some of his own past material a little much in places. In either case, the album is very solid overall and should earn the right to make it into rotation on your musical device of choice, even in light of the barrage of amazing records that have and will hit this month and next.