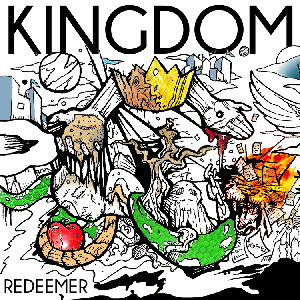 Artist: Kingdom
Title: Redeemer
Label: DREAM Records
Release Date: 11/11/13
Reviewer: Jonathan Andre
Tracklisting:
Redeemer
Carry On
Unbreakable
Lord of Light
All For Love
Made Alive
Chorus of the Saints
What I've Found
Until the Whole World Knows
Always You
God of Fire (David Thulin Remix)
Signing to DREAM Records with other artists like Press Play, Crave, Loftland, Jonathan Thulin, David Thulin and Nicole Croteau; Kingdom is possibly the first artist in CCM history (that I can remember) that has released 2 studio albums within one calendar year on a label (even though Newsboys released both Newsboys Remixed, Thrive and the Rock and Roll Hall of Fame DVD all in 2002, all these three were variants of Thrive and neither were new projects with new songs). A great band to listen to if you love alternate rock/worship, similar to Kutless, Sanctus Real or Hillsong; this 6 piece worship band from Rocklin, California, are sure to gain some kind of attention as they sing out melodies and moments of vertical worship with honest transparency and lyrical poignancy, with this album more focused, more enthusiastic, and much more refined compared to their debut album, a re-release of their raw guitar driven melodies released independently in 2012. From a remix of 'God of Fire' by David Thulin, to other standouts like 'Carry On', 'Until the Whole World Knows' and 'Lord of Light', DREAM Records have continued to show us artists on the roster that continue to enhance the label, its reputation, and the quality of the artists. One of the most courageous CCM label groups, having signed artists like Crave, Steve Hare, Hannah Rose, Satellites, Summerlin, Loftland and Darrell Evans in 2013 alone, Redeemer reminds us of the quality we are getting when hearing this album. While not necessarily as publicised as others albums like the self-titled Casey Darnell album, and The Letter Black's Rebuild, the band continue to forge their own fan base and identity, releasing worship and vertically directed music that is certain to enter the hearts of listeners of the band in the upcoming weeks and months ahead.
'God of Fire', originally from their self-titled debut album, is one of my favourite songs ever from the band. While shorted by about a minute, lead singer Veronica still manages to deliver the shortened melody with just as much passion and enthusiasm as the original version, one which still continues to be one of my favourite songs released by anyone on DREAM Records in 2013 so far. 'God of Fire' conveys such a great truth of God's supremacy and might in any circumstance, and as we hear Veronica declare that God is the God of fire, and how there is '…no fear, no doubt, nothing can ever separate us now, in faith we shout, everything within me cries out my Lord…', we are hopefully given (at least myself) great comfort as we realise that it is in Christ that our passion for life and the things around us can increase, exponentially as we rely on Christ for our every need. The electric guitar solos within the song and the riveting remix-like effects certainly bring out the alternative musical genre as the band seeks to bring in listeners that may not be your average CCM fans. Being the last track on Redeemer is very fitting, considering this melody is by far the most famous song that the band has done to date, and if any song were to be on an album twice, it would be this one. David Thulin's ability to remix is nothing short of something extraordinary, with this song being no exception. With vocal distortion, synths and electronic effects; Kingdom deliver a great track worthy enough to be represented on both albums. Well done to both Veronica (who sings the verses) and Jordan (who sings the choruses) for this powerful and compelling anthem!
'Redeemer' starts off with an electric guitar solo and presents to us a powerful melody akin to something that rock groups like Kutless or Fireflight would do. As both Jordan and Veronica split the lead vocal abilities and declare out the theme of God being the redeemer of our souls in any situation, we are able to worship in the midst of the busy instrumentation. The emotive chorus of how Jesus is the '…builder of the broken, Saviour of my soul, champion of my heart, my great Redeemer…' is a moment on the song and album where I realise that not only is Jesus the God of all the people who seemingly having it all-together, but he's also the God of those who are indeed much more broken than we (those who love in comfort in America, Europe, Australia etc.) are. As these two vocals greatly harmonise with each other to deliver a track that's certain to bring in listeners who are inclined to listen to more of the rock genre; Kingdom continue to deliver anthem after anthem with their guitar driven melody 'Carry On', where the music reminds me distinctly of Newsboys' 'Rescue', released in 2002. Featuring Run Kid Run singer David Curtis, the band unveil a message of hope, and that as long as we believe that Christ is with us (because He is), we can carry on and live throughout the circumstances of our lives. With the guitar presence of the song reminding me of a genre Stellar Kart (early Stellar Kart a la 'Student Driver') would do, Kingdom continue to diversify their musical genres rather than staying same and giving us worshipful formats all the time. Emphasising the Lord's Prayer in the chorus of how we ought to '…rejoice all ye children, shout the song of heaven, His kingdom come, His will be done on earth, and in us…'; 'Carry On' is a motivational melody that encourages us to press on through adversity, knowing that Christ stands by us and with us every step of the way.
'Lord of Light' brings together electric guitars, synths, reverbing vocals and electronic effects all together to deliver a powerful testimony of God's light breaking through and shattering darkness, and as we understand that the '…Lord of light [is] unchanging, never fading, bright shining as the sun…', we are able to rest assured, knowing that wherever we are, our fear cannot dispel the hope we have in our Father to defeat what may be in front of us, declaring that '…His word is sure and the battle's won…' 'Unbreakable' is a very Hillsong-esque melody (nothing really wrong with that), and even though the lyrical moments are superb, biblical, sound and emotive, as Jordan proclaims amidst the light acoustics and an electric guitar hook that '…and I know, though this life overtakes me and everything's shaking You remain unbreakable…', I can't help it but imagine this song within a Hillsong album lineup, and standing against the previous tracks on the album, this melody seems a little tried and done before by many worship artists previously. That's not to discount the passion Kingdom show us in the track, yet it seems like the theme of the melody has already been done before. Kudos to the band for trying to sound and emulate Hillsong in this track (they do give it a good stab at it), even if it seems a little out of place on an album that's intent of stretching the boundaries of what worship music means. The first batch of 5 songs finishes with the middle track 'All For Love', one of the standout ballads on the album as both Veronica and Jordan deliver powerful vocals amidst the strong drum beats and strikingly distinct keyboard riffs. The passion and enthusiasm of both singers reaches a whole new different level with 'All For Love', as we are reminded of how we didn't deserve the grace given to us, but it was freely given anyway. The emotion attached to the lyrics of how '…on the cross, you bled for me, for Your glory, for Your glory, before your throne all will see that You are holy, You are holy…'; Kingdom give us a great worship song hopefully to be sung in churches soon. With a great mix of powerful guitars and subdued piano parts, 'All for Love' emphasises the love of Christ in the story of our own redemption, rather than what we could do to attain for what we have done. Well done Kingdom for giving us a standout melody, and one of my favourites, not just on the album, but throughout the entire Kingdom discography.
Throughout the rest of the album, the band invite us to listen to a plethora of musical genres, each with a central theme of worship to our Saviour. 'Made Alive', not to be mistaken with the hit from BEC Recordings artists Citizens, is a powerful anthem of how we set our eyes upon God who gave us life, declaring and praising Him for everything that he has done, and will continue to do. A song where we declare our allegiance to God, the chorus where Veronica cries out that '…among the tides, and crashing waves, I will hold onto you until the end of days, when shadow comes and steals my sight, I'll set my eyes upon the God who gave me life…' is a moment that will be one of my favourites, not only on the song, but throughout the entire album as well. Partnering with Luke Caldwell from Esterlyn on 'Chorus of the Saints', an acoustically driven gang vocal melody that emphasises glory towards the Lord as we praise '…in heaven and on earth…Christ the Lord, our Saviour and our King…', as well as providing a melody 'Until the Whole World Knows', similar in theme to Casting Crowns's 'Until the Whole World Hears' (and equally profound and compelling as well); Kingdom's last track of 'Always You', a keyboard prominent offering, displays the heart of the album and reminds us what it means to be in Christ and Christ in us. With Jordan channelling some great Adam Agee impersonations in this song, we are reminded through emotion and compelling truth that '…You're everything and more, my Saviour and my Lord, only You, always You…' As the song starts to move from a piano based melody to a full-fledged anthem with guitars and a declaration of how God is everything to us, the band offer up what is a strong melody to end the album before 'God of Fire' finishes the album with a full remix. Kudos to Kingdom, and a great way to end an album full of musical experimentation and diverse tempo moments!
Overall: DREAM Records has been quite busy this year, signing about half a dozen artist and releasing around twice as much in terms of albums. Kingdom is certainly one of the standout new bands on DREAM Records, and with them not being afraid to stretch the musical boundaries of what defines worship music, Jordan, Veronica and the rest of Kingdom are able to throw back the inhibitions and give listeners an album that will certainly see success of some kind, despite being up against albums from Casey Darnell and The Letter Black. With the band musically reminding myself of Warr Acres or Hillsong, songs like 'God of Fire', 'Always You' and 'All For Love' is what the album will be popular for, and as listeners hear these songs, they most certainly will listen to the rest of the album. With heartfelt melodies and compelling songs destined to awaken the worshipper in all of us, Kingdom has shown through this album their presence in the worship industry is not going to be brief. Well done Kingdom for both this album release and the debut project. Can't wait til album #3!
RIYL: Warr Acres, Hillsong, Kutless, Planetshakers
Buy the Album: iTunes/Amazon mp3