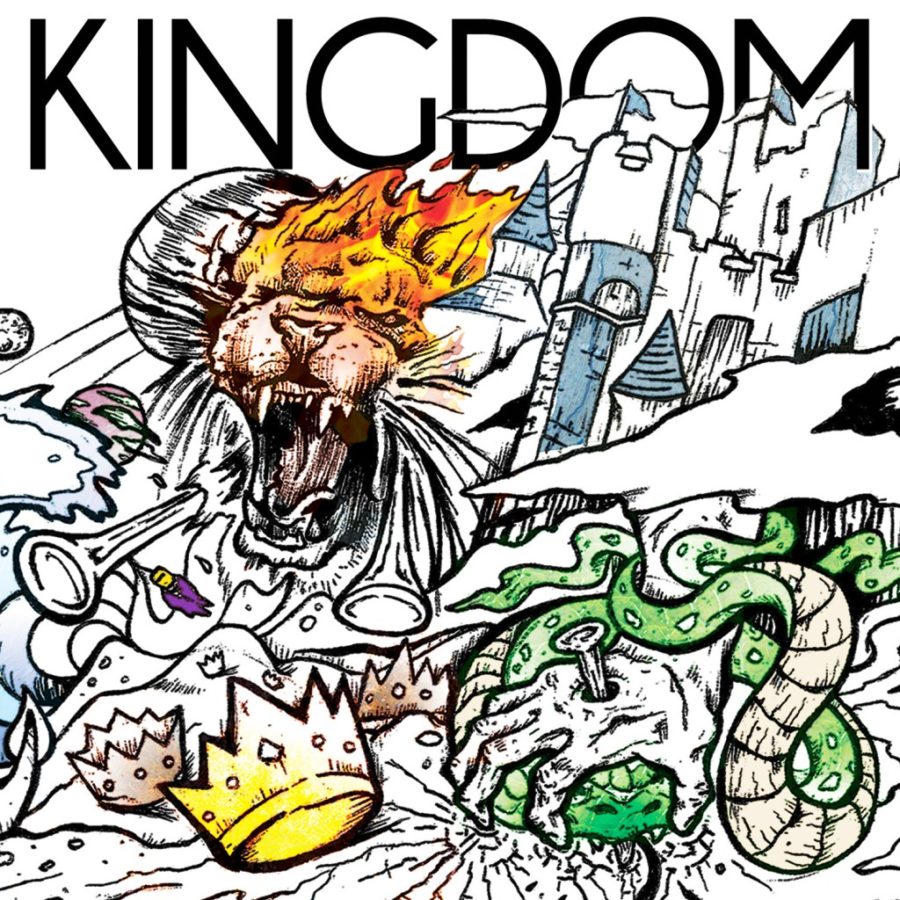 Artist: Kingdom
Title: Kingdom
Label: DREAM Records
Release Date: 3/12/13
Reviewer: Jonathan Andre
Tracklisting:
At the Sound
Flood Song
He Is
Nothing But the Blood
God of Fire
Salvation Song
No Other Name
Jesus Paid it All
The Answer
Victorious
At the Sound (Live)
Jesus Paid it All (Live)
Victorious (Live)
God of Fire (MATH Remix)
Nothing But the Blood (MATH Remix)
Flood Song (MATH Remix)
Signing to DREAM Records with other artists like Press Play, Marlene Brehm, Jonathan Thulin, David Thulin and Nicole Croteau; Kingdom is the latest signing to release an album (first on DREAM Records in 2013), and while the release date of March 12th (on the same album release day as albums from Audio Adrenaline, JJ Heller, Steven Curtis Chapman and newcomer and BEC Recordings signee Citizens) can seem a little baffling (who'd want to release an album against these high profile artists with a chance you're not going to be noticed), but it takes great courage and boldness to release during this time. With Kingdom re-releasing their independent debut album again on DREAM, we are given a collection of 10 songs, three live melodies and another 3 remix songs that are sure to garner much praise and adoration by those who love worship from not necessarily the most popular of artists. Sounding similar to others like Warr Acres, Audrey Assad, Hillsong and Planetshakers, this 6 piece worship band from Rocklin, California, are sure to gain some kind of attention as they sing out melodies and moments of vertical worship with honest transparency and lyrical poignancy. With the potential of being forgotten in favour of other favourite artists releasing new material during the month of March, Kingdom's music full of the worshipful sound many listeners of indie-worship may enjoy has been able to minister to many listeners around the world since they released the album to iTunes late 2012. From the hit songs 'God of Fire' and 'At the Sound', to the rendition of the hymn 'Jesus Paid it All'; this first release from DREAM Records is sure to gain popularity as listeners sit to take notice of this budding young Christian label. With album releases from David Thulin and Hannah Rose in the near future, Kingdom and their explosive and Christ-centred music are sure to let listeners discover other artists on the DREAM Records label!
'At the Sound' and 'God of Fire' are the two radio singles on the album, both released last year as they were promoting their independent record Kingdom, now released again under DREAM Records with an additional 6 tracks- 3 remix and 3 live songs to increase the marketability and popularity of the album. While both these songs seem to be poles apart musically ('God of Fire' seems to be more like a rock anthem whereas 'At the Sound' is more along the lines of a vertical worship melody), both of these songs convey a great truth of God's supremacy and might in any circumstance. Declaring that God is the God of fire, and how there is '…no fear, no doubt, nothing can ever separate us now, in faith we shout, everything within me cries out my Lord…' gives us (myself personally) great comfort as we realise that it is in Christ that our passion for life and the things around us can increase, exponentially as we rely on Christ for our every need. The electric guitar solos within the song and the riveting remix-like effects certainly bring out the alternative musical genre as the band seeks to bring in listeners that may not be your average CCM fans. 'God of Fire- MATH Remix' presents to us an electronically filled melody with a great amount of percussion and drums as the song is slowed down a bit. Different musically compared to the original recording, the impact is the same if not greater as I listen to this track. 'At the Sound' reminds us of how as we call on Christ, He will answer our every need, that '…our God is everywhere…' A simple melody that's able to draw in musical influences that may not necessarily be so traditional (like gang vocals overlayed on electronic sounds that predominately are used as a musical undertone), 'At the Sound' invites us to declare God's name and lift Him higher, knowing that if we don't do it, the rocks, mountains and oceans will. A great vertical praise song that is able to rouse some anthemic spirit inside of us as we listen to the 'woah' moments that bring us back to other anthems that lift up God's name, from Hillsong's 'Your Name High' to Chris Tomlin's 'Let God Arise'. A great album opener as we are met with a song that encourages us to lift God's name up with every opportunity, the live version of the song at the end of the album does a great job with crowd participation and the energetic enthusiasm they bring to enhance the song even more than the impact it already gives. Well done guys for such powerful singles and certain anchors for an album that's willing to stretch the mould of CCM and worship music to incorporate musical facets from other genres!
'Nothing But the Blood' and 'Jesus Paid it All' are two hymns that I have enjoyed greatly over these past few years, and therefore it was great to see the band cover these two songs. Listening to both 'Jesus Paid it All' and 'Nothing But the Blood' has reminded me about the timelessness of hymns and their effect and impact, centuries later then when the words were written. 'Nothing But the Blood' was drastically altered in a melodic sense, with the song sung in a different key as well as it being given a different melody to sing along to- minor instead of major as we listen to lead singers Veronica and Jordan declare that it is Christ's blood and sacrifice that covers us from the sins that we have dealt with in the past, struggle with in the present, and possibly deal with in the future. With an ambient atmosphere shown at the beginning of the song and sounding similar vocally in this song to Lifehouse frontman Jason Wade, Jordan sings out with all his might to remind us of the centre of our faith- the death and resurrection of Christ Jesus our Lord. The remix version of 'Nothing But the Blood' is a great twist on the already unique and different song. With the remix being just a riveting electronic keyboard riff mixed into the original song, I prefer the original song, yet others could see this remix as being more enjoyable. Regardless, the MATH remixes on the album (remixing 'Nothing But the Blood', 'God of Fire' and 'Flood Song') are some of the best remixes around since the remixes from TobyMac's Eye on It in August 2012. 'Jesus Paid it All' follows the melody of the original recording well down to a tee, even adding in the '…oh praise the one who paid my debt, and raised His life up from the dead…' tag originally recorded in Kristian Stanfill's version of the classic hymn, on Passion's 2006 album Everything Glorious. While they omitted the second verse for a longer instrumental introduction, the song still carries the same weight of poignancy as we relax in the assuredness given from Christ to us through song that '…Jesus paid it all, all to Him my all…' The live version of the song speeds it up a little and Veronica and Jordan trading vocals frequently, and with a great gang vocal and an emphasis on the ending tag is a great moment of praise and surrender, and while it can be a tad fast for some, it still reminds me of the rawness and compelling nature that Kingdom can perform worship songs. Well done guys for these hymns redone.
Listening through the rest of the tracks, we are given a repertoire of songs, each with a solid message of Christ being the centre of our lives. 'Flood Song' is a keyboard and electronics prominent track, which remind us of the confidence we have in Christ. Written in only 10 minutes with the song inspired by a Mercy graduation he attended at his California home, we are given such honest and transparent lyrics as lead singer Veronica declares that '…in your power, we're untameable, in your grace, we're unshameable, in your peace, we're unshakable…' Comparing the Lord's unequivocal and never-ending love to like a river rushing over us and swelling into a flood, Kingdom's track full of motifs and metaphors is able to remind listeners (myself included) of the overwhelming and welcoming feeling that we receive when we let Jesus enter our lives and surrender with full abandon to the river of abundance, acceptance and love that Christ loves to pour over us. The Math Remix of 'Flood Song' offers us with some unique instrumentation with electronics, glockenspiels, keyboards and percussion-like sounds, complete with reverb and echo as Veronica creates the best remix on the album. 'Victorious' is also given the two-song treatment (one original recording and one live effort), and with it being the last song on the 10 track independent album version, the song sums up the whole of the album, showing us that it is Christ who reigns victorious over all things. Full of light percussion leading to a crescendo full of electric guitars and powerful vocals, we are given a fitting anthem that's a great last song before the remixes. The live version is just as enthusiastic as the studio recording as we are presented with a great anthemic build with the crowd participating just as much as the lead singers in their exaltation to God.
'The Answer' is a short 3 minute acoustic mellow track about God being the answer to all our problems with Veronica singing in the style of worship leader Kari Jobe, while 'Salvation Song' is an acoustic song sounding the most like a Hillsong inspired melody. Presented as a personal testimony of the band and all its members and how they came to meet Christ, this is one of the most personal songs on the record as Jordan declares that '…how sweet the sound of our salvation song and in Your grace I'm found, You're where I belong…' Yet it is the poignant 'He Is' that is a great highlight (along with the band's first two singles and their two hymn rendtions), using the technique of a drum roll hook as well as synths and electronic keyboards to lead us onto a journey of discovery as Jordan starts to describe God's great qualities that we may often overlook and instead search for things that we may think will let us down in future circumstances. Christ indeed is '…the one, the risen Son, and in faith we shall arise…', and with this anthem expecting to be sung in churches in the upcoming months, expect this song to become a radio single of Kingdom's in the near future. Well done Kingdom for these compelling songs, all central in their focus on Christ as our source of strength.
Overall: Dream Records' latest signing has given us a solid debut album and one of the most ingeniously covered albums this year. Not afraid to stretch the musical boundaries of what defines worship music, Jordan, Veronica and the rest of Kingdom are able to throw back the inhibitions and give listeners an album that will certainly see success of some kind, despite being up against albums from Audio Adrenaline, Steven Curtis Chapman, Citizens and Passion, all releasing on the same day as Kingdom. With the band musically reminding myself of Warr Acres or Hillsong, their renditions of both 'Nothing But the Blood' and 'Jesus Paid it All', as well as the two singles, is what the album will be popular for, and as listeners hear these songs, they most certainly will listen to the rest of the album. With heartfelt melodies and compelling songs destined to awaken the worshipper in all of us, Kingdom has shown through this album their presence in the worship industry is not going to be brief. Well done Kingdom, and can't wait for album 2 whenever that releases!
RIYL: Hillsong, Warr Acres, Planetshakers, Worth Dying For
Buy the Album: iTunes/Amazon mp3