Album Review :
Kevin Schlereth - Don't Die! Please Stop Dying
By Joshua Hedlund in Reviews | Comments closed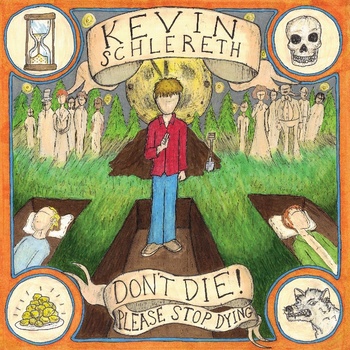 Artist: Kevin Schlereth
Title: Don't Die! Please Stop Dying
Label: independent
Release Date: 10/19/12
Reviewer: Joshua Hedlund
Tracklisting:
Tornadoes
Sunshine
Knox
Give Us To Jesus
Natural Causes
Don't Die (but it's whatever)
Knocks
Possessions
Rent
Kevin Schlereth is an acoustic musician from the Midwest who gathered a few friends to present this collection of nine honest songs for your listening pleasure.
Kevin often plays solo at shows, but this album is much more than simply a dude strumming on his guitar. If you listen closely, you might hear a banjo, an accordion, and maybe a mandolin throughout the album. There are occasionally accents of light percussion, though most of the time Kevin uses his guitar to guide the rhythm with a crafted combination of riffs and chords.
Several songs feature female vocal accompaniment from the members of Low Tree Grow Tall. Live strings also add to the sonic landscape; a cello provides some moving rhythm on "Knox," and a violin has a beautiful interlude in the homonymic "Knocks."
Sometimes the vibe reminds me a bit of a slightly less polished version of The Swell Season – the way the layers and vocals combine into a moving, repeated groove at the end of a song, the way a soft female vocal appears in a quiet interlude, the way the acoustic guitar relentlessly pushes a song forward. Some songs have more of an indie folk vibe, but there are a couple with a bit of a catchy pop feel.
Kevin's lyrical themes involve reflections on living a godly, eternally-minded life in modern society. The opening lines cry out, "Humanity obsesses over itself / Knowledge puffs up." Often challenging, the lyrics are believable because they are personal, yet encouraging because they also reveal hope. A good example is "Knox," where Kevin sings about having a heart that's "immunized" to "the things that you do," ending with a prayerful cry to "soften our hearts, Lord."
"Possessions" casually explores the snares of materialism: "Wake up / Put my sneakers on / Walk through the house / Dodging all this stuff / I spent my life accumulating". A repeatedly dropped bucket of junk adds a clever, metaphorical percussive accent.
"Don't Die" mourns the passing of time and its revelation of "human frailty." "Knocks" cleverly mingles the story of the Three Little Pigs with the Biblical image of Jesus standing at the door and knocking, and there are a few other references mixed in as well.
Overall: Some people may not enjoy the raw indie sound; sometimes Kevin's vocals are slightly uneven or unclear. It's also a little short with nine songs at just over thirty minutes. For the most part, though, Don't Die! Please Stop Dying is a solid release, displaying Kevin Schlereth's talents both in songwriting and in orchestrating the multitudinous accompanying layers of vocals and instruments. Head over to bandcamp to stream the album and see what you think.
RIYL: The Swell Season, Josh Garrels, Luke Parker