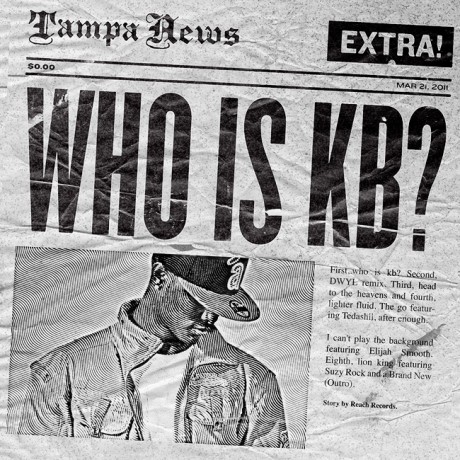 Artist: KB
Release: Who Is KB?
Label: Reach Records
Release Date: March 2011
Reviewed By: BMer
Tracklisiting:
Who is KB?
Don't Waste Your Life remix
Head to Heaven
Lighter Fluid
Go feat. Tedashii
Enough
I Can't Play the Background feat. Elijah Smooth
Lion King feat. Suzy Rock
Brand New
Reach Records' newest signing KB has released a short, but impressive, mixtape called Who Is KB? The mix includes 9 tracks and runs just over 26 minutes. A few tracks we've already heard, like "Don't Waste Your Life" and "Go", but the new tracks are very good. "Intro" starts the mixtape off with a quality beat that makes you wanna break it down, KB's delivery is smooth and natural. On "Head to Heaven" KB slows it down, delivery a verse promoting loyalty and responsibility in marriage "if my wife is a ball and chain, I love being a slave." "Lighter Fluid" is probably the best track, the bass will rock your subs and the hook is super catchy. KB shows his versatility throughout the mixtape, going from ultra-fast rapping to a creative slower delivery. Suzy Roc delivers her best performance to date on "Lion King" and Tedashii matches KB speed for speed on "Go".
The mixtape is worth downloading if nothing more than checking out "I Can't Play the Background", a play off of Lecrae's "I Can Play the Background". The first verse is somewhat mocking (in a fun way) Lecrae's song: "I can't play the background, cuz I know, sometimes, I wanna be Lecrae, or Trip Lee Lee Lee!" and "and though I got this from Piper twist some words up and say I said it." It's pretty funny, the whole verse is creative and takes humorous shots at Trip Lee, Lecrae, Sho Baraka and the rest of the Reach gang.
OVERALL Who Is KB is a solid introduction to KB, and it's free, so what do you have to lose?
Download the free mixtape here