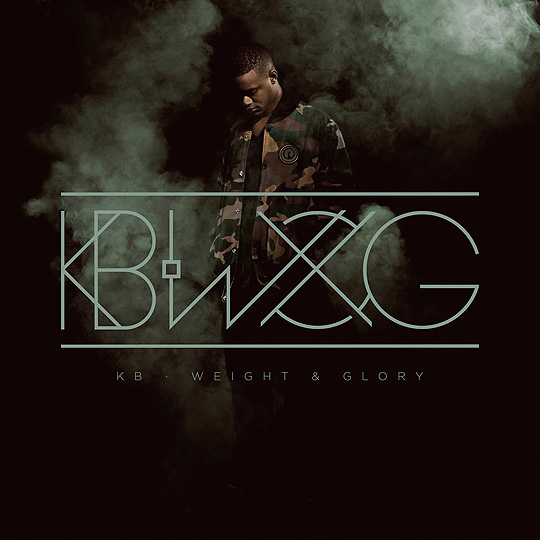 Artist : KB
Title: Weight and Glory
Label: Reach Records
Release Date: 7/17/12
Reviewer: Josh Burkey
Tracklisting:
Weight Music
Zone Out
Anomaly
Don't Mean Much
Go Off
Mr. Pretender
Open Letter (Battefield)
Heart Song
Angels
Tear It Down
Church Clap
Hello
Here We Go
If you were to ask me before 2012, who KB was; I honestly couldn't tell you. When I picked up Trip Lee's The Good Life in April of this year, KB was a featured artist on the track "One Sixteen." For those that have heard the track, KB stood out very clear to the listener's ears because he has a very quick flow. Fast forward two months later and we come to the release of his own record, Weight and Glory.
Sad to say unfortunately, the album opens up weak note with "Weight Music", even though it carries a solid beat and great lyrics. The part that makes it lose points and come across weak is the transition between verse to chorus. In other words, a solid hip hop flow to an awkward gospel part that just feels like it doesn't belong. However, keep an open mind before deciding to stop the album after only the first song. "Weight Music" flows right into "Zone Out", a track that would give fans of Lecrae's "Spazz" something to look forward to. It is topped with great lyrics, but the beat that KB is spitting over gets a bit overplayed about a minute and a half way into the song. However, hardcore hip hop fans will dig this track for sure. The album features a remixed version of this song at the end of this album & you're in for a good treat. It's the dessert of the album, if you will. "Anomaly" is the first stand out track of this album as it really showcases KB's talent as a lyricist and how solid his flow really is.
"Anomaly" is one track that is for sure a hard act to follow, however, this is not a problem for KB. He flows right into the guitar fused track, "Doesn't Mean Much". This track brings a slice of diversity to the album and showcases KB's skills as a rapper. He has a solid flow on this track, backed by a good guitar line that may make some alternative rock bands a bit jealous.
One of the things that this record is really good about is guest vocalists. On "Go Off", labelmate Andy Mineo sings a beautiful chorus as well as having Tedashii providing a solid flow to an already solid track. "Open Letter (Battlefield)" is one of the slower songs on the album but don't think that it still doesn't pack a punch. A beautiful bridge is heard in this song with an acoustic guitar and a pretty solid guest spot by labelmate Trip Lee. Funny, how when KB did a guest part on Lee's album during "One Sixteen" his part seemed to have stolen the spotlight away from Lee. When Lee appears on "Open Letter (Battefield)", he steals the spotlight from KB.
However, KB can't have the spotlight stolen for long. This album goes on to feature "Mr. Pretender", "Tear it Down" & "Hello" all of which hold hot beats, solid flows, and really beautiful, passionate lyrics. "Heart Song" has got to be the best track on this album. A song filled with a surplus of passion, love, and above all worship. This track is just one of those songs in which you will be looking to find the repeat button.  God is good, Satan is bad. You have to have good with the bad. Glory is no different in this case. "Angels", "Church Clap" and "Here We Go" all fall short of being memorable. The saddest of these is "Church Clap", which features Lecrae. Lecrae is at the top of his game but this high energy song doesn't have anything special about it. It's just a track that is trying too hard to be completely honest.
OVERALL: KB has an above average debut album in Weight and Glory. Holding tracks like "Heart Song", "Anomaly" and "Doesn't Mean Much"  make this one hard to beat. KB is destined to be a heavy hitter and a force to be reckoned with. He is only human though. Tracks like "Angels", "Church Clap" and "Here We Go" just show that he can't make a completely perfect record. Overall, this record is definitely one of 2012's best records. I highly recommend it.
RIYL:  Lecrae, Trip Lee, Mike Guess