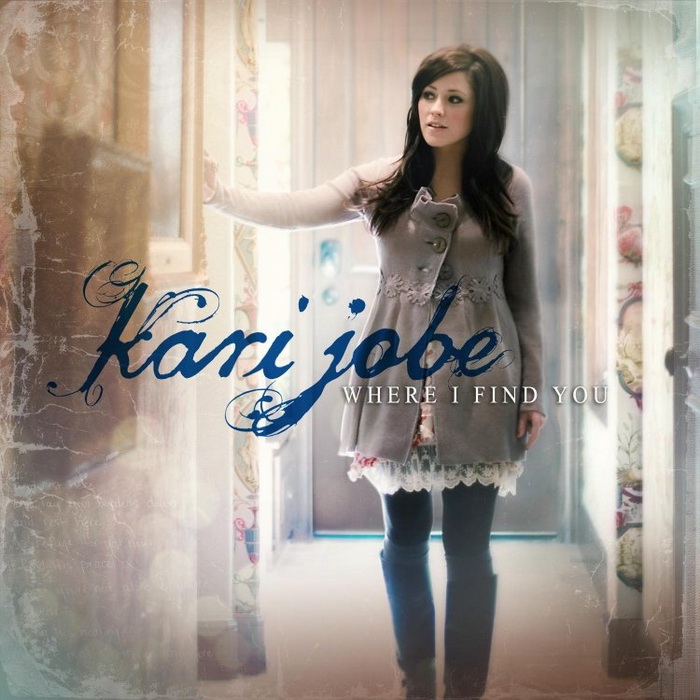 Artist: Kari Jobe
Title: Where I Find You
Label: Sparrow Records
Release Date: 1/24/12
Reviewer: Jonathan Andre
Tracklisting:
Steady My Heart
We Are
One Desire
Find You on My Knees
Saviour's Here
Stars in the Sky
What Love is This
Run to You
Rise
Love Came Down
We Exalt Your Name
Here
Kari Jobe, worship leader from Gateway Church, released her self-titled debut album in 2009, and with the radio single 'I'm Singing' and the ever familiar cover of Jennie Lee Riddle's 'Revelation Song', Kari earned a Dove Award nomination for New Artist for the 2009/10 Doves. With the release of her second album January 2012, produced by Ed Cash and Matt Bronleewe; listeners were able to see a part of Kari's heart for the Lord; her passion for worship. Kari gives listeners insight into the importance of worshipping God and being in His presence: "…it's about declaring who He is and enjoying the simplicity of knowing the Lord is near. He's for us, He loves us, and sometimes, we need to just stop, enjoy His presence and take that in…" The result of this realisation is 12 songs of raw passion, honesty and devotion to the God of the universe. With such moving and emotional lyrical content, Kari is able to allow the listener to encounter and experience the Lord's promises and truths upon their life, praising and exalting Him in the process.
The first single 'We Are', released in October 2011; speaks about how as Christians, we must all understand that '…we are the light of the world…and we gotta let our light shine…'. Reminding me of the passage in Matthew 5:14-16 '…You are the light of the world. A city set on a hill cannot be hidden. Nor do people light a lamp and put it under a basket, but on a stand, and it gives light to all in the house…', we should be a light for Jesus, not to be afraid by to shine the light to the whole city. The musical moments in this song are also captivating with soaring violins and keyboards, creating an anthem for the modern church. Sung powerfully by Kari, this is a song that speaks about the heavy topic of evangelism.
'Steady my Heart' is the first song on the album, and as Kari cries out to the listener, '…Wish it could be easy, why is life so messy, why is pain a part of us?…sometimes [life] it just hurts so much…' I can tell that many people around the world agree with this statement. Life is messy, life is so hard. But there is hope in the song, and as Kari proclaims in the chorus, '…Even when it hurts, even when it's hard, even when it all just falls apart. I will run to You cause I know that You are lover of my soul, healer of my scars. You steady my heart…' The ever present violin and guitars enhance the song message that we can run to Jesus no matter how we're feeling and always know that He will always steady our hearts.
Many threads of vertical worship are throughout each song, telling the listeners a story and providing us with more of Kari's intentions. Exposing her vulnerability as she starts to worship the Lord with abandon; her soaring vocals and emotion brings much to this record. 'One Desire' combines drum loops, guitar riffs, and Kari's vocals as she sings '…In Your presence, Lord, I will find my strength; You're the breath in me, You're my everything…' with selfless adoration and devotion, acknowledging that Jesus is her '…all consuming fire [and]…one desire…''Saviour's Here' is an upbeat song, complete with hand claps, acoustic guitars and drums; and is one of my favourites on the album, speaking about how we are saved and ransomed by the King, that '…Sin is broken, death is gone…in your presence no more Fear, our Saviour's here…' Kari's vocals shine throughout, where she is able to transform a simple '…You save us, you free us…' tag line into a spontaneous worshipful moment, where the listener is drawn into the moment of surrender, realisation of what occurred for God to be joined to His creation once again.
'Stars in the Sky' speaks about the moment when we realise God's in control, that '…the stars in the sky will hang there, until you tell them too…', ultimately surrendering God the control that we humans ever so hang on to; while 'Run to You' is a simple song about the need to be in the presence of God, to fully comprehend how high, wide and deep His love is for us. A key to worship is to just surrender to the Lord with no agendas, with our hands outstretched before Him, so that He can do whatever He wants. 'Find You on My Knees' is a percussion driven song about finding God in the midst of everything that is surrounding us. The chaos in our lives is a chance for us to cling to the One who has everything in control, knowing that He weaves everything in our lives and use it for His purpose and glory. Closing off the album is a simple effective song, 'Here'. With just the keys and Kari's vocals present, it's one of the most personal; with Kari simply declaring that God is here with us. As Kari sings the almost haunting lyrical truths, '…Come and rest here, there is refuge for you now; you'll find His peace and know you're not alone anymore, He is near…' we are reminded to find rest in the One who gives it. He is our rock, our shelter, our peace and our refuge. With this in our hearts; God deserves all the worthy, praise and honour that we can give Him. Christ died so that we may live. What a day to celebrate!
Overall: With the rise of many worship artists like Chris Tomlin, Christy Nockels, Meredith Andrews, Matt Maher, and Martin Smith; Kari Jobe stands tall with each of these musically diverse artists, with her soaring vocals and vulnerability serving as a strength in this album, about pure adoration, wonder and marvel towards the King who has won her heart. Her enthusiasm and infectious vocal ability in her songs has taken the listener, me included, on a spiritual journey like no other. This album is certainly to savour, and as Kari shares on her website, '…That's the reason I'm doing what I'm doing at this specific moment—to see God's name lifted high, to encourage the hurt and the broken and to remind everyone to draw close to Him because He really, truly does care about each and every one of His children…' This is an album that I would encourage for you to purchase, you will be blessed. One of the top worship albums of the year, I can't wait to see what's in store for her in the upcoming years.
RIYL: Meredith Andrews, Matt Maher, Chris Tomlin, Christy Nockels
Buy the Album: iTunes/Amazon mp3