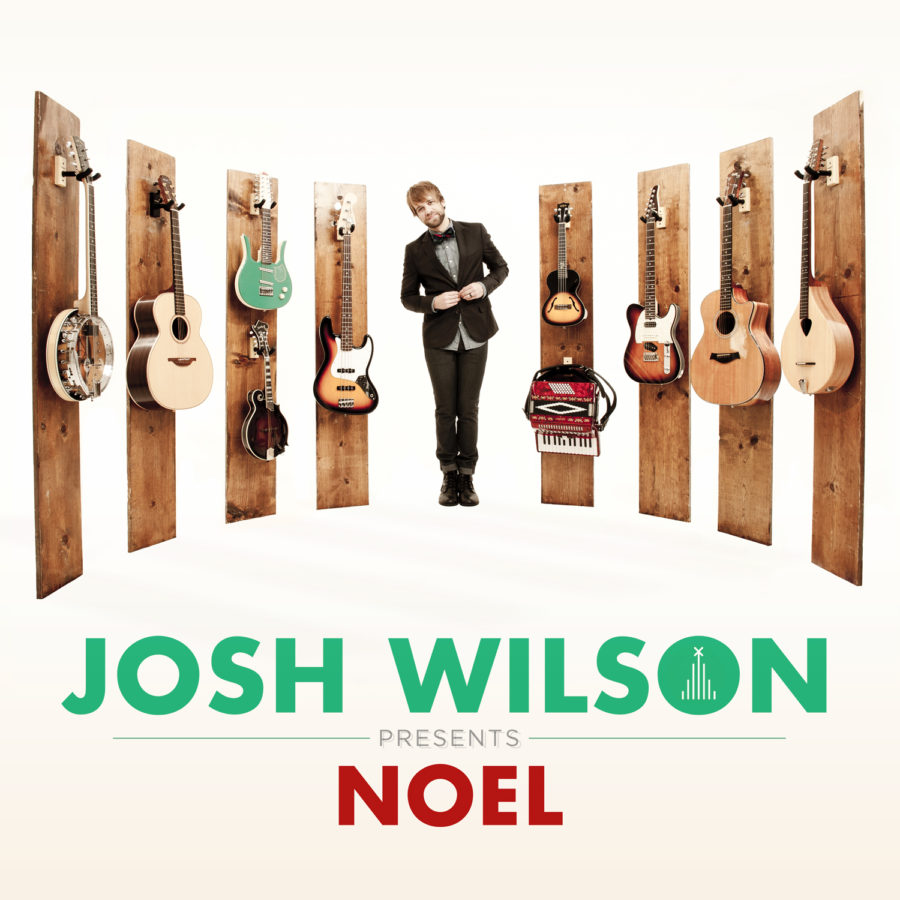 Artist: Josh Wilson
Title: Noel
Label: Sparrow Records
Release Date: 10/9/12
Reviewer: Jonathan Andre
Tracklisting:
The First Noel (Instrumental)
Jesus is Alive
Go Tell It on the Mountain (feat. Mandisa)
Do You Hear What I Hear
Christmas Changes Everything
Almost Christmas
Emmanuel
Carol of the Bells (Instrumental)
Angels We Have Heard on High
Once a Year (feat. Andrew Peterson)
Known for his famous songs '3 Minute Song', 'Saviour Please', 'Before the Morning', 'Fall Apart' and 'I Refuse', multi-talented musician and singer/songwriter Josh Wilson is one of today's most loved Christian songwriters, with his happy personality and ability to create musical genius out of his talent of playing a lot of instruments (in fact, I think I can't even recall someone who plays the acoustic guitar, electric guitar, bass guitar, keyboards, ukulele, banjo, glockenspiel, even some percussion!). Full of intense enthusiasm and frank honesty, Josh's first Christmas album reminds us all of the wonder and magic of this celebrated season and how '…this baby in a manger changes everything…' ('Jesus Is Alive'). Though not as grandiose and majestic musically as Lincoln Brewster's Joy to the World, or even as lyrically moving, emotional and poignant as Jason Gray's Christmas Stories: Repeat the Sounding Joy, Josh's 10 tracks (with 2 instrumentals in 'Carol of the Bells' and 'The First Noel') provide us with a timely reminder of the joy Christmas brings, and how Christ's journey to the manger (as well as to the cross and the grave) should be one of the most celebrated and welcomed moments of history as we are transported into the musical landscape of many instruments with Josh excelling in almost everything he plays. With contributions from Andrew Peterson and Mandisa, Noel features 4 original tracks along with 4 vocal carols and 2 instrumental ones to place this album as one of my favourite Christmas albums of the year, and a must for anyone who loves great acoustic music complemented with heartfelt and poignant original melodies encouraging us to '…go, and tell, the world that death has died, cause Jesus is alive…' ('Jesus Is Alive').
Josh Wilson has always had a knack for great instrumentation, with a number of instrumental tracks on his previous albums gone by ('Amazing Grace' on Life is Not a Snapshot and 'It is Well' on See You) showcasing his musical ingeniousness, creating just as poignant and powerful tracks even with no words sung. Now releasing Noel, Josh offers up 2 melodies out of the ten that are instrumental, reminding us of the holiday season with primarily guitar-driven solos full of bells, keys, percussion loops and big drum beats. 'The First Noel' is the first instrumental song on the album and as it starts with a light keyboard intro before the acoustic guitar riffs, we are reminded to listen to the carol in a new light, and though there are no words, the message is still loud and clear, with the melody still encouraging listeners (myself included) during this holiday season. The way Josh plays the acoustic guitar is something to behold, and his live looping skills are a testament to that. Through both 'The First Noel' and 'Carol of the Bells', Josh lets the instrumental music speak for itself with marvellous guitar work creating a rhythmic beat crescendoing into an anthemic build in 'Carol of the Bells'. We all recognise this song as a 'welcome to Christmas' type of melody and Josh certainly doesn't disappoint, with layers upon layers of acoustics mixed with a clarinet and an eerily refreshing keyboard, to create one of the most orchestral and well choreographed instrumental pieces of the song, with Josh's version second to BarlowGirl's on their album, Home for Christmas. Well done Josh for these two instrumental tracks that pave the way for hope to come to earth through traditionally loved carols and poignantly penned originals that remind us of our freedom in Christ!
Every now and again, an artist will write a few original songs on their own Christmas album, from Steven Curtis Chapman's 'The Miracle of Christmas', BarlowGirl's 'Hallelujah (Light Has Come)', Third Day's 'Christmas Like a Child' and Kutless's 'This is Christmas'. Josh Wilson is no exception, with 4 out of the 10 tracks originally penned, as he reminds us of the season that is falling upon us and the reason behind such joy, wonder and reverence as we exchange gifts to one another. 'Jesus Is Alive' was a radio single released in Christmas 2011 (and also the first single from Noel too!), with Josh giving us a timely hopeful reassurance through the shakers and keyboards that '…the old will pass away and we will become new. This baby boy is making all sad things untrue…', colliding Christmas and Easter into this easily-able-to-be-sung anthem about the baby born in the manger, yet also proclaiming that '…Jesus is alive…', an allusion towards Jesus's death and resurrection. Easter is important, but it couldn't happen without Christmas, and Christmas means nothing without Christ's sacrifice. So it seems almost fitting to write a song called 'Jesus is Alive' during Christmas, to remind ourselves of the holistic story Jesus is painting, from first brush-stroke to last pen line. 'Christmas Changes Everything' carries on from this theme with a guitar driven anthemic melody as Josh, together with the synth keyboards and strings, cries out the truth of how '…love has found us, hope in a manger, our Saviour is setting us free, this is rescue, Christ has come to make us new, oh Christmas changes everything…', and is my favourite original Christmas song by Josh (even beating 'Jesus is Alive' and 'Sing'!) as listeners remember the hope we have in Christ the newborn King.
'Almost Christmas' starts with a choir, shakes and jingles, as Josh reminds us of how Christmas is almost upon us, and how in all the busyness, we ought to remember '…how it's the birth of peace on the earth, tell me have you heard that our God is with us?…' and together with the ever-present saxophone creating a jazz-acoustic track, Josh gives us a hopeful melody with enough holiday spirit as well as a gentle reminder of Christ to present a song that is able to take us on a musical journey of hope and wonder. Josh also records a Christmas carol melody in 'Do You Hear What I Hear' (tagged with 'O Come Let Us Adore Him' at the end), a song about how the message of Christ could've spread on the night, from the angels to the shepherds to the kings of the area as Josh presents this tale of mystery to listeners. The nice addition of the worshipful chorus of 'O Come all Ye Faithful' is a great moment in the song when all praise is focused on Jesus, with a crescendoing drum and guitar moment towards the end as Josh creates a symphony of instruments all collectively crying out to God in worship. Mandisa lends her voice on 'Go Tell it on the Mountain', and while it's nice to hear Josh sing a duet, this song isn't necessarily one of my favourite renditions of the song, with Tenth Avenue North and needtobreathe providing more enthusiastic and edgier versions of the song. Regardless, this happy melody is a good grooving song welcomed on this 10 song list that showcases Josh's great musical ability. But it is the last song duet with Andrew Peterson, original song 'Once a Year', that is one of the most poignant on the album. With a piano undertone, Josh confronts us all with how humans can change on Christmas and act all friendly, and when the moment and holiday is gone, actions move back to the norm and mundane. With Josh asking the question '…wouldn't it be something if we all learned to love like its Christmas more than once a year…', we are able to re-examine our lives and ask ourselves whether our actions on Christmas need to be projected throughout the year as Christ continues to transform our lives. Andrew Peterson lends his voice to the bridge through the strings and keyboard and through the words '…love is patient, love is kind, love will always find the time, love is now and love is here, love is more than once a year…', listeners (myself included) are able to make a choice to proactively give more of our time to things more than the mundane that we fill our lives with. Well done Josh for creating such a poignant track and certainly one of the highlights of Noel.
Overall: Josh's 10 tracks of Christmas joy are able to remind us of a season of happiness that should be experienced all year round because of the reality of Christ and the hope we have in Him. From reflective melodies and heartfelt hopeful inspirations, Josh is able to utilise his musical ability to carve out songs that will hopefully remind, transform and encourage listeners to see beyond themselves this December holiday. With a musical style very similar to Andrew Peterson or Steven Curtis Chapman, Josh's first Christmas album is certainly going to be one of many. Well done Josh for crafting ten songs for the listeners enjoyment, but also for a timely reminder that '…because the son of God has not left us alone, He'll live and die and rise again, and then he'll bring us home…' ('Jesus is Alive').
RIYL: Brandon Heath, Andrew Peterson, Steven Curtis Chapman, Kutless
Buy the Album: iTunes/Amazon mp3