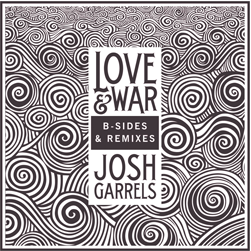 Band: Josh Garrels
Title: Love & War: B Sides & Remixes EP
Label: Small Voice Records
Release Date: June 24, 2012
Reviewer: Jessica Cooper
Track Listing:
Anchor (Beautiful Eulogy feat. Josh Garrels)
Cynicism
Professional (Mason Jar Remix)
Rise (Kye Kye Remix)
Run
Slip Away (Aaron Strumpel Remix)
Valor
White Owl (Mason Jar & Josh Garrels Remix)
Let me just start by saying that the two things I'm most excited about for this release is the collaboration with Beautiful Eulogy and the classical aspects of its composition. If you're a fan of anything else he's done, you know Josh Garrels is an artist that defies the constraints of genre. Honestly. Try to pinpoint an exact type to bind up his talent with. It's this soupy conglomerate of folk, hip hop, soul and classical. Tie that all in with a vocal style that's uniquely haunting, and you've got a recipe for greatness that promises a pleasing aftertaste.
One of my friends introduced me to Josh Garrels a little over a year ago, and I just recently discovered Humble Beast Records, the label that features Beautiful Eulogy's music. I was finally able to see Garrels perform this summer at Cornerstone Festival, as well as Kye Kye, who also appears on this EP via remix collaboration, along with Mason Jar and Aaron Strumpel. Along with the familiar acoustic composition, B Sides features breakbeats in the Kye Kye remix of "Rise", soothing strings in "White Owl", and a road tune feel throughout the production – something you can easily enjoy on an extensive trek – and this last feature is apparent in "Run" with its adventurous message and fast-paced guitar plucking.
Organization is something that I appreciate about music. It's nice to listen to stuff that transitions smoothly. The outro for "Processional" carries its pitch over into the intro of "White Owl" and if you've listened to Love & War & the Sea in Between, you know that the groove of "White Owl" has changed, but its soulful sound remains intact. As the second track wraps up, "Valor" fades in with some pad to give the second transition some texture and create a new but similar atmosphere. I love that this release features new material, especially "Cynicism" which beautifully represents Josh Garrels' inclination to soul. He's a great lyricist, too, in addition to his musicianship. He's another artist that I think really has this idea of tying the values outlined in Scripture down to a distinct, poetic craftsmanship. Here's a sample from the fourth track:
"Self-promotion's how we function in this culture  / We fight for the spotlight with a peacock's pride / And then condescend to all the lesser men / From thrones we make of payed accolades and a compromise / There is no power that a man can have / Unless it's given to him from above / Our ladders of success descend to hell / Don't sell your soul and lose your one true love."
"Anchor" is the last track dominated by the lyrical sorts of Beautiful Eulogy, and features Josh Garrels' voice in the chorus. In its balance of poetry, rhythm, and pursuit of the tragically deeper meaning of the Gospel, this song brings to light the words of Hebrew 6:19, which says, "We have this as a sure and steadfast anchor of the soul, a hope that enters into the inner place behind the curtain, where Jesus has gone as a forerunner on our behalf, having become a high priest forever after the order of Melchizedek." It further puts into perspective the value of God's grace and His willingness to anchor us to Him in times of tribulation:
"So when the darkness overwhelms me, and the tide of life rises and swells, "it is well" is what compels me. / When faced with adversity your truth constantly reminds me that you command the seas with ease and with words you're turning wind to breeze. / It helps me to understand that we stand on solid rock not on sinking sand."
Overall: B Sides is incredible, in my opinion. Half the tracks were previously released on his 18-track album Love & War & the Sea in Between last year, but this EP presents them in a new way. I'm normally not a fan of remixes or remasters, but this was something I was really excited about after knowing already what Garrels has to offer. It's available for free download on Noise Trade, as well as his website. Check out his Facebook for updates relating to upcoming tours and other news.
RIYL: Beautiful Eulogy, The Followers, Kye Kye, Aaron Strumpel, and remixes.