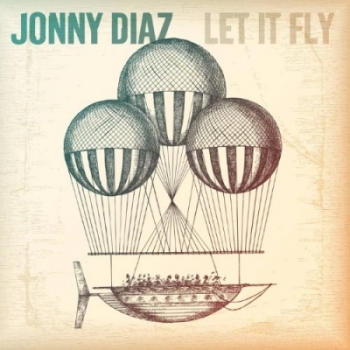 Artist: Jonny Diaz
Title: Let it Fly
Label: Centricity Music
Release Date: 4/8/14
Reviewer: Jonathan Andre
Tracklisting:
Use Me Too
Like Your Love
Thank God I Got Her
Whole World
Live Like He's Alive
Scars
Upside Down
Starts With Love
You Just Gotta Believe
Hello L.O.V.E
Asleep In The Hay
Jonny Diaz's music ministry started way back when he made indie albums starting from 2003, and even though he's still a relatively new face amongst a CCM industry that welcomes and popularises artists like Jeremy Camp, TobyMac, Natalie Grant, Matthew West or Chris Tomlin; Jonny's music still gives listeners heartfelt melodies. Rising to popularity and fame because of his motivational melody 'More Beautiful You' (not too long ago, I heard that song on speakers in a Dan Murphy's alcohol shop), providing hope and identity to many teenagers (especially girls) and their families; Jonny has continued to wear his heart on his sleeve when it comes to music and his message, from 'Beauty of the Cross', a song that speaks about how someone suffering on a cross can create such beauty given to us all, to 'Break My Heart', a melody that pries on our own issues about being confronted with the uncomfortable as Jonny longs for God to break our hearts for the things that are important to Christ Himself. Now moved from INO Records (the record company before Fair Trade Services) to Centricity Music (home of artists like Andrew Peterson, Jason Gray, Lindsay McCaul, Remedy Drive and Aaron Shust), Jonny's forthcoming album releasing in April continues to showcase Jonny's signature acoustic pop sound. With the album as a whole giving us a different side to CCM, still radio friendly melodies, but different than the mainstream CCM that has been quite popular on K-Love for a number of years, Jonny's first album on a new label is as exciting and anticipated as they come. Re-releasing his single 'Scars' (the single version was 3 minutes 23 seconds, here on the new album, it's 3:34… though I can't tell the difference), alongside 4 recorded tracks that all released on his 5 song indie EP from 2013, as well as some more originally recorded melodies that total 11 tracks; Jonny's passion to bring life-affirming and identity building music shows through these tracks, with the overall theme of the album being that it starts with the love we have for Christ and for each other when we decide to give out what we have to those we are in communion and fellowship with. Releasing on the same day as the new album from MercyMe and the new indie album release from Jessa Anderson; Jonny's under-the-radar album release is a perfect gift if you're looking for something to reflect and relax to, and different compared to the somewhat overplayed and continuously musically similar melodies on radio.
With 6 out of the 11 songs released on Let it Fly either coming from Jonny's independent EP released in 2013, or a Christmas song on the compilation album Christmas: Joy to the World; Jonny's new album is a great mixture of pop and worship, of radio friendly songs and others that exuberate a pop-acoustic flair that sets Jonny apart, from the artists that he was with on the Fair Trade Services (INO Records) roster, and from most CCM artists in general. The most recent artist (alongside newcomer Lauren Daigle) to sign to Centricity Music, Jonny releases his first song on Centricity, 'Asleep in the Hay' (despite releasing a 5 song EP independently in October). A song about how '…the richest of all gave everything up as a star led the way to His home…', 'Asleep in the Hay' is a great juxtapositioning, between what man believes a King ought to be, compared to what Jesus came as and showed humanity what a King truly is. With simple acoustics that brings the lyrics and the song's meaning towards the fore, Jonny's first song released on Centricity is one of my favourite originally written Christmas songs since 'The Heart of Christmas' by Matthew West. Digitally remastered with a much more electric guitar presence compared to the version on Starts With Love EP, 'Upside Down', a melody that describes the theme of following Christ and understanding that sometimes the things He says can seem quite 'upside down' to us, was a great standout on Jonny's 2013 EP, as well as his full-length album. While I can't really understand why the song was 'remixed' for the full-length album (maybe to sound more 'fresh'), the song nevertheless provides us with a unique look for us as we reflect on the understandings and ideals we know, and whether how we're living is in line with what Jesus wants for our lives or not. Jonny also introduces us to the string and acoustic 'Whole World', reminding us of God being in control and weaving through each circumstance we experience (and reminding me so much of the children's song 'He's Got the Whole World in His Hands'); as well as the fun and acoustically bouncy 'Hello L.O.V.E.', presented to the singles and couples out there as Jonny presents a scenario where we are taken on a journey where the persona falls in love. While I may not necessarily connect with 'Hello L.O.V.E.' right now, this song is certain to minister and encourage many of listeners (and maybe myself in the future).
'Scars', released as a single in 2012, makes a worthy inclusion on Jonny's latest album. Starting off with a light electric guitar riff to bring in listeners who love an easy-listening song that doesn't bore them to sleep but neither confronts them with heavy electric guitars or powerful drums, Jonny invites us to soak in the knowledge that '…we don't have to hide scars, they just strengthen our wounds, and they soften our hearts, they remind us of where we have been, but not who we are…' Understanding that it is our scars that give us a timely and often a much needed reminder by God of what He has brought us through and what the circumstance shaped us into, it doesn't however determine who we are as a person in Christ. With a keyboard prominence, 'Scars' portrays a message of hope as we lay down our baggage and preconceived thoughts about what our scars are to us, and our own issues as to whether we believe God enough to allow Him to take them or not. With 'Starts With Love' being the last song from Jonny to be released on an album prior to this forthcoming one, Jonny employs great instrumentation in acoustics and a slightly electronic vocal as he invites us to ponder some deep and thought-provoking words right from the start. The truth of how '…if you're gonna preach, it's gotta be more than what you say, something you can see, it's gonna be living, gotta be breathing…' is very applicable, as Jonny gives us the hard, firm and hopefully encouraging song about how we have to live out our faith and place it into action if we want those around us to see Christ within us and working through us through the deeds we accomplish for our King. The notion of 'faith without works is dead' is quite central in the song and album holistically, and Jonny incorporates this message quite well in a non-intrusive way. With all of these songs aforementioned being the heart of the album and some of my personal standouts from Let It Fly, Jonny uses his great songwriting skills to give us possibly some of the most underrated songs of the 2013/14 period. Well done Jonny for a great transition from INO to Centricity Music, with these songs as great proof that it doesn't matter what label you are on, or even if you're on a label at all (as these 5 melodies- not including 'Asleep in the Hay', were released independently)!
'You Just Gotta Believe' is one of my favourite recently recorded songs from Jonny Diaz ever since 'Scars' released in 2012, and while the song isn't currently a radio single right now (it is instead 'Thank God I Got Her', a tributary melody for couples), the radio friendly nature of the track and the simple lyrical moments, yet equally powerful ones too, makes up some of the very long list of strengths and appeals for Jonny's track to be at least considered a single in one of the radio formats in the future. With light acoustics guitars and strong pulsating drums, Jonny encourages us to believe, not just in what we currently see before, but in what we can't, and what we may not necessarily understand. As Jonny declares the heart behind the song, '…it gets to a point, especially when we're talking to non-Christians, where we realize that it takes a leap of faith in either direction. If you're going to say there's a God that does take a large leap of faith. But if you're going to say that all this happened by accident, and we're all only here in random order, I think that takes a huge leap of faith as well. It's just a different kind. We have to believe in something. It's a matter of taking that leap and doing the due diligence to know what you believe and why you believe it…' Full of hope, wonder, encouragement and pondering about our own beliefs, 'Gotta Believe' stands out as Jonny's most meaningful track (in my opinion) since 'Break My Heart' and 'Scars'. 'Live Like He's Alive' delves into acoustic pop and a powerful stylistic setting of unique guitar riffs and a bass line that undertones the album quite nicely. As Jonny encourages to '…pray like, God is listening, give like, give like He provides, oh I believe it would change everything if we live like, live like He's alive…', we are met with a message of us living out our faith without any hesitation. Jonny presents the theme in this way- '…when we really have that perspective of God living in us, then people become the things we care about most. Suddenly the person who was in the way becomes the most important part of your day…' An encouraging melody that ought to call us up to living without regrets and to the full; Jonny continues with the acoustic pop in 'Use Me Too', complete with hand claps, gang vocals, looping percussion and a whole lot of heart as he presents a song that is directed to the underdog- with Jonny singing about David against Goliath in the first verse and about Mary in the second. As we are called to be willing for God to work in us, even if we ourselves aren't necessarily as ready as we think we are; Jonny continues to present well thought out themes, from singing about the qualities and characteristics he loves about his wife ('Thank God I Got Her') to 'Like Your Love', a banjo prominent melody that calls us out and gives us a theme of us singing to God, that '…nothing can ever satisfy, nothing can make me feel alive, like Your love, Jesus, like Your love, when I get lost and I'm all alone, nothing can make this heart a home like Your love, Jesus, like Your love…'
Overall: Jonny Diaz has always been an artist that writes and records humble and poignant melodies, whether signed (either on Centricity Music or INO Records) or as an indie artist (as shown through his 2013 EP). Jonny's presence on Centricity Music brings along with it a sense of honesty and frankness that continues to boast the artist roster on a label that's relatively new (in comparison to Provident Label Group, Capitol Christian Music Group and Word Label Group). Just like how a change from Sparrow to Provident has led Steven Curtis Chapman to revitalise his own music career (as well as Michael W. Smith, who moved from Reunion Records to Sparrow in late 2013), so too has the change from Fair Trade Services to Centricity for Jonny and his music style. One of the most enjoyable acoustic pop albums since Jason Gray's Love Will Have the Final Word, Jonny's message of us being real before God and each other as we start with love and our deeds flow from there is a great part of why Let it Fly is worth buying and enjoying. Well done Jonny for such a powerful album and my favourite album since Peter Furler Band's Sun and Shield.
RIYL: Josh Wilson, Steven Curtis Chapman, Dave Barnes, Jason Gray
Buy the Album: iTunes/Amazon mp3