Album Review :
Jonathan Thulin and Charmaine - Acoustic Living Room Concert
By Jonathan Andre in Reviews | Comments closed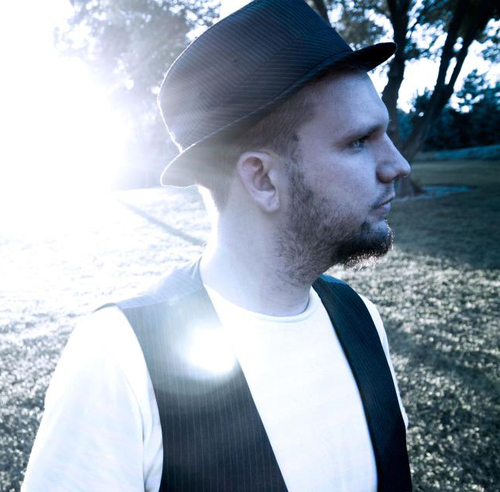 Artist: Jonathan Thulin, Charmaine
Title: Acoustic Living Room Concert
Label: DREAM Records
Date of Concert: 1/5/13
Reviewer: Jonathan Andre
Like it or not, there seems to always be an unintended barrier between the artist and the fan. The one up on stage singing the songs, and encouraging the masses of people below, and the one in the crowd, just listening to the songs with his friends. Like it or not, there is seemingly a divide between those who create the music and those who are fans of it. Especially in the cases of artists signed to a major label, as much as we follow the artist on twitter and like their page on facebook, we hardly really know them. We go to the concert, and if we even get a glimpse backstage, there's possibly only a few minutes with the artist before someone else wants to have their share of the spotlight. Trying to connect with the artist on a personal basis is pretty difficult. So when me and my family heard that DREAM Records artist Jonathan Thulin (famous for his songs 'Dead Come to Life' and 'Babylon') was coming to Australia for an acoustic, intimate, living room concert; my family grabbed the opportunity and chance to host one of the houses for the duration of time that Jonathan was in Australia (I think from memory they are doing 6 living room concerts around Sydney). My brother Josh (who reviews music albums for ChristianMusicZine.com) worked very hard in co-ordinating the event with Jonathan via facebook, through fb friend messages and emails. Kudos to him for making the event happen, promoting the event at our local church, and also being MC for the night.
To be very honest, I am often starstruck, and if I was in the presence of someone like Steven Curtis Chapman, Chris Tomlin or Natalie Grant; I probably wouldn't know what to say. And I know, people always say 'They're just human, like you', but I guess it's natural to be somewhat 'in awe' of the people that have influenced your life. So when we finally knew and firmed everything up that Jonathan Thulin was in fact coming to our place to play his songs, it started getting real for us, and for me especially, there were thoughts in my mind prior to the night of 'what if I were to stand there, and say nothing, because I would be in such awe of them that I'll get tongue tied?' I knew that on the night, I probably wouldn't be tongue tied (and I wasn't thankfully), but just that notion and thought led me to be a bit more worried about the event than I probably should've been. Nevertheless, the countless hours, days, and months that went into organising the event, from convincing my parents to host the event even after my brother said 'yes' to Jonathan Thulin coming to our house, to organising the sound equipment for the night and figuring out what to cook; all paid off in the end. The night was as smooth and drama-free as it could've been (despite the last minute notice from Jonathan that his friend, recording artist and fellow Australian, Charmaine, was also accompanying him to the living room concert at our house), even though hours prior to the event, my family were frantically cleaning the house.
The idea of living room concerts aren't necessarily new concepts, with Rachael Lampa conducting living room concerts throughout the last few years to promote her own 2011 album All We Need. A great way to talk with the artist, and hear the stories behind the songs, with a Q&A time within the programme of the night; living room concerts, with the up-close and personal atmosphere, is something that I reckon the Christian Music Industry should embrace further in the future. The artist and the fan divide ought to come down if you want that level of connection, camaraderie and fellowship as brothers and sisters in Christ. For me and the experience that I had in early January, I reckon that this would be my favourite concert that I was a part of ever- even better than the Passion Conference with Chris Tomlin, Louie Giglio and David Crowder in 2008, the Newsboys/Hawk Nelson/Superchick concert in 2010, and the Casting Crowns and MercyMe/Michael W. Smith concerts in January 2012 and April 2012 respectively. It wasn't the big and bright lights that led me to place this Jonathan Thulin concert as my number 1 concert experience- it was rather the fellowship and interaction that I had with old and new friends, and the openness and transparent nature the artists had on the night. Seeing them up close and without a stage in between can unveil some vulnerability, and with that comes a sense of realness that unfortunately concerts seem to take away when you attend them with the artist in front of the stage. That's not to say that the other concerts were bad, not at all. It's just that this acoustic experience was good because it was different, and I would greatly recommend this format to both artists who are thinking of embarking on such a concert experience, and potential hosts of these concerts. A great way to make new friends as well, Living Room Sessions (and to some extent ustream chats and stage it concerts) break down the impersonal between the artist and the fan, and makes the music experience much more honest, real, and worthwhile to be a part of.
As the night flowed, from initial greetings and dinner, to the actual concert, q & a time, and supper afterward, we were able to just talk with both Jonathan and Charmaine, not being tongue tied but having fun throughout the night. With just the keyboard, and Jonathan and Charmaine's vocals, it provided a great atmosphere for their emotion to pour out in each of the songs. It was also great for Jonathan to give little introductions to each of his songs, telling us some background information to each of the melodies and how they came into fruition. Starting off the set list with 'Pioneer' from The Anatomy of a Heart Flow, this melody gives us a great snapshot of what a legacy should be, and that even if we're aren't able to see the effects of what we do in our lifetime, the legacy of our work and relationships will continue after we leave this Earth, and that whatever we do is to pioneer and impact the lives of others that will be born and live long after we are on planet Earth. A song that actually made me think quite deeply about the legacy I myself am leaving, 'Pioneer' was a great way to open up the concert set list.
A total of 5 songs were sung from The White Room. 'Peeta' was heartfelt and ever more poignant with just Jonathan's vocals and the piano. Influenced by the character Peeta from The Hunger Games book and movie, and how the character was always optimistic, even in the dire straits of circumstances; the subject matter of hope in the hopeless of situations and how the persona urges another to '…go? Show them what you're made of, anywhere it takes, just go, following the war drum, anything for freedom…' is something that is a universal trait that we all have. To long for something to fight for, and freedom, hope, love and friendship are all worthwhile and worthy things for us to pursue and dream about. 'Graveyard' was a melody about heartbreak and even though Jonathan is currently married now, I'm sure he still suffers from the heartbreak, and his emotion as he sung on the night was tremendously poignant. Many people on the night were probably impacted by this song (even if they didn't admit it, which no one did). Heartbreak is something universal, and even though I haven't experienced heartbreak myself, the song was still beautifully done, and another one of my favourite songs from the night. Both 'Torches' and 'I Am Nothing' were personal songs, and Jonathan explained his stories behind them, about how they were about his transformation from someone who relied on his parents faith and his ministry's faith, to someone who has a rich and deep relationship with God ('Torches'), as well as being in a moment of total reliance on God, and knowing that without Him in his life, he would be indeed nothing ('I Am Nothing'). Heartfelt and vulnerable, these two melodies spoke volumes to me, and I continued to know that even if I have nothing, I will hopefully choose to praise God despite my circumstances. 'Dead Come to Life' rounds out the 5 tracks Jonathan performed from The White Room, and even though I have heard this song 10 000 times on the radio, it doesn't make the song less as impacting as it was before. The harmonisations between Jonathan and Charmaine were great, and the hope conveyed in the song about how God breathes life into the dead, and the hope we have in how God brings dead bones to life, is something that continues to touch and influence me, even today. A song that was only written within 30 minutes has become a global melody and has touched many lives, and I'm sure it touched, encouraged and influenced people on that night as well!
Worship songs, unreleased songs, and current radio hits were the remainder of the concert as Jonathan gave everyone who was at the acoustic concert a great reminder of God's great majesty. Originally recorded by Amanda Noelle for her recent EP released in August 2013, Jonathan wrote the song during the summer of 2012 at a conference. In one sitting, during the intermission, Jonathan sat at a grand piano and started to play, with this song being the result. He played 'Beautiful Name' in its entirety that very night, which makes the melody even more special considering the story behind it. Sometimes God just gives songs like that (and I can only think of one more example, with Mac Powell being able to have the melody of the first verse and chorus of 'Born Again' when he was folding washing in his home), and in those moments, all we can do is be in awe of how God uses His children. With just Jonathan and his piano on 'Beautiful Name', the song became much more meaningful to myself, even though I had heard Amanda's full studio version of it months before. A worshipful ballad, I'm sure everyone who was present on the 5th January felt God's presence, in the powerful lyrics of how '…knowing that You're here is enough, is enough for me, every tongue will confess at the glory and trace of Your name, of Your beautiful name…' Hopeful and encouraging, vulnerable and hopefully motivational, Jonathan sung his heart out especially on this song, and it was a great change for him to unveil a worship track in the midst of his set list of pop melodies. Requiring great vulnerability to declare out in the presence of everyone there, to the Lord to take away '…all of my hurt and pain, all of my foolish gain, all of my self-made chains…', it is definitely something to ponder, if we truly believe that Christ can and does take away the things that hold us back from experiencing life and life fully.
Both 'Six Feet Under' and 'Remember Me' are new songs, and even though its hazy to what these two songs were exactly about, from what I can remember, 'Six Feet Under' talks about how as we travel through life, we can feel like we're trapped literally 'six feet under', in moments of uncertainty, doubt, hopelessness and just plain worry. A song that paints the reality of life and then offers up a prayer to God to deliver us from being in that state, this melody was a great song to finish off the night with. While initially they weren't really sure about whether they were going to incorporate that song in the set, my dad cried out 'encore' after they finished the worshipful and heartfelt 'We Sing Hallelujah' from Jonathan's first album The Anatomy of a Heart Flow, and with a little hesitation (considering 'Six Feet Under' was newly written and would most probably be a radio single from Jonathan's new album in 2014), both Jonathan and Charmaine delivered the melody almost flawlessly. 'Remember Me' was more broad and general, about moments and holding onto them, trying to remember the good times, with them being a source of strength in the bad times as we ourselves cling onto the Lord and remember the times He has delivered us through these circumstances. With both 'Remember Me' and 'Six Feet Under' being some of the most unique, honest and heartfelt melodies that I've heard in 2014 so far, Jonathan's latest and current radio single 'Architecture' is possibly one of the most unique and ingenious songs, both played in the set-list, as well as songs I've heard in 2014 so far. With the song describing creation, not through nature but by the man-made structures that have been built throughout the years, I myself am amazed about the intricacies of each of the monuments, and how God takes care of us is so much more than these buildings and structures. The interesting and clever chorus that Jonathan declares of how '…You built me up like a city of gold, the battles rage but I'm standing tall, you formed my heart like an empire, the wind and rain can't stop this fire…', gives me hope, clarity and perspective, that just like these buildings, God has given us a sturdy foundation to stand upon- Himself. And just like these buildings, our own purpose is to stand up tall and reflect the glory of God wherever we are. With Jonathan declaring these powerful words against the sole instrument of the keyboard, this was again another highlight of the night, and something that'll hopefully be impacting to everyone there that night too.
After the concert was officially over, we as the audience and attendees to the event were able to ask some questions to both Charmaine and Jonathan, ranging from inspiration of songs, to the difficulties and sometimes advantages of not be tied down to a major label. Speaking directly to these artists as an audience was great- we were able to gain some insight and a level of understanding of these artists and their own triumphs and struggles. Surely, when an artist is on stage, they can have a section of the night devoted to them sharing about their own personal stories, but since it's on the stage and towards thousands of people, the level of intimacy and relational atmosphere is way less, compared to these living room concerts (which I am now an avid fan of). Jonathan and Charmaine hung around after the concert to eat some supper with the rest of the people who attended the concert, talking, laughing and joking as we all had great fellowship with each other. All in all- it was a great night, and I would recommend this format to anyone who is willing to give it a go. A great chance to hear great music in a homely atmosphere, I have a new found respect for both Jonathan and Charmaine, and just talking with them over supper and throughout the night, I was able to respect their own journeys and wonderful stories they shared about their travels and ministries. Considering that my brother basically was in contact with Jonathan via facebook throughout these last few months trying to organise and co-ordinate the event, it wasn't really much of a big deal to start talking to Jonathan as soon as he came in the door.
Overall: Did the night create some angst and stress in the days leading up to it? Yes. Was it a gamble to host the night even before we knew exactly how things were going to turn out? Of course. But was it worth it? Definitely. I can safely say that because of this acoustic living room experience, both Jonathan and Charmaine could shoot up into my top 20 artists ever, because of that 'personal connection' I now have, and the ability and ease to just talk with them throughout the night, being able to listen to their stories and see the songs they have written and recorded in a unique and different light. Even my dad at the end of the night offered the spare room we have to Jonathan (and I'm assuming Charmaine as well) whenever he just wants to come over. Not sure if they're going to take him up on that offer or not, but regardless of that, the ability of the ease of conversation with these artists over the night made that choice of them staying over a possibility. Will I go ahead now and listen to The White Room again? Maybe. Will I encourage others to attend these types of events again (either with these same artists or different) whenever they are held, either by myself and my family or by other people around Sydney? Most definitely. I'm not sure if it would be fair for me to rate this, because everyone experiences a concert differently, but from my experience, I would give this a 5/5. Is it back to the real world for me now for the rest of the year (the real world which includes applying for jobs and doing home domestics)? Yes. But this is one experience that I won't ever forget. With the price for the night being $10 for an adult and $20 for a family, it was a great time, and a whole lot of cleaning up afterwards (I think the family went to bed around 1am). Well done to both Jonathan and Charmaine for a very great evening, and one that'll hopefully encourage us as we walk with Christ through 2014!
RIYL: Press Play, Rebecca St. James, Rachael Lampa, Group 1 Crew
Set List:
Pioneer (The Anatomy of a Heartflow)
Remember Me (New Song)
Peeta (The White Room)
Dead Come to Life (feat. Charmaine) (The White Room)
Graveyard (The White Room)
Torches (The White Room)
I Am Nothing (The White Room)
Beautiful Name (New Song, recorded by Amanda Noelle)
We Sing Hallelujah (The Anatomy of a Heartflow)
Architecture (The White Room: Deluxe Edition)
Six Feet Under (New Song)
Below is a picture of myself with Jonathan and Charmaine, as well as the keyboard setup in the lounge room. The audio video of 'Architecture' is also shown below.