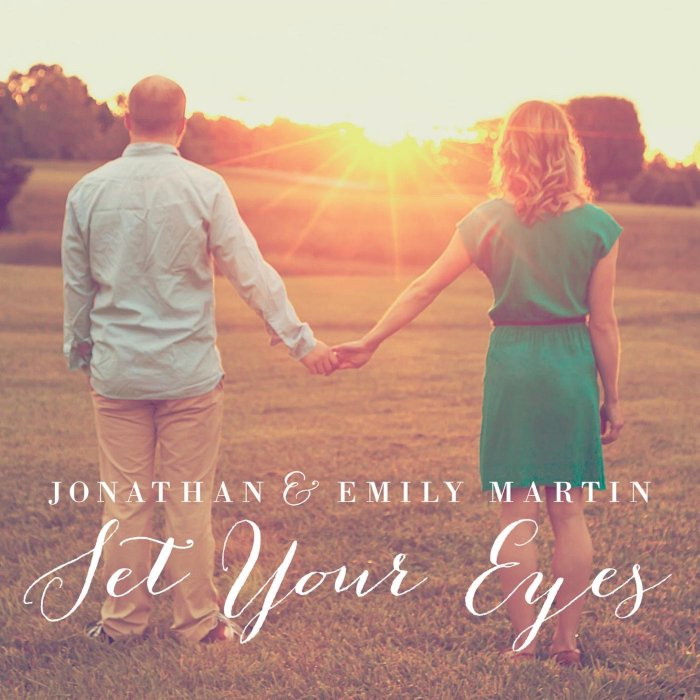 Artist: Jonathan & Emily Martin
Title: Set Your Eyes
Label: independent
Release Date: 7/2/13
Reviewer: Jonathan Andre
Tracklisting:
With Joy
Spirit Speak
As The Watchmen
Two Become One
Set Your Eyes
With myself recently discovering this duo on iTunes a few weeks ago, I was and still am incredibly impressed with both Jonathan and Emily Martin (who make up the independent band also titled 'Jonathan and Emily Martin'). From Nashville, we are given a heartfelt duo who are able to place Scripture into song in an inviting and enjoyable way, reminding ourselves of the power the Word of God holds. With their main ministry to teach God's Word through music and to deliver fresh and new biblically based worship songs for the church to introduce in their services, both Jonathan and Emily's vocals are great assets for this EP, titled Set Your Eyes. Released on the same day as Hillsong's Glorious Ruins, Set Your Eyes is part 2 of a 4 part EP series titled 'The Overflow Effect', '…an overflow of their experiences in life, their relationships, ministry, and their time spent in the Word…' A great purchase if you enjoy contemporary worship music in the realm of Kari Jobe or Chris Tomlin, we are reminded that just because a band or artist is indie, it doesn't make the music any less enjoyable or worthy to listen to compared to more popular and signed artists. While not necessarily the most well-known worship artists in today's CCM/worship culture, this EP has immediately travelled to be one of my favourite EPs of the year so far. Reminding myself vocally of a cross between ex-Jump 5 vocalist Brittany Hargest, Karyn Williams and the Civil Wars vocalist Joy Williams, Emily Martin and her passionate vocals and heartfelt message of hope and encouragement is a standout on the album. From the humbly poignant 'Spirit Speak' to the intimate and tranquil 'Two Become One'; this is a perfect gift for someone who wants to enjoy some good reflective music with an acoustically driven musical edge!
Initially thinking that 'Spirit Speak' was 'Spirit Speaks' by All Sons and Daughters, I jumped at the chance at listening to the track, imagining how these two would choreograph the famous All Sons and Daughters song. While I was somewhat disappointed to find out that 'Spirit Speak' was indeed a new original song, I still listened further, and was amazed at what I heard. Full of enthusiasm as Emily takes the reins to lead on the track, we are given a soft keyboard riff introduction as Emily delivers the poignant lyrics of how we can't know even the thoughts of our fellow men, unless Christ delivers them to us via His Spirit. It is when we delve more into the Holy Spirit's presence that we can experience a sense of closeness where the knowledge of ourselves and others can be imparted to us much more easily, as we continue to become conduits of God's love and grace to other people we meet. Starting the song in a sombre-like way, the bridge introduces rising electric guitars to accompany the mood of the song as we pray and cry out for God's spirit to come fall upon us. Anthemic and powerful, 'Spirit Speak' is indeed equally powerful as 'Spirit Speaks', and if both Jonathan and Emily continue to deliver songs in this manner, the reputation of them could potentially (hopefully) match that of All Sons and Daughters (I know what I'm saying is a big call, so listen for yourself and see if my judgement is like yours). 'As the Watchmen' is a pop CCM tune amidst all the other mellow songs full of reflection, with Emily channelling some Natalie Grant and Karyn Williams-esque vocals to powerfully declare that '…as the watchmen wait for the sun to shine, I know Your mercy will arise…I'll wait for You…in Your Word I'll hope…' With big sounding drums, powerful cymbals and percussion, and great harmonisation between Jonathan and Emily, we are reminded of the notion of waiting, and in a similar way to how watchmen wait for the sun to shine so that they can sound the bells from the bell tower to such precision; there are moments in our lives where we need to wait for results and outcomes, requiring patience that some of us may need Christ's help with. As we realise that even in our time of waiting, that Christ has still won; we can rest assured that everything that we experience and endure can build us up to be the warriors of God's love that we are. My two favourite songs on the album, both 'Spirit Speak' and 'As the Watchmen' encourage us to pursue the things of God, even if it may take us a longer time than expected or envisaged. Well done guys for such inspiring and emotional songs of hope and freedom.
'With Joy' is a vibrant electric guitar driven song about how it is in Jesus that our joy and victory are found; while 'When Two Become One' is a heartfelt and emotional song between husband and wife and their devotion of love to each other. As we are reminded of that the same love a married couple have is the same one Christ has for the church, we can relate more to the poignant and intimately crafted track, singing along with both Emily and Jonathan and proclaiming that '…here I am, here's all of me, You have all that once was mine…' Knowing that whatever we have is God's anyway places things in perspective as we are able to hopefully let the things that hold us down go at Jesus's feet as we humbly surrender everything we have before Him. Yet it was 'Set Your Eyes', the title track and last song on the EP, that truly sums up the EP as a whole in a lyrical sense. Primarily sung by Emily, the acoustic guitars start to strum and bring to the fore the poignant lyrics of Emily urging listeners to lift our eyes and behold the greatness of Christ, setting our gaze on what is before us instead of what is behind or even to the sides of ourselves as we run the race of endurance called this life. As we declare that '…Jesus has been lifted high and He's drawing all men…', we are assured that whatever we undertake, the Lord will continue to use whatever is around us to continuously draw us to Himself. Through family members, encouraging words spoken by our friends, or even the entertainment choices we make (TV shows, music, movies), God continuously speaks, with this song crucially reminding us to keep our gaze firmly on our creator as we see the signs and try to hear the words and whispers of our Lord. A great way to end the EP, well done Jonathan and Emily for a song that'll hopefully encourage us as we learn how to prioritise Christ in our everyday lives!
Overall: While Jonathan and Emily Martin may not be the most well-known artists in the Christian circle, their EP has been one of the most worshipful of the year. While only 5 songs, it does rival many of my own favourite worship albums in 2013 (albums from Meredith Andrews, Martin Smith, Joanna Beasley, Christine D'Clario, Rend Collective and Chris Tomlin); and together with O Great Vine (their first EP which released in 2012), this duo band can certainly go far in the indie Christian worship industry. For fans of contemporary worship artists like Meredith Andrews, Chris Tomlin and Christy Nockels; both Jonathan and Emily have delivered nearly flawless vocal performances to bring together one of my favourite EP's which focuses on bringing scripture in song to life. Well done guys for such a powerful and compelling EP!
RIYL: Kari Jobe, Christine D'Clario, Meredith Andrews, Chris Tomlin, Christy Nockels
Buy the Album: iTunes/Amazon mp3