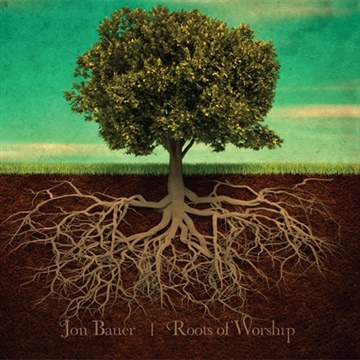 Artist: Jon Bauer
Title: Roots of Worship
Label: independent
Release Date: 7/16/13
Reviewer: Jonathan Andre
Tracklisting:
Forever Reign
Whom Shall I Fear (God of Angel Armies)
Your Love Never Fails
Mighty to Save
Amazing Grace (My Chains are Gone)
Our God
Cornerstone
Forevermore
Hosanna (Praise is Rising)
Blessed Be The Name/Power in the Blood (w/ High Valley)
Canadian worship leader Jon Bauer has been within the CCM music industry for quite a while, producing children's albums Come and Save Us and Giver of Grace, while also presenting albums with a modern worship emphasis with Surround and Forevermore. With his 2012 album Forevermore being his first to be released in the U.S. market, he has been respected in the Canadian Christian community for many years, with himself being the recipient of the Male Vocalist of the Year at the Canadian GMA Awards in 2011. Comparable vocally and musically to contemporaries like Chris Tomlin, Aaron Shust and Big Daddy Weave, Jon's ability to create hopeful and encouraging melodies was deeply reflected in his 2012 January album release. Now releasing Roots for Worship, an independently funded album full of acoustic and folk driven worship covers, this is a perfect purchase for anyone who loves worship in a stripped back acoustic format a la Bethel: The Loft Sessions. Joining both Tim Neufeld and Yancy with an album that provides listeners with worship melodies in an organic folk-like musical context; we are met with some of today's most famous CCM melodies, from Hillsong hit 'Cornerstone' to one of my favourite Chris Tomlin songs lately, 'Whom Shall I Fear (God of Angel Armies)'. With Jon staying true to some of the songs lyrically and musically, while also changing things up on others and providing listeners with unique musical backdrops on some fan favourites; we are invited to listen to a refreshing take on worship melodies old and new as I commend Jon in delivering some of my favourite cover renditions of these songs ever!
With all of the album covers (except for his acoustic version of 'Forevermore', the title track from his last studio album), there is great variety between older worship hits and newer melodies, ranging from as old as 'Mighty to Save' by Hillsong to Chris Tomlin's 'Whom Shall I Fear'; each song providing listeners with a unique rendition, with the acoustic guitar and its riffs being the prominent instrumental feature throughout each track. 'Forever Reign' starts off this 10 song album with a light acoustic guitar presence as the musical background as Jon poetically sings the heartfelt words '…oh, I'm running to Your arms, I'm running to Your arms, the riches of Your love will always be enough, nothing compares to Your embrace, light of the world forever reign…' One of my favourite worship songs, written by Hillsong and One Sonic Society within the last few years; Jon's heartfelt version full of the acoustic flavour for listeners who may just want a reflective melody without all the drums and electric guitar noise, is a great album starter to an album that places unique twists on already famous songs. 'Your Love Never Fails' boasts a great Rend Collective Experiment vibe with percussion and powerful acoustics starting off the song, making it almost unrecognisable musically for anyone who is a Jesus Culture fan. Even distancing from the pop dance version of the melody that Newsboys did on their 2011 album God's Not Dead, this version of 'Your Love Never Fails' is different still, in a good way. Promoting a country-folk flavour with this song, this is one of the most upbeat songs on the album, and also one of my favourites. With an acoustic guitar riff travelling throughout the song, we are invited to proclaim alongside Jon the poignant words of how '…You stay the same through the ages, Your love never changes, there may be pain in the night but joy comes in the morning…' 'Mighty To Save' boasts a country twang to it with light acoustics and a banjo to create a Southern American vibe as the song is shortened to a little over 3 and a half minutes (and also slowed down with tempo a bit) as Jon delivers one of the most subdued performances on the album. With violins and a soothing vocal, 'Mighty to Save' also becomes a hit of mine as I use the song to reflect upon God's might and strength.
Also delivering the powerful 'Hosanna (Praise is Rising)', originally recorded by Paul Baloche and newer melody Hillsong's 'Cornerstone'; Jon's unique ability to create different riffs and musical backdrops with very few instruments (just acoustic guitar, percussion and a few string instruments) is absolutely marvellous. Jon's acoustic version of 'Hosanna (Praise is Rising)' is perhaps my favourite version of the song (along with Paul's studio version on The Writers Collection), while 'Cornerstone' possesses a strings emphasis to create a solemn moment full of biblical truths as we hear an ambient version of an otherwise jovial and buoyant anthem. With the instruments being in a subdued manner, we are able to reflect much more on the lyrics, and the moments of the song taken from the ever popular hymn 'The Solid Rock' are one of my favourite moments on Jon Bauer's version. Jon also does a remake of 'Forevermore', one of his original songs from his recent 2012 album, stripping down the electric guitar ridden original recording to showcase a version of the song trimmed down by a minute or so and possessing a country style twang with light electrics and a slowed down tempo. While I enjoyed his original recording better, this is still a unique version of a song that declares God to rule and reign forevermore above everything else in the world.
Chris Tomlin covers are also present on the album (3 out of 10), with 'Whom Shall I Fear', 'Our God' and 'Amazing Grace (My Chains are Gone)' each being covered by Jon, and each portraying the songs with similar tempo and song progression compared to the original Chris Tomlin recorded songs, while also keeping the Jon Bauer acoustic flavour present throughout the album. 'Our God' is slowed down and portrayed as a song that you can sing around a campfire with friends, while I have personally enjoyed Jon's version of 'Amazing Grace (My Chains Are Gone)' surprisingly much more than Chris Tomlin's song on See the Morning. With much more interesting and enjoyable instruments on the song rather than just the piano, Jon provides a poignant message of freedom through perhaps the most famous hymn ever written.  'Whom Shall I Fear' is the song that almost mirrors Chris Tomlin's version lyric by lyric and line by line, with the exception of the instruments accompanying the track. One of my favourite renditions of the Chris Tomlin hit single from Burning Lights (perhaps the only cover of the song so far); well done Jon for such an inspired song that speaks about our God being a fortress and tower of strength, and that '…nothing formed against me shall stand, You hold the whole world in Your hands, I'm holding on to Your promises, You are faithful…' ('Whom Shall I Fear').
Overall: Roots of Worship is possibly, alongside Tim Neufeld's debut album Trees, one of my favourite folk-acoustic inspired worship album of the year so far. Despite only consisting of covers, Jon does a great job in choreographing new versions of beloved melodies that have become the anchors of worship melodies throughout the years. With this album reminding myself of the folk-worship albums this year by Yancy and Tim Neufeld, as well as the Jadon Lavik hymns album Roots Run Deeper last year as well; Jon's ability to craft musical gems, even out of covers, is certainly evident, especially through Roots Of Worship. A certain purchase if you enjoy worship from a folk-acoustic orientated musical angle, well done Jon for such an enjoyable album, a great to listen to during these June/July holidays.
RIYL: Chris Tomlin, Jadon Lavik, Yancy, Tim Neufeld
Buy the Album: iTunes/Amazon mp3