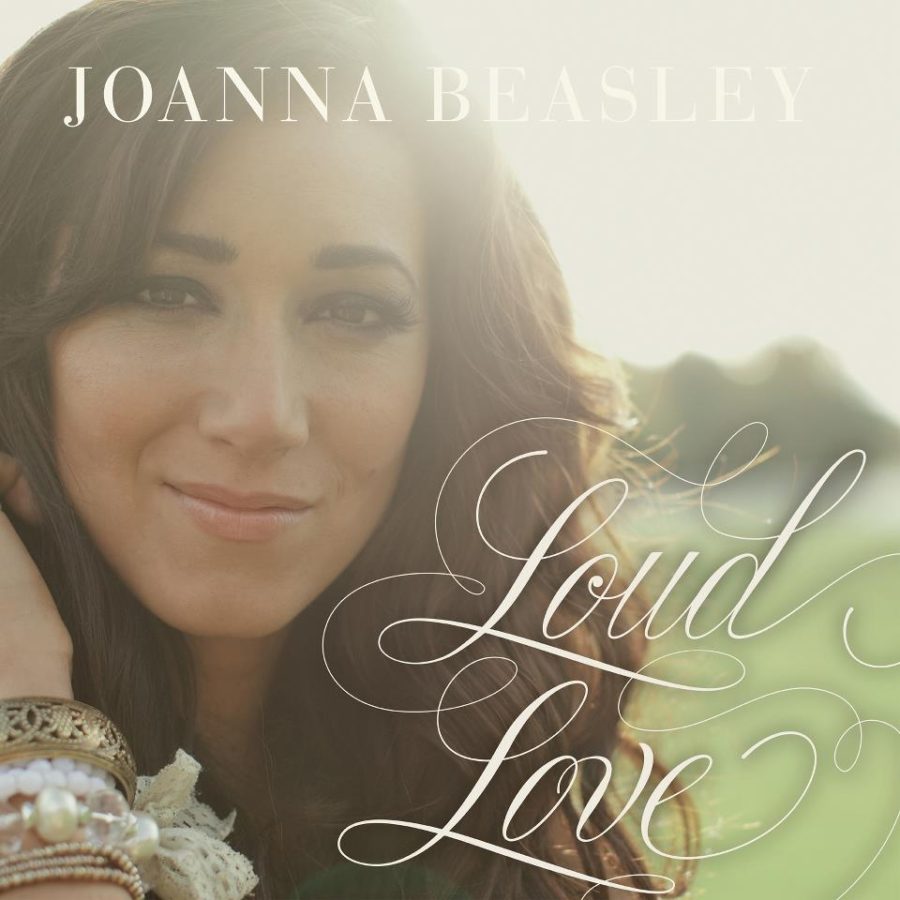 Artist: Joanna Beasley
Title: Loud Love
Label: independent
Release Date: 4/16/13
Reviewer: Jonathan Andre
Tracklisting:
Exalted One
Won My Heart
With Your Love
Rooftops
I Will Rise (Beneath the Waters)
Hallelujah
Jesus Saviour
Thank You
This Same Love (w/ Chris McClarney)
Boldly
Reminding me vocally like Christian pop artists Jaci Velasquez and Britt Nicole, independent artist Joanna Beasley's new 2013 album has taken me by surprise, even propelling this album to be one of my top 5 worship albums in 2013 so far! Since advancing to the top 80 on the second season of American Idol, Joanna has since released two albums, shared the stage with many CCM artists like Michael W. Smith, Aaron Shust, Jeremy Camp and Natalie Grant; hosted the program 'Steelroots Top Ten Countdown' that aired on INSP, iLifeTV & INI, as well as celebrating her marriage that occurred during the 2000s. Representing and promoting the organisations of Compassion International, Global Pastor Outreach, Sonnyvilla Children's Home, and Chic-fil-A's WinShape Camp for Girls; this young girl of God has great stories to tell, and while still relatively new to the music industry (many listeners may not necessarily know who she is), this independent artist has given us 10 great songs full of passion and enthusiasm, that has led Loud Love to be one of my favourite independent full-length albums since The Sonflowerz' By Faith and Brett Younker's Come to the Water. With some familiarity amongst listeners as Joanna records covers of Hillsong's 'Beneath the Waters (I Will Rise)' and Jesus Culture's 'Rooftops', this album is an absolute must if you enjoy great worship from similar artists like Meredith Andrews and Hillsong. Full of enthusiasm and hope, her bubbly personality (see her kickstarter video here and you'll see what I mean) is a great asset for the album as she sings each song with great abandon as every one of these songs has the potential of being a part of my favourite songs on my end-of-year top 25 song list that I make for IVM. One of the most fresh, invigorating and enjoyable worship albums of the year, I am glad that I took the plunge and listened to the album since I was recommended this album since reading the review of it on NRT earlier this week.
'This Same Love', featuring Joanna singing a duet with songwriter of 'Your Love Never Fails' Chris McClarney, is the first radio single from the album, and also one of my personal favourite tracks on Loud Love. Initially thinking that Joanna did a cover of a Paul Baloche classic 'The Same Love'; 'This Same Love' on the other hand talks about a similar theme that Paul expounded upon in his 2012 radio hit, about how it is a wonder and beauty that Christ died to save us, and all we can do is just honour and praise Him, giving everything back to Him as a gesture of gratitude and never-ending thanks for His ultimate sacrifice. Starting off with light acoustics and hand claps, Joanna reveals her heart in the poignant words of '…oh what great news how I'm loved, this God who came not to judge but to save, the mercy of the Father undone to make me beautiful…', a lyric line that starts a song that reveals, both to myself and other listeners, some of the most heartfelt and honest words on the album as a whole. The passion through both Joanna and Chris's voice is undeniable, as we hear both singers declare with their everything that '…this same love, who has conquered death is You, great God…' The message of hope and freedom through Christ our Saviour can never be more evident and clear through this heartfelt melody, one that will certainly bring in the listeners through the fame of Chris McClarney (his song 'Your Love Never Fails' has been covered and sung in many churches and arenas for quite some time). I'm sure that as listeners hear the song because of Chris, they'll be impacted by Joanna just the same, as I myself have been. With 'This Same Love' behind 'Oceans' (Hillsong UNITED) and 'The Lord Our God' (Kristian Stanfill) has one of my favourite worship songs for the year of 2013; this is a great first single, and an automatic 'yes' to download the song from iTunes if listeners only want to or can only afford to have one song from the album. A stellar start to a worship album that's going to be on repeat in my iTunes music playlist for weeks to come, well done Joanna for reminding us of this same love!
Both 'Hallelujah' and 'Jesus Saviour' anchor the middle of the album, and both incorporate the beloved hymn 'Doxology' somewhere within each song. While each of these tracks are distinct and different, each song flows into the other, and with each describing a similar theme of declaring hallelujah to God, it's only natural to discuss these two songs within the same paragraph. With myself personally classifying both songs as a medley of sorts, 'Hallelujah' starts off with a violin interpretation of the chorus of 'Doxology' before looping percussion and light acoustics enter into the musical frame as Joanna declares the powerful words '…angels surrounding, glory the throne of the King, You're the King…' Vocally reminding myself of pop/Christian artist Britt Nicole especially on this track, 'Hallelujah' breaks out into an anthemic chorus as the words 'hallelujah' are repeated with much fervent praise. One of the easiest songs to learn from the album so that it could be sung in churches with congregations around the world, Joanna has penned a song that I hope will become one of the modern day hymns as the months and years tick by. With a reverbing keyboard transitioning into 'Jesus Saviour', Joanna continues with a Britt Nicole-inspired vocal moment as she fervently sings out this hymn-like melody. As we witness a song about how basking in the presence of God is like no other, 'hallelujah' is once again repeated in 'Jesus Saviour', as Joanna sings above the keyboards and string instruments that '…hallelujah, our God saves…' 'Doxology' then enters the frame as Joanna pays great homage towards this timeless hymn, also with a similar theme to the other two songs presented. Reminding us that hymns are indeed timeless and that we can praise God everyday for His unending grace, this almost 10 minute medley (alongside 'This Same Love'), is my favourite moment on the whole CD, and will hopefully intrigue listeners who were and are fans of 'Doxology' to listen to the track.
With a great balance of covers and original tracks, fans of modern worship bands like Jesus Culture and Hillsong will certainly feel at home with this album, as Joanna covers both fan favourites 'Rooftops' (Jesus Culture) and recent hit 'Beneath The Waters (I Will Rise)' (Hillsong LIVE). Joanna covers both of these tracks beautifully, to the point where I enjoyed each of these songs somewhat more than the original versions sung by Kim Walker-Smith and Annie Garrett respectively. Starting off 'Rooftops' with some electronic vocals in the background as the song is slightly sped up; the passion for God to the point of declaring it from the rooftops is plain to see in this song. As Joanna declares the words '…here I am, I stand with arms wide open to the one, the Son, the everlasting God…', I can't help it but join in and sing along as the Holy Spirit starts to fill the room I am in. While the upbeat 'Rooftops' leading into the still and sombre 'Beneath the Waters (I Will Rise)' may seem like an odd decision, I commend Joanna for placing both songs together in terms of familiarity, and while the Hillsong cover may not necessarily be that well known (only amongst Hillsong enthusiasts); this version seems to bring in even the most uninterested of listeners (hopefully) with a light acoustic introduction that's seemingly reminiscent of the introduction to Chris Tomlin's 'Unfailing Love' on Arriving. Nevertheless, the power and message of 'I Will Rise' continues to amaze, as Joanna firmly states that '…Your word it stands eternal, Your kingdom knows no end, Your praise goes on forever and on and on again…'
Joanna also gives us great original material in 'Exalted One', 'Won My Heart', 'Boldly', 'Thank You' and 'With Your Love', each boasting a great melody and easy to learn lyrics that remind us of God's character and our response to our Father. Starting off with a light electric guitar introduction with powerful pulsating drums, 'Exalted One' reminds us to give praise to Christ everyday for all the good things He has done in our lives. With full conviction and emotion, Joanna lets us understand that '…in the midst of the darkness, You're the light that guides me through, our eyes are on You, You are near to the broken, they will find their strength in You…' As we realise that God is with us in all circumstances, revealing Himself either through creation or through words of affirmation or encouragement, we can gladly declare God as exalted. 'Boldly' presents to us a message of evangelism, and that as boldly as Christ loved us, we ought to boldly step out of our comfort zones to share Christ's love with everyone we meet. Co-written with Krissy Nordhoff (who co-wrote the Natalie Grant hit cover 'Your Great Name'), 'Boldly' is a nice song to end the album with, with a ball of encouragement as I hope we're motivated through the song to take up the cross and make a stand for Christ Jesus our Lord.
'Thank You' is a piano prominent hymn-like lullaby that provides us an outlet to give our thanks to God for the many things in our lives that would not occur if our lives were void of Christ. With appreciation being the main theme of 'Thank You', this is a great song to play during Easter time or even Christmas, as we as given 3:46 minutes to contemplate the enormity of how God '…sacrificed Your perfect life, You took my place and gave me Yours…' Also digressing from the standard worship musicality to give us two upbeat songs in folk-like 'Won My Heart' and string heavy anthem 'With Your Love'; both songs unveil themes of redemption and restoration as we realise that God is the only one that can satisfy our hearts longing for the things that only He can satisfy. The powerful bridge of 'With Your Love' that gives us reason to declare that '…I am sure that neither death nor life can break the love that You poured out upon the tree, I am confident that there's no separation, from the scar of love on Calvary…' stands tall to rival the rest of the lyric lines on the song (or even on the album as a whole) as the lines resonate with me personally and remind myself (and hopefully other listeners of the thankfulness I carry for the undeserving love given to myself and all of humanity. Well done Joanna for delivering some of the most real and honest worship songs I've heard this year so far!
Overall: Joanna Beasley's third album is sure to be popular amongst both Joanna fans and worship enthusiasts alike, and while the album was made independently through funds raised via kickstarter, the quality is just as good as if Joanna was signed by a major label. The notion and assumed understanding that label albums are better than independent albums is certainly proved wrong through these 10 tracks, with Loud Love one of my favourite worship albums made this year, possibly even third just behind Martin Smith's God's Great Dance Floor Step 01 and Meredith Andrews' Worth It All released in April and January respectively. With a great vocal distinction and similarity to both Britt Nicole and Jaci Velasquez, fans of both their music will love Joanna and her worshipful lyrics. With Loud Love sparking a great interest in myself to listen to Joanna's whole album discography, I'm sure that after listening to this album, you'll do exactly the same. Joanna's ten songs show us not to judge before listening, and that independent artists can, and sometimes do, have a greater impact on listeners in terms of lyrical content and musical ingeniousness, compared to the label-signed albums released throughout the year. As I hope that Joanna gains great respect and popularity throughout the rest of 2013, this is an album that I will definitely recommend for anyone who loves contemporary pop or modern worship. Well done Joanna for giving one of the most out-of-the-box unique worship experiences of 2013.
RIYL: Britt Nicole, Meredith Andrews, Jaci Velasquez, Natalie Grant
Buy the Album: iTunes/Amazon mp3