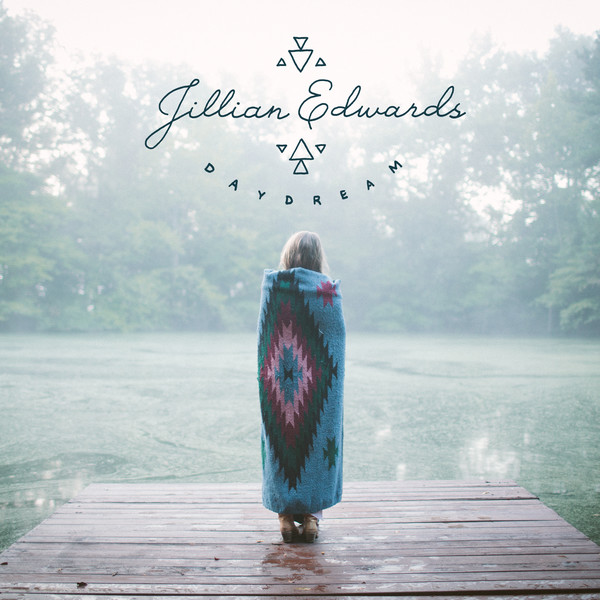 Artist: Jillian Edwards
Title: Daydream
Label: independent
Release Date: 3/11/14
Reviewer: Jonathan Andre
Tracklisting:
Apologies
A Thousand Years
Daydream
Sink My Feet
Gotta Have You
Room
Run Fast
Just a Little While
Wife to Will Franklin Chapman, and daughter in law to CCM powerhouse singer/songwriter Steven Curtis Chapman, Jillian Edwards Chapman (known by her stage name Jillian Edwards) is a songwriter and singer to watch moving forward for the rest of 2014, with her powerful melodies and her soothing vocals that remind me of other artists like Lindsay McCaul, Ellie Holcomb or Bethany Dillon. Based in Nashville Tennessee (and originally from Dallas, Texas), this 25 year old's new album is far mature beyond her years, and while she may not necessarily be as well-known as the Chapman family, her affiliation by marriage with them alone is sure to pique some interest into her music. With her songs and melodies usually consisting of her ethereal voice, acoustic guitar and her powerful songwriting skills as she uses her unique ability to speak and minister to lovers of Christian music, mainstream music, or lovers of both music styles; her new album Daydream, which released on March 11th, is an album certain to be bought an enjoyed if you love her music style previously shown on her 2009 album Galaxies and Such and her 2011 album Headfirst, or if you love the singer/songwriter/acoustic melody style that has been woven, not just in this album, but throughout her whole music career so far. With light acoustics brooding through the 8 songs, Jillian sings to the heart of individuals and speaks about topics and issues destined to be discussed about in the vulnerable collection of songs, and possibly some of the most heartfelt, confronting and encouraging collection of songs to be released in 2014 so far (alongside others like Ellie Holcomb's As Sure as the Sun and Jason Gray's Love Will Have the Final Word).
'Apologies', the first song out of 8, is a folksy acoustic song with some pulsating drum beats and a melody that anyone can sway to. But underneath all the music that should evoke happy emotions is a song for the listeners who feel betrayed, a song for the listeners who are hurt and suffering. Aptly and correctly titled 'Apologies' for a great reason, Jillian strips away all the excuses that songwriters and singers can give in a song, and powerfully echoes a phrase that many artists, whether it be Christian or otherwise, seemingly forget to utter, whether in their songs, on stage or anywhere else. The chorus of how she longs to say '…I'm sorry, so sorry, I'm sorry for things I didn't mean that I said…' is a phrase that needs to be said much more often. It can be in our nature for us to hold onto our hurt and pain, and never utter the words 'I'm sorry', or even accept the words from someone else when they are uttered in our direction. This song will hopefully become a catalyst, for us to see that us saying the words is not a sign of weakness, but of hope. The ending words of how '…You tell me it will be alright…' is a sense of comfort, knowing that in all of our apologies being spoken from us to others and vice versa, God is there in the midst of us, even accepting the apologies spoken from us to Him. The first song of many that challenges us to see God, life, love, and the rest of it from a new perspective, Jillian gives us a great reminder through the acoustic guitar that '…so easy, You make me laugh, You move me and You put me back, in my place and lift me up, You go with me to fill my cup, and You make me sing, make me dance…'
With synths and electronic keyboards taking the fore in 'A Thousand Years', Jillian pours out her heart to speak about love and hope as she sings about a persona longing for their loved one to be with them and share in the love that is spoken figuratively of being one that will last for a thousand years. While this song is full of electric guitars, drums, and can seem like it is out of place on an album that is much more folksy than this song suggests, Jillian's heart is still emotive and reminding us of a love that every soul on this planet longs for. Whether we see this song as between us and God, or between us and our friends, family, or our spouse/significant other (if we are in a relationship), what remains true is the longing in each of us to be loved, and loved unconditionally. While this song may not necessarily speak about Christ, I am reminded when I hear 'A Thousand Years' about Romans 8:38, and how nothing can separate us from the love freely given to us, even if we don't deserve it, or screw it up each time once we have hold of it. Jillian's hope that we all at some stage can proclaim with her that '…I can love you with the love of a thousand years, swing open the door to kick out the fears, we can run, we can run, we can run and be never out of reach…', it is when we fully embrace the love of Christ that we can rest assured, knowing that our relationships all form from the identity we have and what we believe we are and are worth, either in the sight of ourselves and others, or in the sight of God Himself. A call for us to dream about what could be and long for something that is seemingly better than the now we're living in, 'Daydream' employs looping percussion to remind us of the theme of just waiting and dreaming, and that it's healthy for us to dream and aspire and follow them without any hesitation. With her voice reminding me so much like Sixpence None the Richer lead singer Leigh Nash, Jillian conjures up a message of us just sitting, and the comfort in the waiting, whether it is daydream about a future that is so out of reach at this point in time, or whether it is just waiting and seeing what the Lord has planned since the beginning. Regardless of how we wait, dream and what we dream for, Jillian provides us with comfort in this 3 and a half minute soothing melody, and that '…you're worth the while…', understanding that Jillian is either singing about someone else, about the dream itself, or both.
The first single from the album, 'Sink My Feet' is possibly one of my favourite songs of 2014 so far. While to be honest I may not have thought that when I headed into listening to this song, or any song on the album, considering that there have been many great songs this year, from 'With Every Act Of Love' by Jason Gray, and 'We are Brave' by Shawn McDonald, to 'Write Your Story' by Francesca Battistelli (all great songs by the way); Jillian's powerful single about us sinking our feet into the truth and into what is unmoveable is a certain trait about the song that has made me champion the melody, and Jillian's music as a whole, all the more. With a soft piano undertone, Jillian gives us moments to think about as she declares out '…I wanna sink my feet down in security, unmoved by changing tides and shadows' shifting lines…' As we are reminded that we ourselves are all longing for times in our lives when we are certain of what we believe, rather than being swayed in our opinions by the changing tides of people's thoughts and opinions we can be caught up with; this 3 and a half minute poignant collection of words set to music is one of the most transparent and identity building songs I've heard in 2014 so far. 'Gotta Have You', while ambiguous in that we aren't sure as listeners whether she is talking to God or someone else, is nevertheless emotional, poignant, and encouraging, and because of the ambiguity, is able to speak volumes into both the lovers of Christian music and mainstream music simultaneously. With light acoustics, we are met with a phrase that Jillian speaks out, that '…I gotta have you…' It is when we cry this out to God, we are able to realise that in this moment, nothing else matters but having God. The vulnerability of Jillian in the song to have such a love for another is a great highlight in the melody, and one of the many reasons why I reckon Daydream is one of the most underrated albums of the year.
'Room' is a powerful melody with light percussion and a soothing vocal as Jillian sings from the persona of someone offering up room in the same space and time for their significant other, as we are reminded that '…there's room for you here, oh, if you take it all, got so much room for you here, yes I pray you lay your head down here…', while 'Run Fast' employs an upbeat tempo with strong acoustics as Jillian presents the theme of running and waiting for the hope that comes when the darkness disappears and the light comes to settle in our lives. While both these songs may not necessarily have much in common musically, each of them remind myself personally about the love of Christ, albeit very subtly. Jesus always has room for us and He wants us to come to Him knowing that. 'Room' acts as a stirrer of questions- do we believe in our hearts that God has room for us to come as we are, and do we ourselves have room for God in our everyday lives we lead? These questions still come in 'Run Fast', as we understand that once we run fast and believe in the hope that Christ offers, we will never be free and be ridden of the hopelessness we can so often feel. 'Just a Little While' finishes off the 8 track album, and while the shortest song on the album, is one of the most heartfelt and poignant. With just an acoustic guitar, Jillian places on her 'Leigh Nash' hat (and impersonates her beautifully), and sings about the day when heaven will come and '…in just a little while there'll be no pain, no suffering, crying, or tears, the old way of things will have passed on and all will have changed…' While very subtle in her approach (never mentioning God, heaven or Jesus in the song at all), the song nevertheless is still very much God-breathed, and a great end to a near-perfect album (the only drawback being not enough songs).
Overall: Jillian's new album (though short) is worth the listen, and certainly worth the purchase if you are enjoying the singer/songwriter/acoustic/folk genre that can be so often shafted to the side in favour of CCM, pop or rock music. Despite Jillian not necessarily being a household name, her music is honest, transparent and certainly something out of the box than what listeners are used to from artists who have music on the radio. One of the most authentic and real albums of 2014, Jillian's heart for writing songs that impact and encourage our hearts is a great part of why I think her music will minister to both the Christian music and mainstream music communities simultaneously in weeks and months to come. A gem of an album, regardless of the genre of music you like, well done Jillian for such a thought-out and well executed album, and one of the most unintended and well enjoyed surprises of 2014 so far!
RIYL: Sixpence None the Richer, Ellie Holcomb, Bethany Dillon, Jason Gray, Lindsay McCaul
Buy the Album: iTunes/Amazon mp3