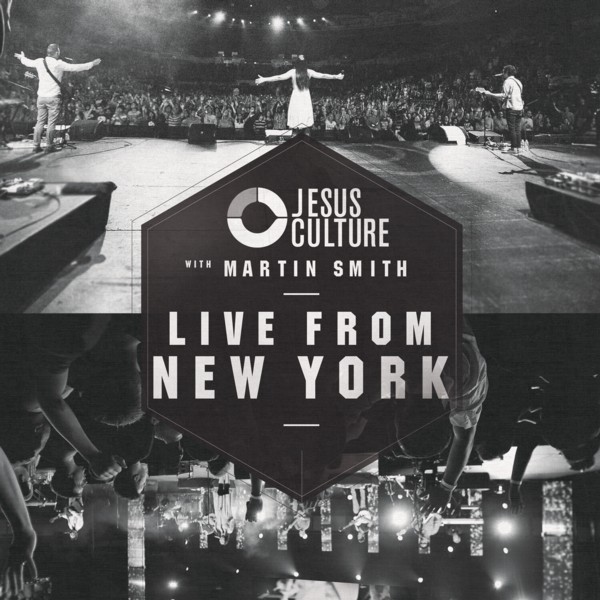 Artist: Jesus Culture
Title: Live in New York
Label: Jesus Culture Music
Release Date: 11/20/12
Reviewer: Jonathan Andre
Tracklisting:
Fire Never Sleeps (feat. Martin Smith)
Forevermore
Pursuit (feat. Martin Smith)
Walk With Me
Waiting Here For You (feat. Martin Smith)
Our God Reigns (feat. Martin Smith)
Song of Solomon (feat. Martin Smith)
Set a Fire
Alleluia
I am in Love With You
Oh, How I Love You
Holy Spirit
God is Coming (feat. Martin Smith)
Show Me Your Glory/Majesty  (feat. Martin Smith)
Did You Feel the Mountains Tremble (feat. Martin Smith)
I Belong to You (Bonus Track) (feat. Derek Johnson)
Ever since Delirious? broke up during 2010, I was sure that Martin Smith would still continue in music, in some form for the future. 3 solo EP's later under the title 'God's Great Dance Floor' with 'Movements' 1, 2 and 3 already released in the U.K.; Martin is still giving us anthems and melodies that are certain to be classics for years to come, with songs like 'Back to the Start', 'Fire Never Sleeps', 'Song of Solomon', 'Waiting Here For You' and 'God is Coming'. Now teaming up with Jesus Culture, a worship movement out of Bethel Church in Redding, California, both Kim Walker-Smith and Chris Quilala from Jesus Culture, and Martin Smith; have given listeners (myself included!) a worshipful experience like no other. Looking forward to next year when Martin releases his EP's on iTunes, this project collaboration with the worship movement that has delivered songs like 'Burning Ones', 'I Want to Know You', 'Come Away' and the famous 'Your Love Never Fails' (written by worship leader Chris McClarney) will definitely bring in some listeners who have enjoyed both Jesus Culture and Delirious? alike, as they witness a night of intense worship and passion delivered with the purpose of lifting God on high and declare that '…our God is coming, we can hear the heavens roar, c'mon get ready for the glory of the Lord…' ('God is Coming'). With Jesus Culture becoming one of the most popular worshipful movements along with Passion, Hillsong, Bethel Live and Desperation Band, both Kim and Chris have given their all in an album that is one of my favourite live worship albums of the year. Featuring 16 songs of declaratory adoration, including hits like 'Our God Reigns' and 'Did You Feel the Mountains Tremble', Live From New York gives a great worshipful experience to any listener, reminding them of the peace and joy that comes from realising that '…it's You we adore, singing Alleluia…' ('Waiting Here For You').
With 8 tracks sung by Martin Smith, Live From New York is able to give listeners a conglomeration of music right from older hits to newer favourites. 'Fire Never Sleeps' starts off the album in great Delirious? fashion, with stellar guitar work as I reminisce the days when Delirious? were together and guitarist (and current One Sonic Society member) Stu G. would wow crowds and listeners with his excellent guitar work. Martin's first appearance on a CD available in the U.S. since Delirious? is welcomed with much anticipation and eagerness as I feel like Delirious? never left, with such passion and poignancy delivered by Martin, especially in this opening track. Starting the song off with the lines '…I, feel the heat is rising, the flames on the horizon, are at my door…' amidst the drum kicks and bass line, we are met with the knowledge of how God's love travels, that the fire of His love and affection is able to spread like a fire into our hearts and out to other people that we meet. The notion of fire not sleeping reminds us of how God always is pursuing us, never stopping until He shows us how much He cares for His creation. A worshipful rock anthem that gives us hope that God never gives up on us and that the ashes in our lives are just an opportunity for God to make something beautiful out of them; this song is the first of many by Martin, as Delirious? fans and modern worship ones alike look forward to his solo career and album release in the near future.
With half of the album sung by Martin Smith, this is a perfect album to purchase if you're a Delirious? fan over the 17 years of their career. Offering a mixture of old favourites and new songs that are soon to become favourites, 'Fire Never Sleeps' starts a musical journey filled with hope and expectation as we are immersed in the heartfelt melodies Martin brings, with honest poignancy and hopeful truths. 'Waiting Here For You' was made famous by Christy Nockels on Passion: Here For You, yet the original songwriter, Martin, reminds us of how the song seems to move beyond just the artist, with this version of the worshipful classic equally as good as Martin declares that '…if faith can move the mountains, let the mountains move, we come with expectation, waiting here for You…' Kim Walker-Smith sings a duet with Martin on this melody and does a great job with her powerhouse vocals and passionate spirit as listeners are taken on a praise anthemic journey like no other as the guitars and drums lead to a crescendo through the middle of the song to create one of its many highlights. 'Our God Reigns', though not a radio single from Mission Bell, is arguably the most famous song from that album, and is performed on this album with full energy as both Martin and Kim declare out '…our God reigns, forever Your kingdom reigns…' Though only just the chorus, the strong guitars and great harmonisation and powerful declaratory moments full of emotion and encouragement makes this song still as moving in 2012 as it was during 2005 when it was first released. 'God is Coming' was originally recorded by Tim Hughes on his 2011 album, Love Shine Through, and though I may not have heard Martin's studio counterpart on God's Great Dance Floor: Vol 3; 'God is Coming' is a great anthem of exaltation, full of promise and praise, hope and healing, restoration and revelation as both Martin and Kim once again perform one of the most heartfelt duets of the album. Martin's presence at a Jesus Culture event certainly brings a greater passion and positive praise and performance than ever before, and as the anthem rises with the lyrics '…great is the Lord, You are Lord, God is great…', we are swept away on an emotional rollercoaster of realisation and sacrifice, honour and devotion as we acknowledge God's greatness and His involvement in each of our lives. 'Majesty' and 'Did You Feel the Mountains Tremble' are some of Delirious?'s most popular and emotional songs of all, and Martin is able to do both songs justice in his performance of both of them on this record. Though a medley with Jesus Culture song 'Show Me Your Glory', which is just the tag of '…show me Your glory…' sung to rising guitars and a rousing crowd; it is 'Majesty' that highlights the track with great poetic reverence as we collectively lift up God's name and declare His majesty over all the Earth. 'Did You Feel the Mountains Tremble' is still one of Delirious?'s best songs around (along with 'History Maker') and it is definitely proven on this record, as Martin sings out the lyrics with just as much passion as before, and that if people may not have known Delirious?'s retirement, they may not have guessed it from this song alone. With such hope as we long for God to '…open up the doors and let the music play, let the streets resound with singing…', this timeless classic deserves its spot on an album full of musical highlights and new songs, from both bands, as we celebrate God's worth through these 16 tracks.
Jesus Culture have always been able to give listeners memorable songs over the years, from 'Your Love Never Fails' to 'You Won't Relent'. Live From New York is able to show both Chris and Kim's vocal ability in many songs that are certain to become potential classics in years to come. Following 'Fire Never Sleeps' is the Chris Quilala led 'Forevermore', providing listeners hope with this guitar-driven anthem as we are all encouraged to give everything that we have to the Lord, understanding that '…all that I have is Yours, my soul, we will praise forevermore…I come alive in You, my soul will shout forevermore…' This fast-paced song filled with eclectic electric guitar goodness and hopeful promises as we understand that '…love changes everything, Your love has rescued me, now I am Yours…'; 'Forevermore' is one of my album highlights and gives me a reminder that God is with us forevermore. United Pursuit's 'Set a Fire' is covered on this album, and though it's only the chorus '…set a fire down in my soul that I can't contain, I can't control, I want more of You God…', this 5 minute track of repetitious declaratory statements is full of power as the crowd starts to sing enthusiastically to their King, with the music exploding to create a poignant masterpiece of a song that is just as encouraging as both 'Our God Reigns' and 'Majesty', with both of these songs only singing the choruses of each. 'Walk With Me' is another cover (from One Sonic Society) that is beautifully sung by Kim Walker-Smith as the light electric guitar sets the undertone of the whole song. With Kim crying out '…how I need You, how I need You, oh Jesus walk with me…', we are met with a humble melody of longing to spend every moment with Christ as we travel through our lives of unexpected changes and uncertain times, needing hope and joy from God in the process. Well done Jesus Culture for these heartfelt tracks of redemption.
Jesus Culture have always given listeners great live performances and worship experiences. From singing a song about God's unending love for His creation and proclaiming His glory and worthiness for all creation to hear ('Alleluia'), and presenting a rock anthem in 'I Am in Love With You' as we are reminded that '…I can't get enough of you, because I am in love with You, and oh how I long for You…'; to giving listeners a slow quiet ballad in 'Oh How I Love You', a poetic anthem that seems almost hymnlike in the chorus as Chris declares that '…oh how I love You, I bow down before You now, God I adore you; worship before You, I lay my life down, say that I love You…'; listeners are gladly given a set of songs full of intense worshipful moments of praise and adoration as we collectively lift up our hands to the Lord in reverence and exaltation. Full of anthems that the church can use both now and into the future; Jesus Culture's live album is certainly one to remember as Martin provides an emotional and special set full of previous musical highlights and upcoming fan favourites. Though it may would've been nice to hear some well-loved melodies from both bands, including 'Revelation Song', 'History Maker', 'I Want To Know You' and 'You Won't Relent'; this 16 track double disc album complete with a DVD counterpart is a great addition to any fan of both Delirious? or Jesus Culture.
Overall: Jesus Culture's live albums have always been great to listen to, and Live in New York is no exception. With such a stellar worshipful performance from Martin Smith (one of my all-time favourite worship leaders!); Jesus Culture have given listeners (myself included) a moment of 16 songs that are able to give listeners hope as they hear the night of praise on this double disc CD. A certain purchase if you enjoy Jesus Culture's previous live albums, or if you are feeling nostalgic about Delirious? or looking forward to albums from Martin Smith in the future; Live from New York is one of my favourite live albums of 2012, along with Live From the Tracking Room (One Sonic Society) and Live Worship at Vertical Church (Vertical Church Band). Featuring songs that are certain to become Jesus Culture classics in years to come; this is a great worshipful experience from Jesus Culture to create some of the most heartfelt and honest worship songs of 2012! Well done Jesus Culture for such a compelling album!
RIYL: Passion, Delirious?, Paul Baloche, Christy Nockels
Buy the Album: iTunes/Amazon mp3