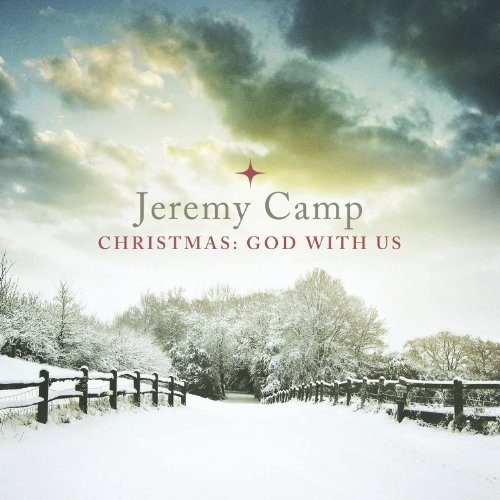 Artist: Jeremy Camp
Title: Christmas: God With Us
Label: BEC Recordings
Release Date: 9/25/12
Reviewer: Jonathan Andre
Tracklisting:
Jingle Bell Rock
Hark! The Herald Angels Sing
Joy to the World
O Little Town of Bethlehem
Have Yourself a Merry Little Christmas
Let It Snow
Mary Did You Know
God With Us
O Come, O Come Emmanuel
Away In a Manger
Releasing on the same day as WOW Hits 2013 and Matthew West's Into the Light, Jeremy Camp is set to release his first Christmas album, titled Christmas: God With Us. With a combination of traditional hymns and hymns redone; and one original track in 'God With Us', Jeremy's album seems to slip under the radar amidst the other Christmas releases that have scheduled to release in 2012. Nevertheless, listening to this album does give listeners great renditions of traditional carols, however, what has always made Christmas albums great are the artist's ability to place in a few original Christmas songs in the album lineup- many of my favourite Christmas albums have come from artists that have penned stellar Christmas songs (Steven Curtis Chapman- 'The Miracle of Christmas', Third Day- 'Born in Bethlehem', BarlowGirl- 'Hallelujah (Light Has Come)'). Jeremy's passion for these 10 melodies is clearly seen through these songs, but with many Christmas albums flooding the markets, many may not pick this album up as it releases so early during the holiday period (who wants to listen to Christmas music in September?). With dubious song choices and a short album list, this album is a decent project from Jeremy; however, it fails to live up to the high expectations I have placed upon this album. Kudo's to Jeremy for releasing his first Christmas album though, giving long-time listeners a taste of new recordings ahead of his new studio album in 2013, however, Christmas: God with Us needs to be a bit more adventurous in its song choices, with some songs ('Have Yourself a Merry Little Christmas') done to death. Listening to this album has had me yearning for more material from Jeremy and thankfully he's releasing his new album next year, however this feels like a filler album to the casual listener, an impression you wouldn't want to make when producing an album!
It is pretty strange to see 'Jingle Bell Rock' and 'Let It Snow' on a Christmas album, especially when these two melodies have nothing to do with Christ- but rather the message of just enjoying the '…frosty air, what a bright time, it's the right time to rock the night away…' ('Jingle Bell Rock') Despite the big drum beats and vibrant guitars, with Jeremy declaring the arrival of the holiday season; these two songs that certainly have a genuinely happy and lively feel fall short of what I would've expected Jeremy to sing- a few more Christ-centred carols or maybe some original Christmas songs (or even worship covers) than songs that only sing about how '…the weather outside is frightful, and the fire is so delightful, and where there's simply no place to go, let it snow…' ('Let it Snow'). 'Hark The Herald Angels Sing' on the other hand is a decent Christmas carol cover, and one of my favourite renditions of this song. With a stirring guitar intro, Jeremy proclaims that '…hark the herald angels sing, glory to the new born King…' and though only 3:00 in length, is one of the most convicting and energetic versions of the song yet. 'Joy to the World' is another diamond-in-the-rough- sandwiched between the second and third verse is a stirring poetic melody as Jeremy states a paraphrase of Isaiah 6:9, reminding us of the prophecy of Isaiah to the people way back, before Jesus was even born into the world. With a great instrumental arrangement filled with big drums and percussion, this song is one of my favourite renditions. This however can certainly not be said about 'Have Yourself a Very Little Christmas', another one of Jeremy's non-Christ songs on the record. This song has been done to death by many artists, both in the mainstream and Christian industries, and on many Christmas-themed movies and Christmas-themed TV episodes too. With Jeremy's version of the ever-popular melody more like a lullaby (great to put me to sleep!); I would've omitted this song straight away from the line-up, and maybe would've placed in a song like 'What Child is This', 'Go Tell It on the Mountain', 'Angels We Have Heard on High' or 'The First Noel'.
The remainder of the album is pretty standard, with Jeremy including both 'O Little Town of Bethlehem' and 'O Come, O Come Emmanuel', two of the lesser known Christmas carols, presenting an eerie undertone on 'O Little Town of Bethlehem', complete with 'leaves' rustling and a big drum beat that stirs up the anthem as it moves into Jeremy's penned tag at the end '…hallelujah to the Lord, Emmanuel…' 'O Come, O Come Emmanuel' is more of a stripped down acoustic recording (compared to my favourite version by rockers Third Day) filled with a rousing instrumental bridge crescendoing with a complete orchestral backdrop as Jeremy lifts up the name of the Lord in one of the most emotive and inspiring moments of the album '…rejoice, Emmanuel, shall come to thee oh Israel…' 'Away in a Manger' can either be played two ways- in a major key or a minor one- thankfully it's my favourite musical arrangement as Jeremy imparts to us the truth of Jesus in the manger- that He in fact was truly born, and that '…the little Lord Jesus asleep on the hay…' Though not necessarily grand with big theological statements, this simple melody of Christ's coming is a fitting end to an album firmly grounded on Jesus' birth as He provides creation a way to get back to Him. 'God With Us' is the only original track, with this acoustically driven song prompting us to '…give You our hearts as an offering, You laid down Your crown and became as dust, Emmanuel, God with us…' Though only 3:07, Jeremy's honest poignancy has given this album some redeemable nature after such a start as placing 'Jingle Bell Rock' as the first song on Christmas: God With Us.
Overall: Jeremy's album is the first of many to release in the year of 2012, and with some commendable melodies full of heart and promise, Jeremy's first Christmas album is able to set us in the right Christmas spirit as we start to remember the reason for our existence on Earth. Though not necessarily right on the song selection, Jeremy's infusing of both holiday and Christmas songs will give some appeal to the mainstream market, and will definitely be a positive if he chooses to breakout in that niche market later on in his musical career. With Christmas: God With Us whetting my musical appetite for more Christmas albums, eagerly anticipating them from Francesca Battistelli, Steven Curtis Chapman and Josh Wilson, Jeremy's Christmas collection is a solid album full of hopeful songs for the season. Well done Jeremy for such an enjoyable record!
RIYL: Josh Wilson, Steven Curtis Chapman, Kutless, Bebo Norman
Buy the Album: iTunes/Amazon mp3