Album Review :
Jenny & Tyler - Open Your Doors + 3 New Love Songs
By Eric Pettersson in Reviews | Comments closed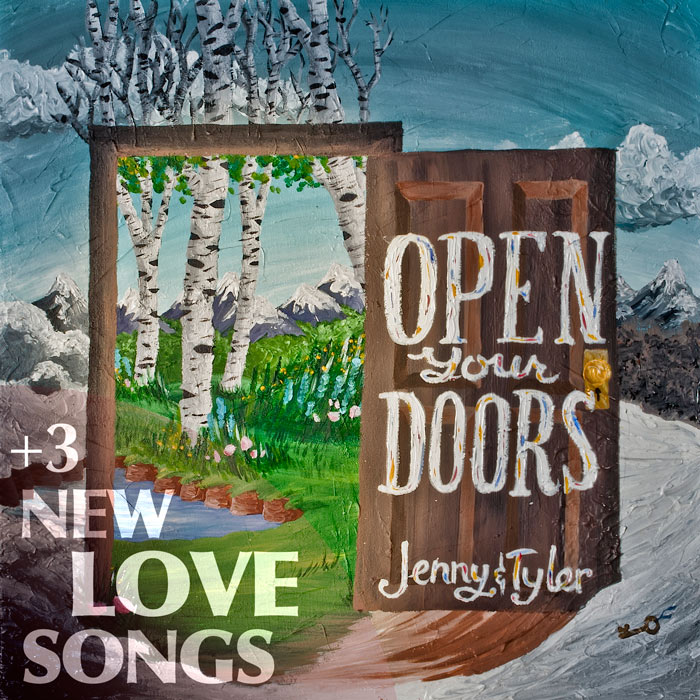 Artist: Jenny & Tyler
Album: Open Your Doors (+3 New Love Songs)
Label: None
Release Date: February 2013, (original release April 3, 2012)
Reviewer: Eric Pettersson
Tracklisting
Little Balloon
Abide
Skyline Hill
When Darkness Falls
Fear Thou Not
Lament
O That the Light
You Keep Loving Me
Psalm 86
See the Conqueror
Kingdom of Heaven
Selah
When I Meet You – Live from Appel Cottage
The Past Don't Own Us Anymore – Live at 1979
To the Sea – Live at 1979
Yes, IVM already reviewed this album when it first came out last year, but a re-release with bonus tracks sometimes calls for a re-review with bonus perspective. I really enjoyed the couple's previous album, 2010's Faint Not, and this one picks up right where they left off. Their acoustic blend of love songs and praise songs continues to inspire and delight, relax and refresh.
If I had one complaint about Faint Not, it was that it didn't quite fit while I was driving around on a sunny day. It was just one tiny bit too down tempo for that. Still good music, just not fitting for that setting. Open Your Doors tweaks the formula slightly, making it just bright enough to fit the mood as I cruise through fields and small towns on my way home from work.
But that's not to say everything is happy-go-lucky. Jenny & Tyler take their lyrics as seriously as ever, quoting liberally from their Bibles and Hymnals (including quite a bit of Thee's and Thou's). Songs like "See the Conqueror" celebrate the Incarnation and Resurrection, giving theological legs to the themes of the whole album, that we must dwell in Christ as he dwells in us, and that God is patiently guiding us to a better future. As someone who has tired of most worship music and is seeking out modern artists who can revive the spirit of theologically-rich yet heartfelt hymn-writing, Open Your Doors is (maybe literally) a Godsend.
As for the 3 new love songs, the first is "When I Meet You," a love song for the couple's coming child. I can't say I've heard another song touch on this subject before, but this one is very sweet, tender, and touching, even for someone who has never had a child and doesn't plan on it anytime soon. "The Past Don't Own Us Anymore" speaks of the process of opening up to love after past hurt, while "To the Sea" sings delicately of loving each other enough to go anywhere together.
Overall: Open Your Doors is a solid album on its own, and the three bonus tracks are just that: bonus. They won't sway your opinion on the record, but they will give you more to enjoy if you enjoy it already. Click here for a free download on Noisetrade.