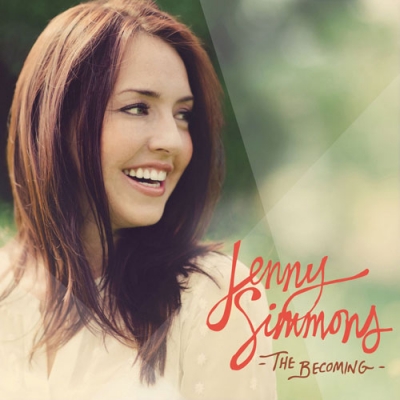 Artist: Jenny Simmons
Title: The Becoming
Label: Fair Trade Services
Release Date: 2/5/13
Reviewer: Jonathan Andre
Tracklisting:
Where I Belong
What Faith's About
Heaven Waits For Me
This I Know
Broken Hallelujahs
The Becoming
Letting You Go
The In-Between
Don't Lose Heart
Come Healing
'…there is an upside to living in the tension of life and death because you come face to face with life and you have to choose: life or death. There is a way to be dead even when your body is alive. There is a way to be kind of alive even if your heart beats strong and steady. There is a way to have a body detached from a soul. And then there is a way to live that God offers throughout the Bible- abundant life…' This poignant quote about living life to the fullest, with the firm knowledge of death as a reality and to not be overwhelmed or overcome by such a heavy topic of discussion is nothing less than a miracle to achieve. Written by Jenny Simmons on her blog 'Cupcakes, Sprinkles and Other Happy Things' not too long ago as an introduction into her thoughts behind her first radio single 'Heaven Waits For Me', the former Addison Road singer is now venturing on the journey of being a solo artist, ever since the 5 piece band amicably split during 2011. With Addison Road one of my favourite female fronted pop bands of the late 2000s, releasing great songs like 'Hope Now', 'What Do I Know of Holy', 'Don't Wait' and 'Fight Another Day', along with recording an amazing cover of Nada Surf's 'Always Love', what came as an initial shock eventually turned into great anticipation for the new chapter of Jenny's musical career. With her vocal quality certainly up there with other great female artists like Francesca Battistelli, Meredith Andrews, Dawn Michelle (of Fireflight) and Alyssa Barlow (of the now retired group BarlowGirl); The Becoming is able to showcase some of Jenny's most vulnerable, heartfelt and poignant musical work as she wrote or co-wrote every song on the album, something which has been extremely new to her as many of her band members wrote songs during the Addison Road days. Even though this upcoming February release may seem very similar musically to both Stories and Addison Road, (released in 2010 and 2008 respectively); this is one of my favourite Jenny Simmons-fronted albums ever, possibly even surpassing Addison Road, one of my favourite albums released in 2008. With the primary theme of the album being a restoring change from the person we see ourselves as currently to the men and women Christ is continually longing for us to become; a variety of musical genres is shown on this heartfelt album, from pop melodies like 'What Faith's About' and 'The In-Between', to poignant ballads and emotional songs like 'Heaven Waits For Me', 'The Becoming' and 'Come Healing'. Releasing the album on the same date as artists Sanctus Real and RED, this album is a perfect purchase or gift for anyone who loves Addison Road, or enjoy great pop-radio songs with an uplifting message, as we realise that '…Jesus loves me this is know…so at my worst or at my best, You don't love me less, You can't love me more, this I know for sure…' ('This I Know').
'Heaven Waits For Me' released to radio late last year, and with the musical focus on drum loops and light percussion to undertone a song full of poetic lyrics and a heartfelt vocal; Jenny has created a song that is destined to resonate in the hearts of many as she discusses the theme of life and death- living life with the knowledge of our own impeding death and to not let it infringe on the daily things we set out to do and achieve. As Jenny divulges to listeners that '…when I take my final breath, I'm not leaving with regret, I know I'm ready, heaven waits for me…'; we are reminded to take each moment as a blessing. Not knowing the exact moment of our parting, I am inspired by a recent blog by Jenny, written to explore the themes presented in this song- '…when you live with death hovering over you- you have two choices about the way you will live life now…you can choose to live with the fear of death, hovering over you, stealing your joy, robbing your happiness, defining how you carefully live and protect each day- or you can just live life- Abundantly. Fully. Whole-heartedly…' This profound quote places things in perspective as we listen to this AC/Pop Contemporary radio song. Focusing our eyes on Jesus and living not from fear but from making each moment as memorable as we can is something all listeners ought to consider as we trek along in our lives, with 'Heaven Waits For Me' giving us a sobering account that in light of what we do know, we should be '…not holding back for next year, I'm living for today…' The riveting guitar intro, as well as Jenny's powerful vocals; showcase this song to be one of my favourites of the year so far, with this song alone hopefully warranting a Dove Award Nomination for Pop/Contemporary song of the Year at the 2013 Dove Awards, 'Heaven Waits For Me' is a certain highlight in The Becoming. Well done Jenny for this emotional and poignant song of hope and realisation of our own mortality in the light of our anticipating eternity.
Through all the 10 songs on The Becoming, Jenny reminds us of issues prevalent and close to many who listen, with a goal to keep everyone reminded of the transientness of life and the in-between that we so often live in, between the now and the not yet. 'Where I Belong' captures the fear and uncertainty of not knowing what comes next as the acoustic guitars strum to start the song off, with Jenny crying out '…I dunno where I'm going, I dunno where this road may end…', something maybe all too familiar with many listeners around the world. As Jenny came to a period in her own life after Addison Road with the feeling of uncertainty and a need of direction, we are invited to further on in the melody where Jenny provides the answer to her own questions that many of us continue to wrestle with everyday. With light acoustics and an infectiously soothing voice, the truth of the matter still stands that '…I, I am right where I belong, don't need a place to call my own, cause with You, I am home…' Reminding listeners (myself included) that if we are with Christ, we are right where we should be regardless of the circumstances; the song also alludes to the certainty that God makes everything work to our good, and that even in bad situations, the words '…I'm right where I belong…' ought to be a comfort, knowing that God is with us in the situations that we may not always see or feel His presence. On a similar note with the second song 'What Faith's About'; Jenny gives us a 'what if' scenario, describing moments of worry, stress, anxiety and anticipation. With a great electric guitar riff and poetic lyrics that draw listeners into a song about clarity through the chaos; we are offered another side of the coin in the chorus. Sure, there may be moments of uncertainty and caution, but what if those exacts are also '…the best of my whole life? What if the things that I dream become my reality? When it looks impossible but soon works out, what if that's what faith's about?…' Our fear that holds us back needs to be given over to the Lord, and these two songs offer us some sort of hope and consolation as we start on our collective journey of relying more on Christ and less on our feelings and emotions. Some of the most heartfelt songs on the album, 'Where I Belong' and 'What Faith's About' are a great start to an album engrained with biblical truths, alongside everyday struggles and hardships. Well done Jenny for these two songs!
'This is Know' is a happy song full of acoustics and ukuleles as Jenny pays homage to the children's song 'Jesus Loves Me', reminding us through the 3:14 minute pop song that '…this love is unconditional, so at my worst or at my best, You don't love me less, You can't love me more, this is know for sure…' as we are given great confidence in the Lord; while 'Letting You Go' is a keyboard and synth prominent song about a break-up- with most people possibly guessing on the surface to be about a past relationship but as I listen to this electronic-sounding melody, Jenny's adamant cry of how '…it's time to say goodbye to everything I've ever known but I choose freedom so this is me letting you go…' is reminding me of what someone could say to the devil as they move into a relationship with Christ. 'The Becoming' is also a heartfelt track about the closing chapter of Addison Road, and the conflicted and uncertain emotions Jenny was feeling. With just piano and strings, Jenny pours out her heart in the title track, longing for God to '…meet me, be everything I need, in the waiting, in the in between…' Waiting for what comes next is sometimes the hardest thing for us to do, and sometimes as we are caught up in distractions and worries, we will miss what Christ longs to tell us during the times of rediscovery and realignment of goals and passions. 'The In-Between' also tackles the issues of giving things over to God and trusting Him in all circumstances- no matter how unclear or uncertain they may be. While many of the themes within these songs are similar, Jenny seems to create a gem within these 3:15 minutes of acoustic pop. The chorus especially ought to strike a chord with many, with Jenny declaring to '…throw away my plans, and I finally feel free, so I can dream again and see where Your spirit leads…' Walking without a guide map will be scary but as we develop our trust with Jesus more, we are free from carrying the burden of worry and stress if we were to control every moment of our lives ourselves.
From the Leonard Cohen recorded song 'Come Healing', that is a soulful prayer from God to us, longing to heal the brokenness inside of us and transform it into something beautiful; to the heartfelt encouragement that even though life may be tough and hard as we follow Christ, He is still with us as Jenny sings in 'Don't Lose Heart'; it is 'Broken Hallelujah' that seems to be Jenny's most vulnerable song, apart from her first single. Depicting a moment of total brokenness to the point of confusion and bewilderment, with Jenny offering her last plea in '…find me on my knees, with nothing left to hide, I'll be by the river, leaving all my shame behind…', it is when we surrender fully to Christ in the moment when there is nothing left to do (possibly in a Job-like situation) that Christ begins to reshape and rework the places in our lives that He longs to reform and rejuvenate. Building up from an acoustic guitar start to create an anthem full of electric guitars and a nice light percussion undertone; 'Broken Hallelujah' reminds us that though our lives or even the world may be complicated, hallelujah can still be sung to God who makes everything work together for our good. Well done Jenny for one of my favourite songs on the album!
Overall: With each of Jenny's songs giving us a great reminder of moving from fear into comfort, worry into assurance and uncertainty into hope; Jenny has delivered an album full of remedies, struggles and encouragements, each with the primary message of running to the Father as we enter seasons of renewal and restoration. From the poignant 'Heaven Waits For Me' to the whimsical and bouncy 'This is Know' and the serious yet also quirky and sometimes encouraging 'Letting You Go'; this is a great album for someone who has enjoyed albums by Addison Road, or if you admire Jenny's vocals alone, comparable to other female artists like Alyssa Barlow of BarlowGirl, Meredith Andrews or Francesca Battistelli. While it is a sad thing that Addison Road split up, Jenny's new solo album is a reminder that even if something isn't planned or seems unfair now, God will show up and create it into something that is a witness to His power and love- with The Becoming maybe even surpassing both of Addison Road's 2008 and 2010 albums as my favourite album by Jenny. One of my favourite albums of 2013, this is a great purchase if you enjoy great contemporary pop music, or if you are still in denial about Addison Road's split! I'm sure even fans of music other than CCM will find The Becoming a great listen- with Jenny's heartfelt moments of realisation and clarity, it is us that will be changed from listening to one of the most life-changing albums I've listened to since Matthew West's Into The Light. Well done Jenny for such a great album!
RIYL: Addison Road, BarlowGirl, Meredith Andrews, Francesca Battistelli
Buy the Album: iTunes/Amazon mp3