Album Review :
Jennie Lee Riddle - People & Songs: Opus 1 Collective
By Jonathan Andre in Reviews | Comments closed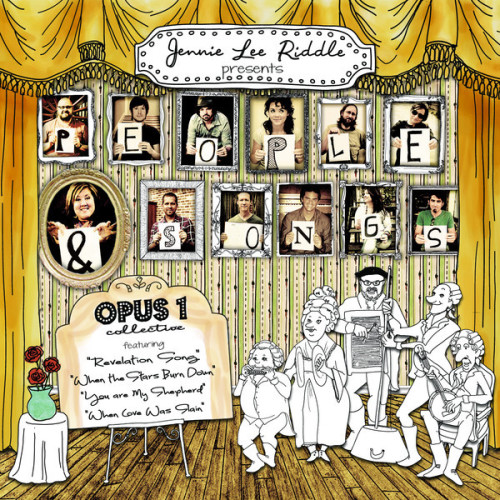 Artist: Jennie Lee Riddle
Title: People & Songs: Opus 1 Collective
Label: New Nation Music
Release Date: 5/8/12
Reviewer: Jonathan Andre
Tracklisting:
Waking Up the Dawn (feat. Michael Farren)
Faithful (feat. Don Poythress)
Love Like This (feat. Jason Walker)
When the Stars Burn Down (feat. Jonathan Lee)
When Love Was Slain (feat. Crystal Yates, Will Yates & New Nation Music)
You are My Shepherd (feat. Jonathan Lee)
Glory Fall (feat. Crystal Yates, Will Yates & New Nation Music)
O Come Divine Messiah (feat. Robbie Seay)
Nothing's Changed
From Jesus' Side (feat. Matt Boswell & Emily Riddle)
Broken for Love's Sake (feat. Don Chaffer)
The Pure Will See Our God (feat. Jonathan Lee)
Can't Get Enough of You (feat. Emily Riddle & Sarah Reeves)
Revelation Song
Inescapable Day (feat. Crystal Yates, Will Yates & New Nation Music)
Though many people may not have heard Jennie Lee Riddle, her songs (one in particular- 'Revelation Song') are sung by many worshippers around the globe. 'Revelation Song' alone has been covered by many artists, from Jesus Culture, Kari Jobe, Melissa Greene and Mission Six, to Tiffany Thurston, Shane and Shane, Newsboys and the ever-popular chart topping version from vocal group, Phillips, Craig and Dean. With such power and honesty in her lyrical content, many of her melodies since 'Revelation Song' have also been given the 'covers' treatment, with Phillips, Craig and Dean covering 'When the Stars Burn Down' on their album Breathe In and Superchick front-woman Tricia Brock singing her own piano-prominent version of hit single 'You are My Shepherd'. Founding the company New Nation Music in 2009 with two families (the Riddles and the Yates), Jennie is the '…primary songwriter, teacher, mentor, visionary, as well as founder…' of the record company that gave us the songs 'Revelation Song' as well as this upcoming album People and Songs: Opus 1 Collective, which is a compilation of sorts, featuring songs penned by Jennie and sung by many of her worship label family as well as some of her family's friends- worship artist Sarah Reeves, and songwriters Jonathan Lee (who wrote the powerful song 'Pouring It Out For You', covered by the Newsboys on God's Not Dead) and Jason Walker (featuring on Know Hope Collective's album and current keyboardist for Audio Adrenaline). Featuring 13 songs displaying the wonder and glory of God through these acoustic style melodies, it is nice just to sit back and listen to some new and some older melodies sung in a stripped back way, to bring out the lyrical poignancy so often buried in each song. From the instant worship classic 'Revelation Song' to the up-and-coming hit 'When the Stars Burn Down', Jennie and friends offer up a worship conglomeration of songs certain to win Jennie and co. a Dove Award Nomination for Worship album of the Year in 2013. With New Nation Music beginning '…as a result of discerning the need for the Church to have scripture-based doctrine written upon both heart and mind…[and] a desire to cultivate generational unity and authentic respect in the Family of God…' People & Songs: Opus 1 Collective isn't the typical worship album, often forsaking the grand musicality at times in favour of quiet intimate moments of rest and realisation of revelations as listeners immerse themselves in the knowledge that '…there will come a day, standing face to face, in a moment, we will be like Him…' ('When the Stars Burn Down').
Many of the songs on this record have been able to become popular by other artists over the years- 'When the Stars Burn Down' was recorded by Rebecca St. James and Phillips, Craig & Dean; both 'You are my Shepherd' and 'Broken for Love's Sake' were recently recorded by Superchick lead singer Tricia Brock on her 2011 album The Road; and the famous 'Revelation Song' has been given a popularity after both Kari Jobe and Phillips, Craig & Dean covered the song on their 2009 albums Kari Jobe and Fearless respectively. Jennie Lee Riddle has managed to provide stellar renditions of each of the songs on the album, with acoustic guitars being the primary instrument in these songs that accentuate the lyrical encouragements as Jonathan Lee provides astonishing versions of 'You are My Shepherd' and 'When the Stars Burn Down'. With both songs providing listeners with a worshipful focus, we are met with a Psalm 23-like theme as we listen to the words '…You are my shepherd in the wilderness, whom shall I fear, You are the God that goes before me, my rock and my shield…' ('You are My Shepherd') as we are also continually reminded to expect the coming of Christ and long for His return, knowing that Christ reigns over everything in our lives and that He is '…star of the morning, light of salvation, majesty…' ('When the Stars Burn Down'). With hopeful promises and encouragements that will spur on the Christian in their daily walk with the Lord, these two songs give us a daily reminder of how God is our constant, and our reaction should be nothing less than praise to Him regardless of our circumstances. Jonathan gives a great performance on these two tracks, promoting the songs as some of my favourites on the album.
Recently signed to be the keyboard player of the rejuvenated band Audio Adrenaline in their 2013 comeback, Jason Walker gives us a stirring song in 'Love Like This', sounding vocally similar to Audio Adrenaline ex-lead singer Mark Stuart (if I wasn't sure of Mark Stuart's vocal problems, I would've thought he was singing this song!). Starting off with a 'woah' vocal, we are given a heartfelt and poignant prayer that '…I only want to be found faithful, Lord make us able to represent You well…' Filled with acoustics, bells and a light electric guitar undertone, Jason's hopeful words of encouragement is certain to give listeners hope as they understand that the love that everyone longs for is one that Christ can give. 'Broken for Love's Sake', also on Tricia's solo album The Road, is also one this record, sung with singer/songwriter Don Chaffer. Sounding hymn-like, this string infused song of redemption and hope is able to give us strength in the trying of circumstances- that even when we feel like we're broken, weary and hopeless, we ought to remember that Christ was '…broken for love's sake…' so we can be truly free from the bondage we may feel like we're in. Emily Riddle, the daughter of Jennie Lee Riddle, provides listeners with 2 great duets on the album, once with worshipper Sarah Reeves ('Can't Get Enough of You') and the other with Matt Boswell ('From Jesus' Side'). Both of these songs give us a reassurance that Christ's love for us led to His own sacrifice, and that our response ought to be nothing less than honour and reverence, as we declare that '…in Your presence There is life, flowing like a river into my soul, in Your presence there is hope hovering over us like a shelter in the storm…' ('Can't Get Enough of You') Jonathan Lee also returns to give an acoustic drum beat infused song of exalting Christ up as we declare our worth in Him. Understanding that '…the weak shall be strong, and the poor shall be rich, and the meek inherit the Earth…', this country influenced song of simple instrumental arrangements will certainly have great implications for those who need to realise our identity in Christ. Well done Jennie for these simple acoustic melodies that will certainly lift up people to the truth that God's love for us is never-ending and everlasting as we continue to live our lives for the One who gave us His!
The central theme of this album has always been about worship. Creating an album that shows listeners that it is more about the songs rather than the artists, with Jennie relying on some lesser-known artists to sing songs such as Michael Farren (lead singer of Pocket Full of Rocks) and Don Poythress; People and Songs: Opus 1 Collective has created a space for vulnerable worship to occur without any barriers and with a great measure of transparency. Yet is Jennie's most famous song, poetically titled 'Revelation Song', that is seemingly her biggest hit and one of my all-time favourite worship melodies of the decade, and one of the best musically mixed and lyrically poignant songs on the album. 'Revelation Song' is a great motif in an of itself, the song indeed provides great revelations that listeners ought to hear and understand, comprehend and live out both now and into the future. 'Revelation Song' is also based upon the last book in the bible, and as we collectively cry out '…holy, holy, holy is the Lord God Almighty who was and is and is to come…', we are timely reminded of our hope in Christ and His holiness and worthiness above all creation. God is our Provider, Deliverer, Saviour and Friend; and through this acoustic and string emphasised melody full of hope as we hear a song that may not be as musically elegant as many other worship songs, yet equally as passionate, vulnerable and heartfelt; our hearts are filled with awe and wonder as we praise our King, both now and into eternity. Well done Jennie for this spectacular song!
Overall: Though this album may not necessarily contain the artist that are popular in the Christian worship music industry right now, nor even the most pop-centred music by highly publicised artists; this acoustic underlaying album is one to savour, filled with treasures to be gathered in every song that can be heard on People and Songs: Opus 1 Collective. From one of the most prolific and honoured worship artists of the 21st century, Jennie Lee Riddle's poetic and fulfilling album full of gems of hope and joy is one that will be certainly honoured at next year's Dove Awards, hopefully for either Worship or Inspirational Album of the Year. From ballads to acoustic driven anthems, this collection of songs will be great for those who love 'Revelation Song', or for those who love acoustically driven compilations full of encouragements to consider as we collectively declare that '…Jesus, Your name is power, breath of living water, such a marvellous mystery…' ('Revelation Song').
RIYL: Chris Tomlin, Sarah Reeves, Know Hope Collective, Kari Jobe
Buy the Album: iTunes/Amazon mp3