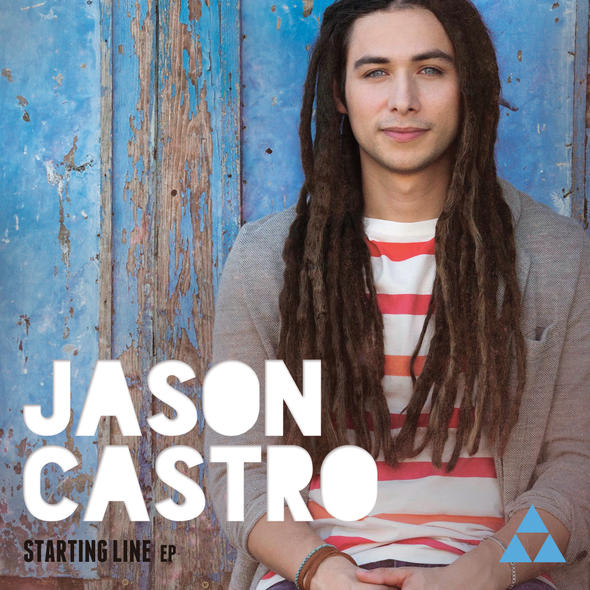 Artist: Jason Castro
Title: Starting Line EP
Label: Word Records
Release Date: 8/28/12
Reviewer: Jonathan Andre
Tracklisting:
Only a Mountain
I Believe
Starting Line
If It's Love
Good Love
Jason Castro has been catapulted to fame, stardom, acclaim and critical praise after his 4th place on American Idol season 7. With many top hits in both Christian and mainstream markets, Jason has been able to write with transparent honesty and meet and encourage fans with his music. His first Christian hit, 'You Are', shows his testimony, and how his faith in Christ is all that matters when it comes to his motivations. With Jason on many talk shows (TODAY, The Ellen DeGeneres Show, Access Hollywood) throughout his short career in music ministry, as well as appearing in USA Today and The New York Times, Jason's firmly grounded faith has evidently been shown through his music. Now releasing his EP as a precursor to his 3rd album Only a Mountain out January 2013; this collection of 5 songs are able to pierce through the darkness and ignite hope, reminding us of the love Christ has for each one of us and that even in the moments when He seems far away '…when I cannot see, I believe…' ('I Believe'). A mixture of pop, worship and songs about life and love, Jason's music along with his distinct image of dreadlocks, are certainly going to be around for a while yet, encouraging and motivating listeners, myself included, on this journey of life meant to be walked with the Father by our sides!
Though only 5 songs, this EP has plenty of highlights, mine inclusive of Jason's first single, and hopefully his second, 'I Believe'! 'Only A Mountain', title track of his 3rd album and first radio single, reminds listeners to keep our problems in perspective in relation to the God that can move them with one single action. Just over 3 minutes, this pop melody filled with light acoustics is a gentle reminder that God will never leave us and that '…this is only a mountain, you don't have to find your way around it, tell it to move, it'll move, tell it to fall, it'll fall…' Giving us hope that even the toughest of situations, we still have the Holy Spirit inside of us to move through the difficult circumstances, Jason enlightens us with his envisaged message for listeners; '…we've all got mountains in our life, but Jesus tells us that we don't have to worry about them. He said, 'If you have faith and do not doubt…you can say to this mountain, "Go, throw yourself into the sea, and it will be done."'…' What an awesome feeling to know we have the power of Christ within us to do even the same things He did. It certainly gives us a different perspective when we're faced with calamity! 'I Believe' is the second song on the EP and is one of my favourites. With many songs written by many artists aptly titled 'I Believe', this version written by Jason gives listeners a glimpse into seeing faith without proof, hope without necessarily a good outcome. Belief comes down to more that just facts, and as Jason cries out throughout the drum kicks and the acoustic riffs, sounding similar to contemporary singer Josh Wilson; '…this doesn't look a thing like I imagined it, when the waters rise, it's easy to forget, though I don't understand, You have always had Your plans and when I cannot see I believe…', we are given scenarios that are universal in nature, yet there is only one answer: to lean on Jesus for the answers for our searching, our frustrations, even our hurts and disappointments. A personal cry of dependency on the Lord, Jason bears his heart to his Saviour, acknowledging that '…in my darkest night You'll guide me…' Well done Jason for these two melodies that will certainly speak into the hearts of listeners in weeks and months to come.
'Starting Line', 'Good Love' and 'If It's Love' round up the EP with powerful messages on hope, love and the trials of it, as well as acknowledgement of hard work, commitment and dedication; turning to Jesus in assistance of every problem. 'Starting Line' speaks about the second chance we all get when we become a Christian, understanding the religion and routine we were in before our commitment as compared to the love, surrender and wonder we are in as we understand that grace, not works or religion, is the foundation of our relationship. An electric guitar riff undertone, Jason reveals lyrics and phrases we may feel or say when we start to understand God's yearning for His children to come back to Him, '…all this time I thought I knew you, doing all the things I thought I should do, but I missed you all along, too busy, too broke, too blind to see the One that stood right next to me and loved me through it all…' As we continue to immerse ourselves in the Lord's presence, we are compounded with how we are able to commune with God '…face to face, heart to heart, eye to eye, another chance at the starting line…' A great harmonious choir that starts up mid-way in the song is a nice addition of an anthem destined for radio. The last two songs speak about love and relationships, each with a message of commitment as Jason giving us motivation with the words '…if it's love then we're worth saving…' With this phrase reminiscent of the message behind Warren Barfield's 'Love is Not a Fight', Jason touches on the theme of how if you truly love your spouse, even in the difficult times, issues ought to be struggled through, knowing that with Christ at the centre, no problem is too hard for God to fix! Finally is an acoustically driven grooving melody 'Good Love'. Addressed to either his wife or his child, Jason expresses his adoration to his family through this happy melody of appreciation of 'good love', a love that will always remain unconditional despite what is done. With the song having a dual meaning of Jason singing out to God, appreciating the love being showered upon him; this is a great end to an EP that has been able to motivate and remind me of Christ's unending love for His creation!
Overall: These 5 songs are a certain purchase if you want to enjoy a good album in the background, or if you need a word of encouragement about the love of Christ and how it is available for those who need to reach it. With the success of his debut Word Records album Who I Am, Jason's forthcoming album Only a Mountain is sure to touch fans around the world as they listen to his honest portrayal of life, faith and everything between, about struggles and the God who overcomes them. Musically reminding me of Josh Wilson, Jason is a great find from American Idol, and is certainly destined to succeed in both musical markets (Christian and mainstream) with his hopeful melodies reminding creation about the creator, the hurting that there is a healer, and the forgotten that there is One that treasures us despite what we see in ourselves! Well done Jason for one of my favourite EP's of the year!
RIYL: Josh Wilson, Brandon Heath, Rush of Fools, Steven Curtis Chapman
Download the Album: iTunes/Amazon mp3