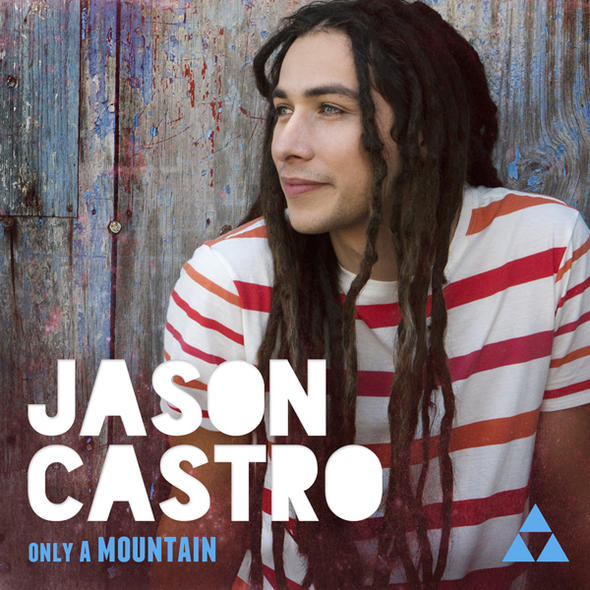 Artist: Jason Castro
Title: Only A Mountain
Label: Word Records
Release Date: 1/15/13
Reviewer: Jonathan Andre
Tracklisting:
Only a Mountain
I Believe
If It's Love
Starting Line
Stay This Way
Same Kind of Broken (feat. Moriah Peters)
Safehouse
Runaway
Enough
Rise To You
Good Love
Life is Beautiful (Bonus Track)
Something New (Bonus Track)
Only a Mountain (Acoustic)
Only a Mountain (Video)
Receiving 4th place in Season 7 of American Idol during the mid-season schedule of the 2007/08 television season; Jason's music has been well received in both the Christian and the mainstream markets. With the ability to write with transparent honesty as he meets and encourages his fans with his music, Jason debut much of his music towards the mainstream genre to start with- his 2009 self-titled album released on the mainstream label Atlantic Records, featuring hit single 'Let's Just Fall In Love Again', and famous covers 'Hallelujah' (originally recorded by Leonard Cohen) and 'Somewhere Over the Rainbow'. Now moving more into the Christian market with 'You Are' being released in late 2010 as his first Christian radio single, Jason's firm grounded faith (in the midst of many appearances on talk shows and in many newspapers like TODAY, The Ellen DeGeneres Show, Access Hollywood and The New York Times) is one of the primary influences towards his debut album release solely on Word Records, Only a Mountain. Inclusive of the 5 tracks from his previous EP Starting Line that released to iTunes in August 2012, Jason has presented to listeners 13 songs (with both an acoustic version of 'Only a Mountain' and the music video attached to the bonus tracks edition of the album) full of encouragement and hope as we hear Jason sing a variety of musical styles, from pop to worship and acoustic ballads. Famous for his dreadlocks, Jason's signature acoustic-pop sound is a great addition to January 2013, with Only A Mountain one of the most lyrically rich and musically relevant releases of the year, alongside Hearts of Saints' For All Of Us and Chris Tomlin's Burning Lights.
Originally on both Starting Line EP and WOW Hits 2013, first radio single 'Only A Mountain' is a great reminder of how strong God is, and that Christ within us can give us the power to indeed tell the mountains in our lives to move and they do. As we keep our problems in perspective in relation to the God that can move them with one single action, this three minute pop melody has been a comfort to many listeners as they face problems that may seem like they're unconquerable in the physical but are not impossible with God by our side. With a jazzy piano beat and light acoustics, we are given great perspective, that '…this is only a mountain, you don't have to find your way around it, tell it to move, it'll move, tell it to fall, it'll fall…' 'Only a Mountain' provides us with much needed hope as Jason reassures us that though we all have mountains that each of us tackle, as we speak in faith with Christ within us towards these problems, we can be able to press forward and enjoy the life Christ has given us to live to our fullest potential. With also an acoustic stripped-down version of the song and a colourful music video (with Jason playing on the piano and painting words and a mountain to give the viewer a bright and memorable feel) included on the 15 track album; this title track is certain to bolster Jason's presence in the Christian music industry, and along with 'You Are', is one of my favourite Jason Castro songs of all-time. Well done Jason for such a poignant and compelling song of conquering our doubts and fears.
'I Believe', 'If It's Love', 'Starting Line' and 'Good Love' were all on Jason's Starting Line EP released last year, and are all major highlights of this 15 song musical collection. From believing that God will take us through our darkest days of searching for meaning to make sense of our hurts, disappointments and pain ('I Believe'), and praising God for the second chance that we have once we acknowledge our freedom we have in Christ ('Starting Line'); to reminding listeners (specifically couples) to work on their relationships and that '…if it's love then we're worth saving…' ('If It's Love') and addressing to a loved one (either his wife or child) that he is thankful and appreciative of the love given toward him ('Good Love'); these 5 songs (inclusive of the title track) are some of the most heartfelt and enjoyable songs ever from Jason's musical career. With vulnerable honesty that gives listeners songs that are destined to become fan-favourites both now and in years to come, Jason's hard work has paid off through these melodies that motivate us to rise above our circumstances and continue to transform into the godly men and women Christ has called us to be. Well done Jason for some of my favourite songs from Only a Mountain.
Produced by Matt Bronleewe, Ben Glover and David Garcia, as well as being cited in the New York Times as being praised at how '…he's got it down cold now, though: 1960s pop with bright guitars, slashed through with a contrarian streak…Jack Johnson and Jason Mraz should be nervous…'; the rest of Only a Mountain continues to offer great lyrical moments of insight into the nature of Christ's love for us and how a passionate love shown from God to us through Christ is enough for ourselves to be continually transformed by it. 'Stay This Way' is one of my favourite songs from Jason lyrically as he tackles the feeling of loneliness- a feeling all the more common than we think in individuals, as each one of us will come across these thoughts in our lifetime- am I the only one out there feeling like this? With a steady drum beat and a traditional pop-rock anthem undertone, this humble melody with the provoking lyrics sung from God's point of view and how He wants us to '…listen to the words I say, you don't have to stay this way, just because you're broken doesn't mean you're hopeless…'; this song is grace defined as we are given redemption through music in that who we were shouldn't be considered in defining who we are. 'Runaway' is a great rock anthem with the theme of running from the things of this world into the arms of Christ and His plans for us that is far greater than we can either understand, comprehend or imagine; and delivered with a dynamic power that is the most present in this particular song, Jason reminds us of our temporary home and that '…I can never stay once I had a taste of heaven…' 'Rise To You' is a prayer offered to listeners that seem to be struggling with difficult issues that may not see a perfect way out, and it in these poetic lyrics that listeners can find comfort- '…somedays I feel so broken down, just hoping I can make it out, when knowing that you'll see me through, I'm gonna rise to You…' When we know in our hearts that Christ is with us and will never leave; our mindset shifts from hopeless to hopeful. Jason continues with the heartfelt and poignant in 'Enough', a song written for his daughter Madeline, with this piano prominent melody offering an encouragement, not just to his daughter but to everyone who listens. To be told that '…you're beautiful, not lost in a sea of souls…' will be a big deal for many listeners who may be hurting from identity issues. Well done Jason for offering a ray of hope, pointing to Christ as we open our hearts to let Jesus speak love and peace over us.
With so much lyrical themes covered throughout each song on Only a Mountain, it is the two melodies of 'Safehouse' and 'Same Kind of Broken' (alongside 'Stay This Way') that offer up the most inspiring messages out of all the songs on Jason's first Word Records-only album. Featuring a duet with Reunion Records newcomer Moriah Peters and starting with an acoustic guitar plucking that is reminiscent of BarlowGirl's 'I Need You to Love Me', 'Same Kind of Broken' tackles the issue of how every human is the same in the sense that we all have dreams, aspirations, hurts and pain just like the next guy, all in need of a friend and Saviour. Something as universal as understanding that just as we are all unique, '…we all need someone to love us where we are…'; the revelation that everyone doesn't have it all together in the perfection we so often strive for is liberating as well as freeing. Knowing that we are not alone in our quest for repairing our broken souls ought to give us comfort that our journeys can be travelled alongside our family and friends. 'Safehouse' also starts off with a subdued instrument effort (this time the keyboard instead of the guitar), the song touching on the issues of sex trafficking and the healing needed to be given to and found by those who have experienced such a horrific crime. Sung from the persona of those affected, Jason opens up a theme that many may shy away from but nevertheless needs to be discussed in today's society, as we continue to be aware of how to help those involved in this cycle of evil, hurt and malice. The longest song on the album standing at 4:39 in length, this guitar driven anthem is one of the most lyrically profound songs on Only A Mountain. Well done Jason for tackling such a complex and sometimes uncomfortable issue.
Overall: On the back of his success in both the mainstream and Christian music market, Jason has once again given listeners a great album to listen to in Only a Mountain. With a certain familiarity to the album as it incorporates 5 tracks from the Starting Line EP, what maybe could've been done for Jason's 2013 album to make it more interesting would've been to only place a few tracks from the Starting Line EP on Only a Mountain, having more new tracks, similar to what was done on Karyn Williams' Only You and Newsboys' Born Again. Despite this only drawback; Jason's first album on only one record label (Word Records) is a certain highlight in January 2013 and one of my favourites for the month, along with Chris Tomlin's Burning Lights and Hearts of Saints' For All Of Us. A potential nomination for Pop/Contemporary Album of the Year for the 2014 Dove Awards; Jason is a great find, and using his American Idol platform, he can hopefully bring more people to Christ and let them know of the love, hope and acceptance found in Jesus Christ our Lord, Father and Friend. With more and more artists from American Idol moving into Christian music ministry (Mandisa, Phil Stacey, not to mention Colton Dixon's debut album A Messenger releasing at the end of January); Jason has gained a great appeal in both markets regardless of his firmly grounded faith. A certain must-buy if you enjoy artists like Josh Wilson or Brandon Heath; Jason Castro has created one of the most unique pop records since Matthew West's Into The Light!
RIYL: Josh Wilson, Rush of Fools, Steven Curtis Chapman, Brandon Heath
Buy the Album: iTunes/Amazon mp3