Album Review :
Jars of Clay - Under the Weather: Recorded Live in Sellersville, PA EP
By Jonathan Andre in Reviews | Comments closed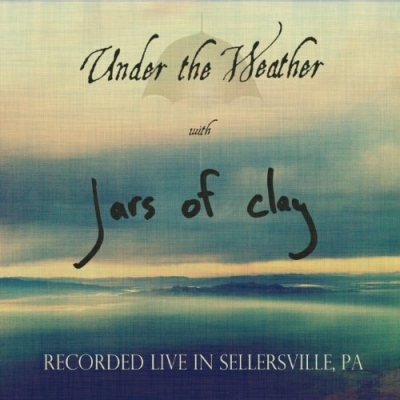 Artist: Jars of Clay
Title: Under the Weather: Recorded Live in Sellersville, PA – EP
Label: Gray Matters Records
Release Date: 3/19/13
Reviewer: Jonathan Andre
Tracklisting:
Weapons (Live)
Eyes Wide Open (Live)
Frail (Live)
Safe to Land (Live)
World's Apart (Live)
Dead Man (Live)
Love in the Hard Times
One of the most popular bands throughout the 1990s and 2000s alongside others like dcTalk, Audio Adrenaline, Carman, Delirious? and Switchfoot; Jars of Clay have brought with it honesty, hopefulness, emotion, and poignant melodies written about the human conditions and other deep and pivotal moments about the human psyche that many artists may shun away from discovering. From writing and performing about the love of the created and creator ('Love Song for a Saviour') and begging to the Lord to give us two hands lifting high in praise to Him ('Two Hands') to delivering a love song to God ('Unforgetful You') that gave the band great exposure within the mainstream music industry; it was their first song 'Flood' as well as their crossover hit 'Show You Love' that have been two of my favourite Jars songs. Taking a break after their 2010 album The Shelter, their welcomed and most anticipated live EP (with one song as an appreciative taste for what is to come on their new album Inland later in the year) is something to savour for the many Jars of Clay fans (both longtime ones as well as relatively new fans alike- myself included) as I personally declare that these songs are some of their best live recordings (apart from their 2003 DVD) the band has ever done recorded and placed on one 6 song EP.
With 6 live songs and 1 studio track as a teaser for their new album releasing later on during the year, Jars of Clay show us some of the fan-favourite and some other lesser known tracks in a stripped-down acoustic manner that remind us of the different sides to a song, bringing out the heartfelt poignancy songs can sometimes convey through acoustic guitars, keyboards, and an energetic passionate crowd. 'Weapons' starts off the EP as Jars of Clay shorten the minute and a half minute introduction to only just 15 seconds with acoustic guitar picks before he reminds us all to lay down our weapons, be it words or physical things, as we learn to come together as humans and fellow brothers and sisters in Christ, working towards the common goal of sharing the love of Christ to those around us. When a song is shown to us raw and emotional, we are reminded of the passion that can be enthusiastically portrayed with the lessening of instruments, as listeners focus not on the musicality of the song but rather the lyrics and its intentional meaning. 'Dead Man' sounded a little different with the acoustic guitars replacing the electric guitars, nevertheless, it's still an emotional song as Dan declares out to God, wanting Him to '…carry me, I'm just a dead man lying on the carpet can't find a heart beat…', reminding us that we are all in need of a spiritual rebirth as we delve deeply in relationship with our Father, Saviour, Redeemer and Friend. Alongside 'Weapons', 'Safe to Land' is the other representative from their 2009 album The Long Fall Back to Earth, and as Dan sings above the light acoustic guitar either to God or to a friend, almost pleading and begging them to forgive and extend out grace after a disagreement, I am reminded of the prodigal son for some reason, and the thoughts he must've felt when travelling back to see his father and what he would've said if he didn't come running out to greet him. While not necessarily the most publicised song throughout their music career, this is one of the most poignant on their 2009 album, reminding us that we never need to ask the question about whether it is safe to land, with Christ welcoming us daily with open arms.
The band also delves into the themes of opening up and taking away the façade that relates to our brokenness and ability to unveil the true self to others ('Frail'), as well as longing for God to keep our eyes open to the moving of God, even if it means for Him to shake our worlds apart and decimate everything that He knows is insignificant to the ground so for us to turn more to Him and seek His face more often ('Eyes Wide Open'). But the real gem for me is the snippet into their next album with possibly the first single from it, 'Love in the Hard Times'. With light acoustics and an electronic beat, Dan reminds us that relationships, whether with our fellow man or with our maker, can be hard sometimes, and the repetitious phrase of 'love in the hard times' reminds us all of the perseverance and patience we need to carry out if we want to continue in the relationships we are in. With this song providing us a motivation and encouragement to pursue the right relationships, and then to hold on and continue once we're sure they're the right ones, any Jars of Clay fan will enjoy this song, even if it's only a teaser of what is to come later on in the year. While not necessarily the most upbeat song in their own repertoire, it is still a great song that's certainly going to gain popular status amongst indie rock and Jars of Clay fans alike. Well done guys for an emotional and heartfelt song that's certain to be the first single from their next album later on during August/September 2013!
Overall: Jars of Clay have yet to release a studio album since their critically acclaimed album The Shelter, and whilst this new musical offering doesn't have more than one new song, it is still a great teaser and a reassurance for many that Jars of Clay is still making music. While I would've been ok with Jars retiring after 2010 (if Dan and the rest of the members said that the Lord was moving them on to different areas), I am truly excited for their next album. A must if you love acoustic and indie rock from artists like Audrey Assad or Sara Groves, this album will also be for you if you enjoy artists from the 1990s era, like Switchfoot, Jon Foreman or even dc Talk. While the band has been absent for much of last year, they are indeed back with a heartfelt album full of emotion and musical ingeniousness as we anticipate the long-awaited return of Dan and the band back into the helm of leading great CCM/indie music. Well done guys for a well choreographed live album. Can't wait for Inland later this year!
RIYL: Audrey Assad, dc Talk, Jon Foreman, Sara Groves, Switchfoot
Buy the Album: iTunes/Amazon mp3