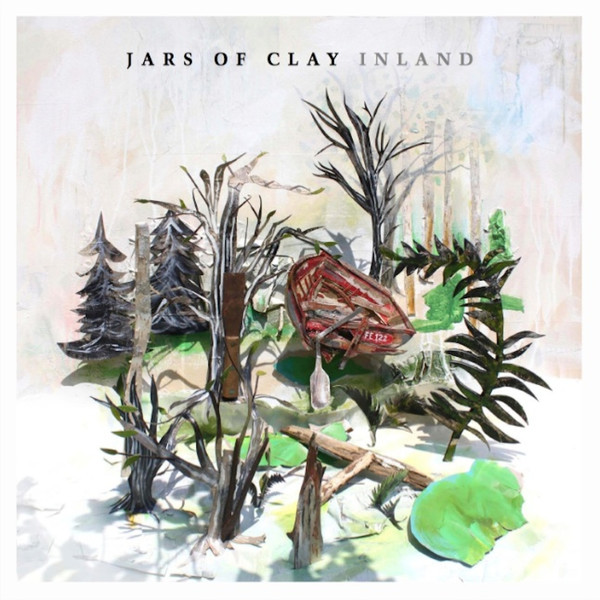 Artist: Jars of Clay
Title: Inland
Label: Gray Matters (Independent)
Release Date: 8/27/13
Reviewer: Ian Zandi
Tracklisting: 
After the Fight

Age of Immature Mistakes
Reckless Forgiver
Human Race
Love in Hard Times
Pennsylvania
Loneliness & Alcohol
I Don't Want to Forget
Fall Asleep
Skin & Bones
Left Undone
Inland
I'm no musician or globetrekker but I do know that a life on the road can be a weary one. Not only does it take its toll on the human body physically, but mentally and spiritually as well. However, it is this very road, the journey from conception to death, which forms us and matures us. We are then enabled to learn from our blunders and become prepared for the rest of the journey that lies ahead.
Jars of Clay has certainly been on their road for quite a while, nearly 20 years to be more precise. With 11 albums, various awards, and universal acclaim behind them, the band seeks a new journey. Instead of relying on their oft-used metaphor of aquatic lyrics, Jars of Clay sought to take a step Inland. The experience begins.
Utilizing their first single from Inland, the album starts off with "After the Fight". We find lead vocalist Dan Haseltine questioning himself if he will still stand strong after the struggle is over. The tone of this song sets the atmosphere for the rest of the album. It is truly a testimony of the inner human conflict. Following suit, "Age of Immature Mistakes" is an ever-so-catchy tune about being reckless with love. However, it is seen through the lens of maturity and self-admittance. Though drastically different musically, the song's theme reminds me of Switchfoot's "Amateur Lovers".
Speaking of being reckless, the relaxed "Reckless Forgiver" gives Jars of Clay a motive. They are seeing a "peace like a river/long life of sanity/love that won't leave too soon/hey reckless forgiver/you know I'm talkin' to you."  While we all might have motives in life, there are times when we just go through the motions of a daily routine. This brings us to the next song, "Human Race". Instrumentally, this song throws in everything but the kitchen sink. Horns, electronic elements, a soulful guitar solo, banjo, and vocals that are reminiscent of The Hawk In Paris (Haseltine's side project) are all present here.
"Love In Hard Times" is where the journey takes a little rest stop. It is mellow, simple and self-explanatory. I found it to be quite Coldplay-esque in nature. The poetic "Pennsylvania" is the next stop on Inland. Though it is interesting, the song itself is so poetic that it is quite hard to decipher. I could imagine this song as a B-side from their legendary self-titled debut album. "Loneliness and Alcohol" takes a daring step. Comparing the song's titular concepts to a wrecking ball, Jars of Clay show that grief can be hidden in destructive methods. Though morally sound, the theme is slightly dark for band that often has the CCM label slapped on them (whether they like it or not). "I Don't Want to Forget" showcases some delay effects in addition to some other unconventional sound modifications. Just like the song implies, the lyrics are a plea to hold on to a fading relationship. Closing out the slower section of the journey, "Fall Asleep" is mostly driven by strings, piano and Dan's voice. It feels very stripped down and leaves an emotional impact through the intimacy of the instrumentation. Through his gliding voice, Haseltine requests that the listener to "stay up and not fall asleep" so that he may savor the moments of companionship he is experiencing.
The optimistic love song "Skin and Bones" returns us to a normal mid-tempo pace. On the final leg of the road, "Left Undone" is a turn to repentance. He sings "I will try to make up for the lost time forsaking all I've done and left undone." It is a reflection of the journey past and a declaration to change it. These are the kind of thoughts that gather at the end of a trip (whether that be life, a vacation, a certain experience, etc.). We want to leave on good terms and do everything we can to settle our hearts. Last (but certainly not least), we reach the end. "Inland". Being the title track, it summarizes the entire album's concept perfectly. With thumping bass, a momentum builds that carries us to the very end. Dan proclaims "You keep walking inland/where no man is an island/ come on home to me."  While not spiritually explicit, this shows that no man can be independent of Him. The more we walk "inland" on our journey, the closer we get to reaching home to Him. The day we return home is the day that the experience ends.
Overall: Having their own record label, Gray Matters, Jars of Clay had complete creative control over this release. The differences are very apparent. For example, the album artwork is more creative than "putting an eye on it" *ahem TobyMac ahem* and helps build the imagery for the album's experience. Even though there is a tough sluggish spot on the record, those songs are not bad at all. On a normal basis, I feel that I would skip over the slower tracks. I personally put this record on par with their classic self-titled album and The Long Fall Back to Earth. Both the album and the title track are surely contenders for the "Best Of 2013" lists.
RIYL: Coldplay, The Hawk In Paris, Death Cab For Cutie, Gungor
Added Bonus: Billboard and Relevant Magazine's "The Drop"  are both hosting free streams of this album.