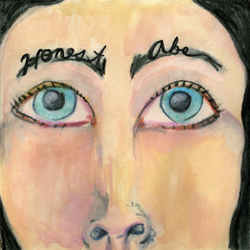 Artist: Honest Abe
Album: Someone Punch Abel EP
Label: Glory Kid Limited
Release Date: December 2011
Reviewed By: BMer
Track Listing:
If Abel Had No Heels
Why'd They Take My Coat?
Hormones
Upon Which God's Ear
You Were Hiding, I Fell Asleep
If I Know Patmos
Honest Abe is a two-piece group from Southern California. Lead singer Jesse Avila handles the song-writing and the guitar playing, and is accompanied by cellist Rosemary Danelski. The 6-track EP Someone Punch Abel was recorded live in studio and is packed with folk-ish somber tunes that showcase a level of creativity and quality not often found in music today.
Each listen to Someone Punch Abel draws you in further. Overall you get the feeling of a cabin in the snowy mountains, Jesse's vocal delivery is gruff and strong sounding. Each song features serious lyrics, coming-of-age stories and creative interpretations on biblical stories ("You Were Hiding, I Fell Asleep"). All of the songs are beautifully written "Like a flower I'll be, something that sprouts up from a seed…" (If I Know Patmos) and challenge the listener to go back and re-listen to find deeper meaning.
Musically Honest Abe really bring something fresh to the table. While the core of each song is acoustic guitar paired with cello, there are still multiple tracks and a few auxiliary instruments thrown in. "Upon Which God's Ear" really is the high-point for the cello work, with at least 2-tracks of cello, one featuring some intricate plucking of the strings while the other track is the longer, drawn out bow-work. Rosemary sometimes plays along the melody line with the cello, and sometimes adds another layer of support to fill the space. Each song feels complete showing that Honest Abe can do more with less. The cello's low tones gives Someone Punch Abel a somber and serious feel throughout, starting strong with the opener "If Abel Had No Heels" and on through the entire EP.
OVERALL Honest Abe have put together a collection of powerful sounding tunes on Someone Punch Abel. This collection of intimate yet challenging tracks will set Honest Abe apart from the DIY singer/songwriters of today. Clever, insightful writing combined with a classic folk sound present a very mature and intelligent EP, be sure and check these guys out.
Buy the album here or here