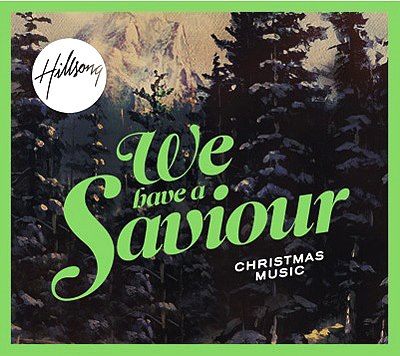 Artist: Hillsong
Title: We Have a Saviour
Label: EMI CMG Label Group
Release Date: 10/9/12
Reviewer: Jonathan Andre
Tracklisting:
O Come Let Us Adore Him
Joy to the World
Born is the King (It's Christmas)
Emmanuel
O Holy Night
We Have a Saviour
Hark the Herald Angels Sing
God Rest Ye Merry Gentlemen (Tidings)
Unto Us
Gloria (Angels We Have Heard on High)
Our King Has Come
The First Noel (Holy is the Lord)
With many Christmas releases out this past few days by artists inclusive of Jason Gray and Lincoln Brewster, and with upcoming Christmas albums from Francesca Battistelli and Steven Curtis Chapman to come; world-renown Australian church-based worship movement Hillsong have released their brand new Christmas album after their EP release Born is the King late November 2011. Titled We Have a Saviour, this 12 track collection of traditional carols and original songs are a great way to listen to some traditional, yet equally originally enthusiastic songs of the birth of Christ, and any fan of Hillsong will be certain to purchase this album up. However, for me personally, the songs can sometimes be within a similar rhythm that when you're listening to each of the 12 melodies, it can be easy to be caught up in the songs with not much real clear distinction between one song and the next (especially when most of the songs are played in a subdued setting with similar instruments). Except for a few original standouts, like 'Born is the King' from last years EP and this year's potential hit 'Unto Us', this album seems a little flat otherwise, even if that wasn't their intention. With so much Christmas songs and albums out each and every year, Hillsong have done enough to keep a little interest (with eager keenness from fans) yet need to do a lot more to maintain it as many other albums, namely Josh Wilson's Noel, Jason Gray's Christmas Stories: Repeat the Sounding Joy and Lincoln Brewster's Joy to the World, personally stand out more, having much more musical ingeniousness, enthusiasm and passion as I reflect upon Christ's birth and significance through this joyful holiday season.
On just about every Christmas album, there are always around 2 or 3 original songs the artist has written in time for the holiday season drawing near. 'Born is the King (It's Christmas)' is Hillsong's first single from the EP of the same name released in 2011, with most of those songs re-releasing again to fill up half the album lineup of We Have a Saviour. From the big drum beats to the orchestral strings, 'Born is the King' is a celebratory song, proclaiming that Christ is King. Simple in its message yet so profound and life-changing for all those who hear it; this song is certain to brighten up everyone's day, as they listen to worship leader Matt Crocker cry out '…so lift up your voice and sing out His praise, it's Christmas, born is the King, rejoice in the day, it's Christmas…', presenting the song with great vibrancy, enthusiasm and hope as we listen to the truth of our Saviour and friend. 'We Have a Saviour' is also a brand-new Christmas track, with Reuben Morgan declaring the very truth amidst the soft keyboards and the light percussion undertones that '…the child has been given, the king of our freedom, sing for the light has come, this is Christmas…'; giving us a clear and distinct reminder of our Saviour and His gift of freedom to the world. 'Unto Us', led by worship/pop artist Brooke Fraser, starts off with a glockenspiel and gives us a clear description of Christ and who is was and still is to all of creation. The hopeful words '…He shall be called Wonderful Counsellor, Everlasting One, He shall be called Jesus the Saviour, Peace to earth has come…' ring out to be one of the most poignant on the album as we are invited into this reflective, yet also emotional and heartfelt song and though it isn't as anthemic or musically powerful as 'Born is the King' or 'We Have a Saviour', it provides just as much hope and comfort, and is one of my favourite songs on We Have a Saviour. The last original is 'Our King Has Come', starting with a riveting keyboard intro complete with a rousing drum beat as we are given a hopeful promise to '…sing the angel song, join in singing 'Holy is the Lord our God who saves'…' Lead singer David Ware provides a great passion in delivering this song, creating a space for listeners to cry out to the Lord as they proclaim that '…the Lord has done great things…', a great tag to bring this song to a complete crescendo as we rouse up a worshipful spirit within us, lifting up Christ and all He has done since birth to death and resurrection. Well done Hillsong for creating such riveting original Christmas tracks!
With great original songs should come great Christmas carols in comparison, however, this album fails to provide with it the enthusiasm and zeal present in the original tracks that seems to be lacking within the continuously played carols that are provided to listeners year after year. With the continuous need to reinvent Christmas carols to gain interest and provide more interest in timeless tracks of worship and remembrance, Hillsong haven't really presented a well engaging carol list, even if the lyrical moments of each track transcend history. There needs to be a certain level of musicality that makes the listener feel like they are listening to something epic (or at least epic to them!), and even though many may listen to Hillsong's carols and praise their musical arrangement, I wouldn't be one to necessarily be quick to praise them. 'O Come Let Us Adore Him' is a six-minute tune that features big bands and a strong beat, with a altered chorus '…o come all ye faithful, come let us adore Him…' but it somehow feels out of place and somewhat forced in to 'create' a new version of an already great song. 'Joy to the World' is a 3 minute melody of bluegrass combined with a grooving beat, complete with banjos and a eerie keyboard, and though it was meant to feel and be joyful, the song felt more along the slow and less-joyful side, as I can't help but compare this song to Lincoln Brewster's enthusiastic rendition of this joyous melody. 'O Holy Night' is another 6 minute song and though its always good to place in a reflective song now and then, We Have a Saviour seems to have too much of them, with 'O Holy Night' seemingly paling in comparison of many other versions of the beloved song, with versions from David Crowder*Band, Lincoln Brewster, Kerrie Roberts and Third Day being more celebratory and enthusiastic than this version on We Have a Saviour. 'God Rest Ye Merry Gentlemen' is always a good song but this arrangement seems a little too different for me, with a banjo and hand claps to create a slowed-down country style version of the song that seems to take more than my fair share of time and patience to liken myself to this track.
The last song on the album, 'The First Noel (Holy is the Lord)', starts off with the traditional carol verses, however adding their own spin on a chorus and omitting the '…noel, born is the king of Israel…' line that almost everyone knows, as well as adding verses that though may have been originally written, may not be recognised by many listeners (myself included), may be the downfall to this track. Though I give Hillsong top marks for ingeniousness, the altering of this track is hard to place your head around, with possibly many listeners, even myself, asking the question 'why?' and for what purpose they would alter the song and what they would want to bring to the listeners by doing this. 'Gloria (Angels We Have Heard on High)' is another song that is one of my favourites, yet this version is able to place even the most attentive of listeners into a state of rest and most possibly, if listening to this song and maybe album continuously, towards a situation of sleep. Maybe it's Hillsong's intention to do this and many listeners may want it, but this joyous occasion and celebratory moment shouldn't be just about reflection, rather it is a time for energetic enthusiasm as we proclaim Christ's birth. While this song certainly has this, We Have a Saviour dances the fine line of enjoyable together with painful as we listen to different arrangement and almost similar musical arrangements to create an album that may be too different that it hurts the album's performance.
Overall: Hillsong's music has transformed worship around the world, and with new tracks 'Born is the King' and 'Unto Us', Christmases in years to come will be grateful for these melodies to remind us of Christ and the day salvation came to Earth. But it is the Christmas carols everyone will remember for ages to come, and Hillsong's attempts of them seem to mesh into one another without any sense of progression. For me, this Hillsong album is just another rendition of Christmas carols with their new twist on readily loved melodies, nothing much new or enthusiastically powerful about it except for a few original tracks. Nevertheless, fans of Hillsong will be first in line to purchase this album and that's ok, however, if I were a casual listener, I would probably be more geared towards purchasing an album by Jason Gray, Josh Wilson or Lincoln Brewster before purchasing this album. However, with such a great fan base and popularity, this album will certainly remind listeners of the upcoming season, and no matter how much musical change there is in the carols compared to their original arrangements, listeners will be given another chance and opportunity to soak in the hope and realisation that '…unto us His love has come, unto us Christ is born…' ('Unto Us').
RIYL: Jesus Culture, Brooke Fraser, Reuben Morgan, Hillsong UNITED
Buy the Album: iTunes/Amazon mp3