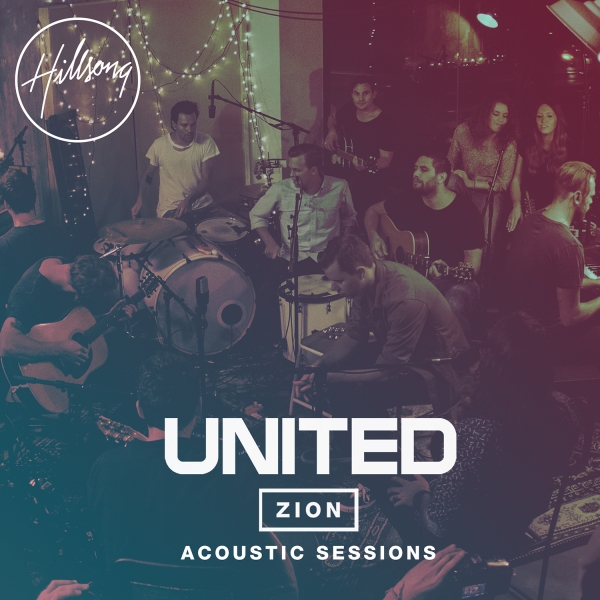 Artist: Hillsong UNITED
Title: Zion: Acoustic Sessions
Label: Hillsong Music
Release Date: 10/29/13
Reviewer: Jonathan Andre
Tracklisting:
Relentless
Up in Arms
Scandal of Grace
Oceans (Where Feet May Fail)
Stay and Wait
Mercy, Mercy
Love is War
Nothing Like Your Love
Heartbeats
A Million Suns
Tapestry
King of Heaven
Hillsong (in all its formats- Live, Young and Free, and United) have been a phenomenal force in the Christian worship music industry, introducing hit songs like 'Shout to the Lord', 'Desert Song', 'Worthy is the Lamb', 'Mighty to Save' and 'Hosanna'. Releasing around 2 or 3 albums a year either under their guises of 'Live' or 'United' (and lately under 'Chapel' or even 'Global'), their poignant radio singles and encouraging anthems have led this Australian led worship movement to become one of the world's most talked about and listened to worship artists each year, alongside others like Jesus Culture, Bethel and Passion (consisting of artists like David Crowder, Chris Tomlin, Matt Redman and the like). While it can be hard to keep up to date with every release from Joel Houston, Matt Crocker, Jad Gilles and the rest of the Hillsong UNITED team, Hillsong's latest studio album ZION was one that created a moment where almost everyone who loves Christian music and all its genres agreed that this album released by the band was something superb, something unique, something life-changing and something edifying. Since their 2011 album Aftermath (which is my favourite Hillsong UNITED album ever), ZION comes in a close second, and still influences listeners, even almost a year after its release (frankly, I'm even surprised that this album never received a Dove Award nomination for Best Worship album of the Year). Aftermath showed myself personally the best that Hillsong UNITED can give, and ZION continued from where Aftermath left off. With the studio album sounding similar to other reflective and alternative worship artists, from Gungor and All Sons and Daughters, to David Crowder; Hillsong once again provide us with another music album offering this year after their most daring yet equally baffling EP release in Oceans EP.
Releasing ZION Acoustic Sessions, songs from their latest studio album but redone acoustically, on October 29th; it is their fans and enthusiasts of both the band and their last album that will become the most intrigued because of this uniquely crafted album. From the album standout 'Oceans' to other highlights like 'Heartbeats', 'Love is War' and 'Relentless'; this album will at least give us some unique insight at how tracks are choreographed and arranged acoustically. Even though I would've expected Hillsong to not just rehash ZION, but rather release a general acoustic album and incorporate some other hits within the track list (like 'Forever Reign', 'Cornerstone', 'I Will Rise (Beneath The Waters)' or 'God is Able'); this album deserves at least a listen to, if only to experience the worship moments of ZION again, this time in a format the gives us more reflective worship. A different side to the songs is presented, leaning towards more of a radio friendly or church friendly atmosphere as we hear the album and be encouraged by the overall arching theme of how '…Your love has won it all, You took the fall to embrace my sorrows…' ('Love is War').
Listening to an album full of the same songs as ZION, but done acoustically, is something to behold. The arrangements of the acoustic renditions do not stray that far from the originals, and while one may argue that the acoustic renditions don't necessarily add too much value (after all, it's just acoustic, it's not like the arrangement of the melody, the choruses or the bridge are altered that much), it does provide us with some soothing and reflective music to listen to and enjoy. 'Oceans' is always a blessing to listen to, and a Taya Smith powerfully declares out the chorus of how '…I will call upon Your name, and keep my eyes above the waves…', I am able to rest in the knowledge that God keeps us safe. The hauntingly refreshing and powerful keyboards that underpin the music of the song evoke sounds, emotion and images of oceans, and is a clever technique to draw in listeners. Another highlight is the upbeat 'Relentless', complete with gang vocals and layers and layers of acoustic guitar. Still as anthemic as ever (except without the electronic synths and the electric guitar), Joel and JD alternate between the lead vocals for this melody that's possibly the single that never was- always played in live shows and on the radio, yet never officially released as a single. 'Heartbeats' loses the electronic introduction and adds in the piano as a substitute, and while the passion and enthusiasm is there, the intensity that the electronics had is lost, and the song, in my opinion, never really boasts any intense power, the kind that I felt when hearing 'Relentless' or 'Oceans'. The slower sounding 'Scandal of Grace', with light acoustic guitars, is a moment of rest and revelation as I myself welcome this unique rendition. Though it may not necessarily be as rousing as the originally recorded melody, the acoustic version still has the same essence and message- that grace given to us was such a love undeserving, that the thought of grace given brings us to declare that its feeling is just as similar to a feeling that we would have if a scandal about our lives were to arise. Great imagery and metaphors, the album moves into other highlights, like the reverb effect prominent 'Mercy, Mercy', and the album ender 'King of Heaven', full of light acoustics and a piano riff that reminds us of '…Emmanuel, God with us…hallelujah…' But the real gem on this album is 'Love is War', an epic anthem of 6 minutes where Jad Gilles declares powerfully of God who has won the battle between love and hate, war and peace, hope and the struggle. Still having the same emotion and effect acoustically as it did when there was a full band; the message is loud and clear- the necessity of fighting for the love that runs the deepest, between the created and the creator. Love in its purest form must be fought for as we acknowledge the eternal sacrifice given for us. The selflessness of Christ promotes a response no less than declaring, through the lightly picking technique of the acoustic guitar, that '…I will fight to follow. I will fight for love, to throw my life forever, into the triumph of the Son…'
Overall: Initially I was sceptical about what ZION: Acoustic Sessions would be, considering that this album is basically a carbon-copy of the original studio one, with each and every song recorded with acoustics, piano, strings and other down-to-earth reflective-style instruments, rather than the heavy electric guitars and electronics that were creatively employed in the original album. Yet hearing this album has given me a newer appreciation for the songs and for Hillsong in general. Through the acoustic version, I am able to listen to much more of the lyrics, and even though I still prefer the original versions over the acoustic ones, Hillsong have done a tremendous job at choreographing a powerful album that's a must-purchase for any ZION fan who wants to hear different and unique arrangements of the tracks. Well done guys for such an enjoyable album, further reinforcing my love for ZION, and 'Oceans' in particular!
RIYL: Passion, Bethel Music, Kingdom, Warr Acres
Buy the Album: iTunes