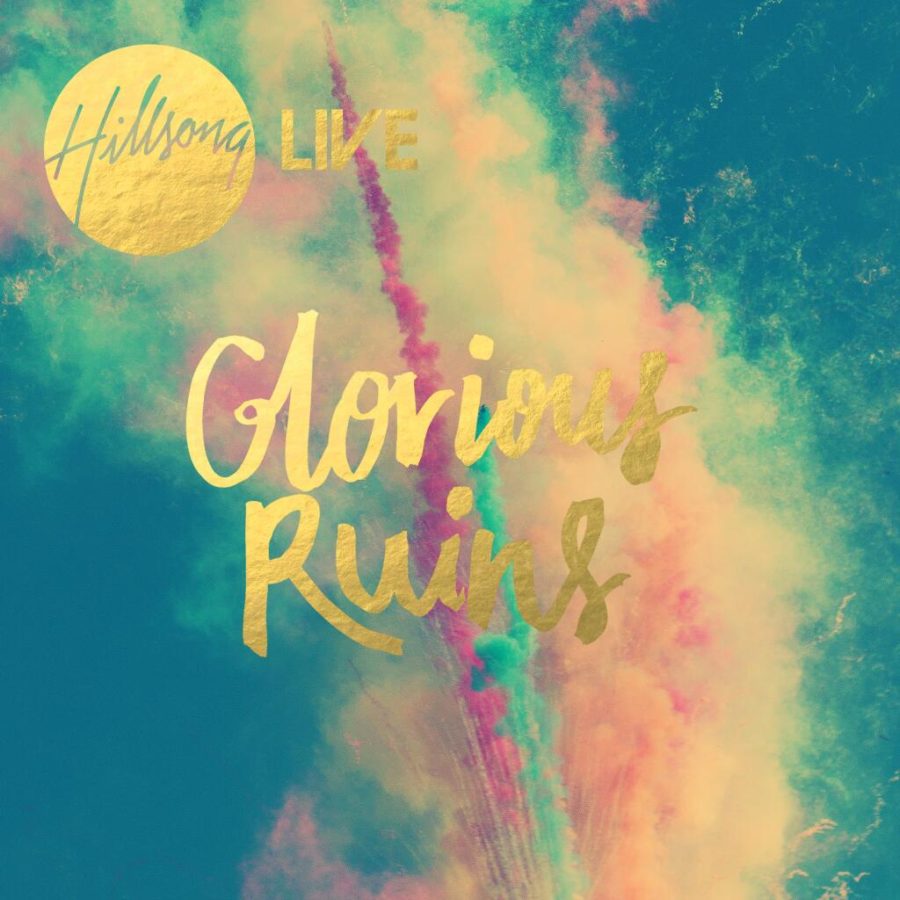 Artist: Hillsong LIVE
Title: Glorious Ruins
Label: Hillsong Music
Release Date: 7/2/13
Reviewer: Jonathan Andre
Tracklisting:
Always Will (Intro)
Always Will (Jay Cook)
You Never Fail (Joel Houston)
Christ is Enough (Reuben Morgan)
Where the Spirit of the Lord Is (Ben Fielding)
Glorious Ruins (Joel Houston)
Closer (Dave Ware)
God Who Saves (Jonathon Douglass (JD))
To Be Like You (Matt Crocker)
Man of Sorrows (Jad Gilles and Annie Garrett)
We Glorify Your Name (Reuben Morgan)
You Crown The Year (Psalm 65:11) (Laura Toganivalu and Reuben Morgan)
Anchor (Ben Fielding)
Lift You Higher (Nait Masuku)
Only You (Tyler Braland)
Hillsong, in all its facets and formats, have been an incredible force in the Christian worship music industry for a good part of 20 years. When all the debates about prosperity doctrine, and lyrical staleness and overly focused emphasis on worship melodies year after year is stripped away; we are met with a worship movement that has truly revolutionised the worship music we listen to and sing along to, with many songs from Hillsong (whether it is from the LIVE records, or under their other banner name Hillsong UNITED) entering our church Sunday services in many countries all around the globe. From recent hit 'Oceans (Where Feet May Fail)', 'God is Able', 'Forever Reign' and 'Cornerstone', to older and timeless melodies 'Mighty to Save', 'Hosanna' and 'Salvation'; songs from Hillsong have always impacted both the younger and older generations, and with a revolving door of worship leaders on each of the Hillsong LIVE and UNITED albums each year, their appeal, especially with their critically and commercially praised album ZION released in February 2013 has propelled this band to the heights of popularity, in Australia and around the world as well. Providing the biggest stamp on the worship music industry alongside other worship movements like Jesus Culture, Passion and Bethel Live; Hillsong's latest album Glorious Ruins speaks about the wonder and glory we experience, even in the moments when all we can see is the ruins of our lives. The dichotomy of the two words, 'glorious' and 'ruins' can seem like a weird phrase to coin, yet as we reflect upon how wonderful and marvellous Christ makes our lives, we can see that at any point in our lives, we are made glorious in Him. Personally a more enjoyable album compared to their 2012 album Cornerstone, songs like 'Anchor', 'Christ Is Enough', 'Man of Sorrows' and 'We Glorify Your Name' are certain to become fan favourites in weeks and months ahead. A mixture of upbeat and reflective melodies; avid Hillsong fans will be sure to purchase Glorious Ruins, the annual album from the Australian band, while the casual listener ought to listen on Spotify before making their choice of whether to purchase a Hillsong LIVE album or not.
Originally sung by Chris Tomlin on Passion 2013 Let The Future Begin, 'We Glorify Your Name' is an immediate standout for me personally, partly because I've heard the chorus and bridge sung before. Led by Reuben Morgan, the piano prominent melody is an anthem to be declared and proclaimed in churches as we are presented with a praise song that declares God to be glorified in all of our lives, something that can feel daunting if we feel like we could be trying to hide something, from our friends, family, and possibly and sometimes foolishly, even from Christ. Yet as we witness how this song can be freeing as we lay everything down and give God the glory and reign to be involved in every little intricacy of our lives; we come collided with a moment of clarity amidst Reuben's ethereal and distinct vocals as he unveils his utter adoration and love for Christ. A moment in the chorus where it is just the congregation singing loudly- even just as loud as Reuben in some places; 'We Glorify Your Name' is a lyrically simple yet equally profound melody about giving God our highest praise and glory. Also leading 'Christ is Enough', we are again given a lyrically simple and equally profound melody about Christ being everything we ever need and want in our lives. Radio friendly and simple for listeners to learn, this is a song that will hopefully be in churches sooner rather than later, describing the great biblical truth that '…Christ is enough for me, everything I need is in You…' With light acoustics and a looping percussion beat, we are given a moment of homage paid in the bridge towards 'I Have Decided', with the whole congregation declaring with one voice that '…the cross before me, the world behind me, no turning back…', a moment where we realise just how powerful timeless melodies and hymns really are (even if the melody is dramatically altered). Powerful and emotional, anthemic and encouraging, both 'Christ is Enough' and 'We Glorify Your Name' are some of my favourite Reuben Morgan led Hillsong melodies of late, alongside 'God is Able' and 'Hope For the World'.
'Anchor' starts off with a light electric guitar riff as lead singer Ben Fielding gives one of the most powerful performances from the album as 'Anchor' becomes a personal highlight of mine from Glorious Ruins. With both verses and choruses sung with light instrument sounds before there is a build-up of instruments as the congregation become more lively with power and heart, Ben delivers an anthem of praise as we declare that Christ is our anchor in which we cling to. With our hope in Christ the anchor we hold onto in troubled moments and hard times, it is the bridge where the whole auditorium starts to sing '…Your Name is higher, Your Name is greater, all my hope is in You…' that is my favourite part of the song, when everyone comes together and shakes off inhibitions just to praise the one true King, a moment truly savouring regardless of whether you are an avid fan of the worship movement or not. 'Where the Spirit of the Lord', also led by Ben, gives us a clear reminder what occurs with the spirit of the Lord inside of us- freedom, wonder, joy and release to praise and give thanks to the Lord in whatever way we feel comfortable to express our gratitude towards God. A contemporary melody can could potentially be re-recorded in a studio and released to radio, Ben's heartfelt message of finding freedom in Christ is something that has been embedded throughout the album. Alluding to the well-known hymn 'Jesus Paid it All', as well as John 8:36, which proclaims that if Christ has set us free, we are indeed free; 'Where the Spirit of the Lord Is' is a great melody to listen do and declare along with at church when you're asking the Lord to '…open wide the gates of heaven, we will worship You forever, Lord let Your presence fall…' Well done Hillsong and Ben especially for delivering vocally on these uniquely distinct and standout tracks.
'Glorious Ruins', the title track led by Joel Houston, is a nearly-9-minute melody of hope and beauty rising from the ashes of life, and while it can seem long and laborious to listen to if you're not a fan of Hillsong or a fan of music that seemingly lingers without an end in sight; the song seemed to fly by pretty quick when I was listening to it the other day. With light acoustics and a powerful vocal from Joel, it is in the chorus where the song is able to breathe life into listeners around the world, as the poignancy of what was proclaimed still rings true in my own heart as I'm sure others as well. With the message of us allowing God to '…let the ruins come to life in the beauty of Your Name, rising up from the ashes, God forever You reign…', the song gives us a reason to declare aloud the process of God changing our own mishaps to moments of triumph and joy, a similar theme reminiscent of one of my favourite Steven Curtis Chapman songs ever, 'Beauty Will Rise'. Also leading 'You Never Fail', Joel relays the simple yet profound message of God keeping His promises through some light electric guitars to show us a simply choreographed anthem for the church. Yet while the intentions of creating this song can be sincere, it's execution and impact upon myself (compared to other songs like 'Christ is Enough' and 'We Glorify Your Name') is unfortunately pale in light of my other standouts. Matt Crocker, renowned for singing songs like 'Relentless', 'Heartbeats', 'Praise Him', 'I Surrender' and 'Love So High'; offers up 'To Be Like You' on Glorious Ruins, the only song on the album sung by him. One of Hillsong's better singers, Matt's underuse on the album is a unfortunate shame, and while I would grade Matt 'A' for effort with this melody as he sings about having more of God in his life; the concept and delivery of it has been shown to listeners before by many other artists ('I Want to Know You' by Jesus Culture, 'I Want to Know You' by Sonicflood) with more enthusiasm and enjoyableness compared to Matt's recording.
Also negatively impacting the album as a whole were the absence of female worship leaders on the album. With no Darlene Zschech or Brooke Ligertwood on Glorious Ruins (and with worship leaders Annie Garett and Laura Toganivalu singing duets with Jad Gilles on 'Man of Sorrows' and Reuben Morgan on 'You Crown the Year' respectively); the album has shown to have an over-dominance of male vocalists. Both Darlene and Brooke's vocals have been a constant staple in previous Hillsong albums, and their absence on this album proves to me personally how enjoyable and uplifting they were- there's something missing without them being in it. Not that 'Man of Sorrows' and 'You Crown the Year' aren't good, both these songs are still great, with 'Man of Sorrows' being a declaratory anthem penned with an Easter themed message of sacrifice, whilst 'You Crown the Year' was based from Psalm 65:11. 'Always Will' is a fast-paced melody a la 'Running' and 'Yours Forever', with a message of God's love chasing us wherever we go, yet the seemingly similar theme and similar musical backdrop compared with 'Running', 'Yours Forever' and even 'Go' showcases a somewhat uninspired melody with a lack of creativeness, even if it wasn't their humble intention of doing so. 'Closer', sung by Dave Ware, delivers powerhouse vocals in a melody that amazes me musically with a thundering electric guitar backdrop, yet again the lyrics seem strikingly similar thematically to Matt Crocker's 'To Be Like You', whilst Bethel's 'Closer' also comes to mind with a similar theme, which for me personally was more enthusiastic and passionate compared to Dave's top-notch effort of a song. 'God Who Saves' again takes a dip into the electronic genre but again with highlights like 'We Glorify Your Name' and the title track, the song can be lost within the album set and be seemingly forgettable when one finishes listening to the album. The album then ends with 'Lift You Higher' and 'Only You', the former being a dance melody that scores top points for the dance music backdrop, yet fails to impact myself lyrically, with the similar themed 'Our God' by Chris Tomlin being much more enjoyable than the repetitive Hillsong melody; whilst the latter is a poetic end to the album based upon Psalm 139.
Overall: Hillsong's efforts on the album ought to be congratulated, and while these last few songs may be enjoyed by many, I felt sadly indifferent about both 'Only You' and 'Lift You Higher'. Needless to say, Hillsong's music will forever transform the musical landscape of the church and its direction; and these songs ought to be considered by churches around the world as they all move forward in introducing new songs at their church. A must purchase for any fan of this global worship movement, Hillsong's music on Glorious Ruins is somewhat of a mixed bag for me personally, with hits like the title track next to forgettable songs like 'Closer' and 'God Who Saves'. Despite my misgivings, listeners mustn't reserve any judgement before they do listen to the album. One man's dislike for an album can be another man's praise for it. While it does seem different without Brooke Fraser and Darlene Zschech on the album, they have done a decent job in providing songs to declare and sing along to during church worship time. While many songs do have a simplistic lyrical feel with a large amount of repetition, their sense of worship with both vocals and music is phenomenal. Advocated if you enjoy worship bands like Passion, Jesus Culture and Elevation Worship, well done Hillsong for great attempts and fresh sounds to show that Hillsong's reign in the worship industry is not over yet!
RIYL: Passion, Jesus Culture, Elevation Worship, Planetshakers
Buy the Album: iTunes/Amazon mp3