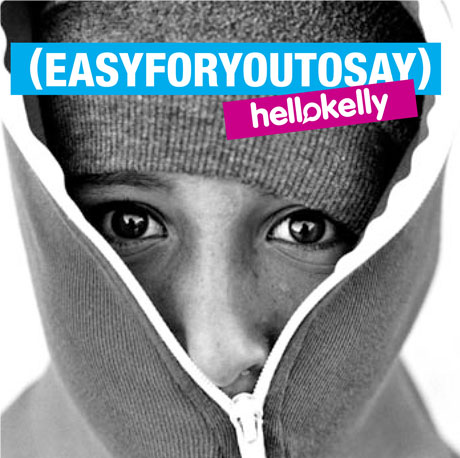 Band: Hello Kelly, myspace, facebook
Title: EASYFORYOUTOSAY
Label: 7 Spin Music
Release Date: 6/14/11
Reviewer: Rob J
Tracklisting:
(Blank)
Pressure & Poison
Better Now Together
Electricity
Our Happy Ending
Brighter Days
Ladder
Supercomputer
The Communication Breakdown
Closer
Your Name In Vain
Electricity (Acoustic)
Pressure & Poison
…
I got my first listen of Hello Kelly by pure chance. I was walking through the store and came across the self titled album sitting on the shelf and for some reason or other went to the computer and sampled it and liked what I heard. That was about 3 years ago. 3 years later, we're about to see the release of the band's follow up album, EASYFORYOUTOSAY and it will not by any means disappoint. Let me break it down for you…
The album kicks of following suit with what you're used to hearing from the band's first album in the way of pop punk with a real edge to it. The first track, "Pressure & Poison" is a song warning girls about guys that will take advantage of them because they are so "in love". Great message and sorely needed!
Much of the album deals with relationships, which seems to be a popular topic in alot of today's music, but there are quite a few stand out moments. One in particular comes in the fifth track, Brighter Days. The song starts out talking about being in situations that seem to have no silver lining and longing for the past when things were better and maybe more carefree. Just when you think all is lost comes "Something deep inside tells me i'll survive/I've got some fight left in me/Through this quiet cold suddenly I've found hope that we will see brighter days". Not giving up, looking to the future with hope knowing things will get better despite the way things look. Great song!
Another song, "The Communication Breakdown", lends itself to the feeling of being unable to put into words what you feel or what you want to say. Something I think everyone can relate to at one time or another. Musically I was reminded of some of the Wedding's older material, which is a very good thing.
Lastly, and fittingly so, is the track, "Your Name In Vain". The song is very acoustic, yet maintains all the instruments in their fullness. You'll have to hear it for yourself and then you'll understand that statement. Hello Kelly is known as a Christian band by many, yet to listen to the lyrics on this album you probably wouldn't come to that conclusion. This song seems to be the answer to that and one I can totally respect. The gist of the song is that in writing lyrics and such Francy doesn't want to force Jesus or God into the lyrics just to have Him there. He wants to be sure he does what the song says…"And every time I sing Your Name let it not be Your Name in Vain." To sing about Him from the heart with a purpose, not forced.
OVERALL: All in all, this album was exactly what I was expecting it to be and that's a good thing. It isn't groundbreaking by any means, but maintains what was accomplished on the first album. To some that may not be what you're looking for, but to me it was exactly what I wanted. If you do something well, keep at it and don't always be looking to force a change to please everyone, cuz chances are you probably won't anyway. The album is musically good from the edgy, aggressive, pop punk tracks to the more mellow ballad like tracks like Ladder (A song about not feeling like you're anywhere near good enough for your significant other) or Our Happy Ending ( a song asking his significant other's for help writing a love song). Lyrically, I do wish there was a little less in the way of songs about relationships and a little more in the way of songs that encourage the listener in their walk with God, but again, I totally understand why there was less of the latter.
If you liked the first album I highly recommend picking this up, you won't be disappointed by any means. And if you haven't heard Hello Kelly before, check them out, EASYFORYOUTOSAY is a great place to start!