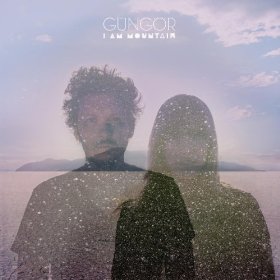 Artist: Gungor
Title: I Am Mountain
Label: Hither and Yon Records
Release Date: 9/24/13
Reviewer: Ian Zandi
Tracklisting:
I Am Mountain
Beat of Her Heart
Long Way Off
Wandering
Let It Go
Wayward and Torn
God and Country
Hither & Yon
Yesternite
The Best Part
Finally
Upside Down
Variety can be a funny thing. You see, for some reason or another we have put expectations out that all albums should be consistent (but not too consistent). My counterpoint against this involves The Beatles. They gave us some of the best albums ever made including The White Album and Sgt. Pepper's Lonely Hearts Club Band. Both of these albums have extreme variety, yet, they are universal regarded as  classics.
It is no secret that Gungor's latest album I Am Mountain has such variance. Though the lyrical themes (truth, beauty, sin, redemption) remain the same throughout the 12 tracks, the music rapidly shifts between folk, EDM, spoken word, experimental, western and 80's synth. The album's tracks include at least 2 of these genres each (one of songs includes all of the above).
Beginning with the title track, we are treated with an optimistic tune about the beauty of man, nature, and God. Though melodic vocals exclaiming "aahh-ohhh!" are often a lazy excuse for songwriting, Gungor makes it work. Beauty is also a topic on the next track "Beat of Her Heart." However, it is used in a different context as lust is introduced into the album as imagery of David/Bathsheba come to mind. Rolling bass, rapid clapping and guitar licks all crossover with poetic words about making a deal with the devil.
"Long Way Off" is a very repetitive track that declares that we are indeed a "long way off" from being perfect. As electronic elements are introduced here, they are carried out in full force in "Wandering". Auto-tune completely engulf the vocals and verges on becoming ear-piercing at points. However, I will say that it is nice to see worship bands taking a creative license with auto-tune (see Hillsong's "Zion"). The electronic influence takes over completely on the dance track "Let It Go".  This song is a huge switch from the band's past work. In fact, I would rather be expecting David Bowie to chime in at any moment instead (a la "Reflektor").
Genre-hopping into Spaghetti Western, "Wayward and Torn" is an ode to the broken and weary as they find relief in a home away from home (possibly earth aside from heaven). "God and Country" is a whip-clashing, horn-blarin', riff-powered song that still makes heavy use of those vocal effects. "God and Country" is much like a White Stripes tune (namely "Conquest"), just with more instrumentation.
The songs come to a halt with the instrumental track "Hither & Yon". Sounds of plucking, vocal harmonizing, and piano-pecking are weaved throughout the final few tracks. "Yesternite" showcases Michael Gungor's often underused (but incredibly) guitar skills. "The Best Part" is, ironically, the worst part. It is a very experimental track that features small bits of guitar riffs, slow beats and something that sounds like Darth Vader breathing. Frankly, the track is a little boring in my opinion.
"Finally" is the penultimate track that involves the concept of being free, naked, and ready to "finally" see the day of glory.  "Upside Down" is not a cover song of the chill Jack Johnson jam, rather, it is the opposite. The lyrics seem to be desperately longing for redemption in an imperfect world. Though it may start off slow with lots of delay effect, the song swiftly escalates with a flurry of piano. The keys are joined in by more instruments until they are all orchestrated into a THX-like climax with intelligible spoken word layered on top. Then, the chaos winds down into static as quickly as it began.
Overall: Being one of the most creative Christians currently on the scene, this album sets the bar higher for other artists. As folk music becomes increasingly popular (and stale), Gungor remains one step ahead of everybody else. Though it isn't exactly a conventional worship album (congregations won't be singing these songs like "Beautiful Things"), there are still many worshipful elements. This album is more about the struggle of man and searching for the truth. Complaints are often made about cookie-cutter bands in CCM (and music in general) but Gungor takes the road less traveled. The variance in songs should not be a turn-off for listeners as it is exactly what we have been looking for.
RIYL: Edward Sharpe and the Magnetic Zeros, Jars of Clay, Arcade Fire, The White Stripes, Josh Garrells, The Beatles, David Bowie, Darth Vader