Album Review :
Green River Ordinance- Kicking Up Dust Tour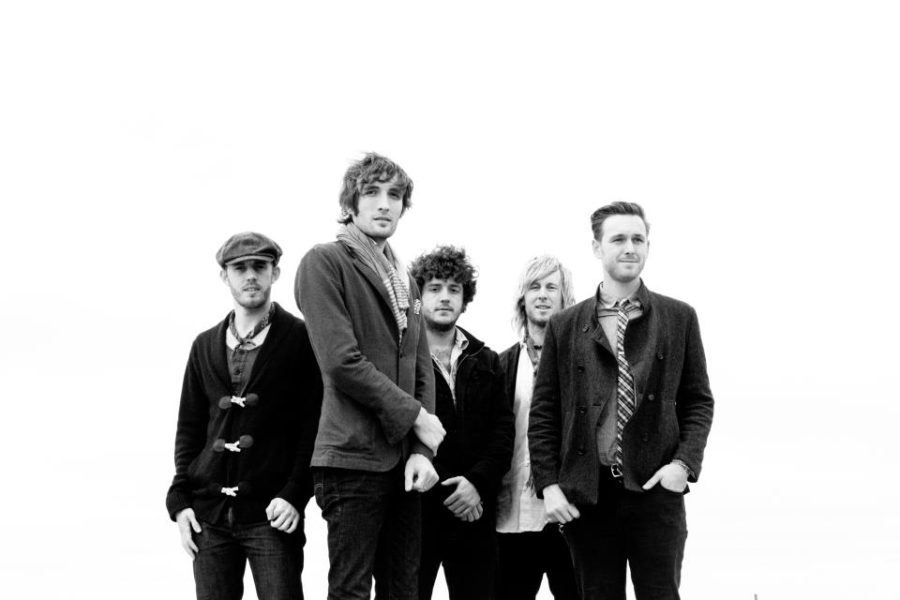 Have you ever raved about a band's live performance to a friend?
Then the band comes to town and you and your friend get tickets to go and you get a little panicky because you are no longer certain that the band is as fantastic as you remember?
No? Really? Just me, huh?
The first time I saw Green River Ordinance was years ago when they opened for NEEDTOBREATHE. Their 20 minute set impressed me enough to buy the EP and tell a bunch of my friends about this band from Texas.
Fast-forward a few years and those Southern boys are back, headlining their own tour to support their new album, Chasing Down The Wind. I should never have feared, the concert exceeded my expectations.
They brought along friends Marc Scibilia and husband/wife duo, Elenowen. Both of the opening acts were talented and passionate. Scibilia and his back up band took little time between songs, seemingly wanting to get in as much playing time as possible. Elenowen took a short break from playing to promote World Vision and the work they are doing around the world, highlighting their work of bringing clean water to Africa.
When it was time for GRO to hit the stage the lights went down and a Charlie Chaplain quote came over the speakers, "Machine men, with machine minds and machine hearts! You are not machines, you are not cattle, you are men! You have the love of humanity in your hearts. You don't hate: only the unloved hate, the unloved and the unnatural. Soldiers, don't fight for slavery, fight for liberty! You the people have the power, the power to create machines, the power to create happiness! You the people have the power to make this life free and beautiful, to make this life a wonderful adventure! Then, in the name of democracy, let us use that power. Let us all unite! Let us fight for a new world, a decent world . . ." As overplayed as it may seem to have a spot play to a darkened stage it captures my attention every single time, I love it.
The crowd whooped and hollered as the band walked on stage decked in denim shirts, hats and boots backed by a giant American flag. They included harmonica, mandolin and banjo to round out the standard band line up of instruments and have harmonies so tight they make your heart flutter. They kicked off their set with "It Ain't Love" and kept it lighthearted until the sixth song in, "Better Love." Before diving in frontman, Josh Jenkins, stopped to explain the song saying, "This song is all about grace. We are all very imperfect people…but the beauty in all of that is the necessity for grace in our lives." Gotta love it when bands bring Truth into dingy bars.
A song later there was an impressive drum solo and a proposal. What? Yes, a proposal. An old friend from Texas asked the guys if he could propose to his girlfriend during their set and they happily obliged. Thankfully she said yes, or that would have been awkward for all of us, and then GRO went on to play "Endlessly" which was, apparently, an incredibly special song to the newly engaged couple.
They ramped up the energy again with a cover of John Mellencamp's "Jack and Diane." Played a couple more originals and then brought up Elenowen to help them out on The Beatles' "Hey Jude." Their set lasted over an hour, and if you ask me, all headlining acts should play that long. They laid down their guitars and were off-stage for maybe half a minute when the cheering to bring them back was so persistent you knew they would come back for an encore. They didn't disappoint.
They clearly care about their fans, leading a rousing round of Happy Birthday to a girl in the crowd named Elsa before playing snippets of "Heart of Me," "Out of My Hands," and "Piece It Together" because requests just kept coming from the audience. When they finally got to their planned encore they unplugged their guitars, grabbed a tambourine and made a circle in the middle of the crowd and played "Learning" completely acoustic. Completely beautiful. It was the perfect way to cap off the night.
While there is a long list of things that are just wonderful about Green River Ordinance; talented musicians, foot-stompin' songs, electric live show, etc., what shines the most about them is their authenticity. They seemed genuinely glad to be there and you really believed that they love what they do. Josh did most of the talking throughout the night and he was so charming without ever being insincere. 
Even if banjos and harmonicas aren't really your cuppa tea, it would do your heart good to catch a Green River Ordinance show if they come through your town. I just wish they lived in Minneapolis instead of Fort Worth.
Set List:
It Ain't Love
Where The West Wind Blows
Resting Hour
Hold Me Together *New Song*
She Is In The Air
Better Love
Hallelujah
DRUM SOLO
PROPOSAL
Endlessly
Jack and Diane *Cover*
Cannery River
Dancing Shoes
Fool For You
Hey Jude *Cover*
Flying
ENCORE
Heart of Me snippet
Out of My Hands snippet
Piece It Together snippet
Learning, unplugged