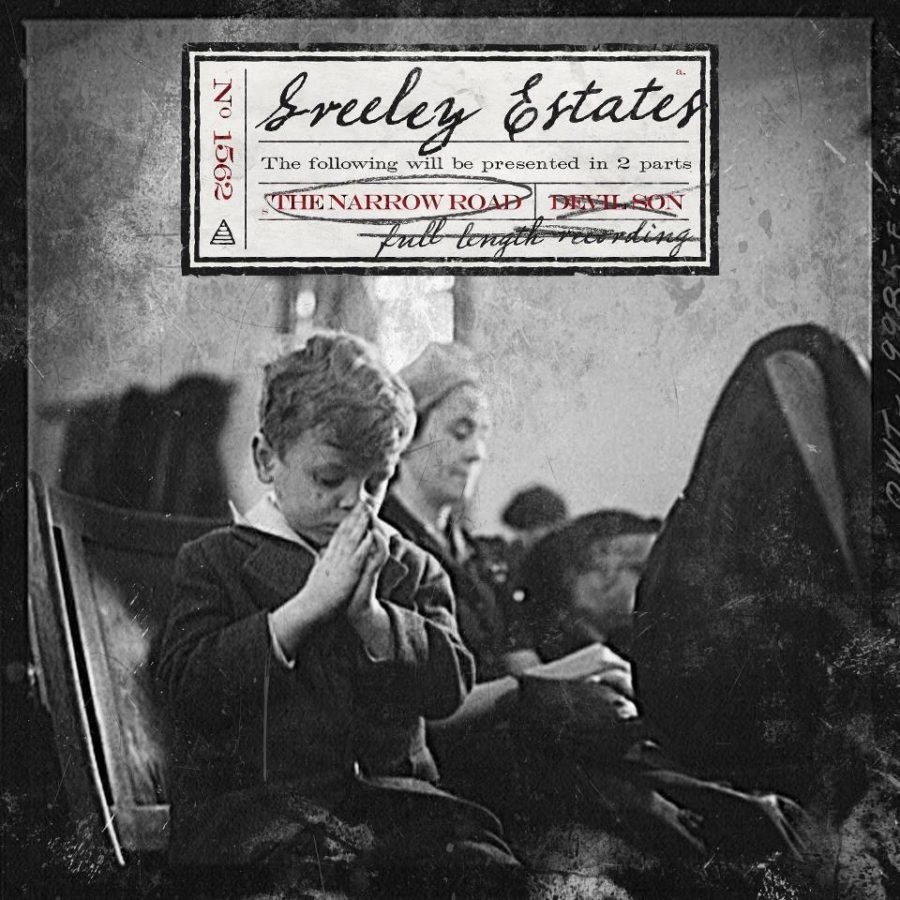 Band: Greeley Estates
Album: The Narrow Road
Label: Unsigned
Release: 11/21/12
Reviewer: Brody B
Tracklisting:
The Narrow Road
Head Under Water
Lot Lizards
Watch it Burn
Die
Lennox House
Doomsday
Love it or hate it, the piercing voice of front man Ryan Zimmerman has always been the aspect of Greeley Estates that defines the band's sound. I was always counted in the latter of those two options for the existence of the Phoenix Arizona metalcore act. Zimmerman's screaming never bothered me as I found it to be intense, precise, and pleasantly unique. His singing is always what I got caught up on. Coming across as a bit whiny, I always felt that it sucked the momentum out of the otherwise beefy sound the band has to offer.
"The Narrow Road", part one of a two part set of EPs, focuses more on the bringing music so heavy there is no room for anything less than blood curdling screams. The title track opens the album with a full on assault to your senses. Within seconds, the listener is overloaded with a conglomerate of sounds. Zimmerman's relentless howling, a symphony of thick, crisp chugging accompanied with high pitched tremolo guitar, backed by devastating drums greet your eardrums.
While "The Narrow Road" is Zimmerman's best performance to date, the rest of the band refuses to sit idly in the background on this release. While Head Under Water features a few of those aforementioned clean vocals I have a distaste for, the guitars are a standout. The riffs walk the line between southern swagger and hardcore two stepping, while subtle, yet effective leads snake their way in and out of the forefront. Lot Lizards and Watch it Burn both have pummeling breakdowns, that not only stand out on this record, but also for breakdowns that I can remember for this whole year. In fact, I found myself listening to Lot Lizards just so I could get to that amazing 2:20 mark. While nothing musically revolutionary, Lennox House is able to provide a somewhat creepy soundscape, as it's slow burning riffage is accompanied by plenty of reverb drenched guitars that wail away in the background. Doomsday seems like it's the track gaining the most attention from listeners on the musical side. While it is not my favorite track on the record, I would have to concur. Drummer Chris Julian plays out of his mind, switching effortlessly from blast beats that would make Impending Doom proud to more simple, laid back beats and then back again. The creepy vibe from Lennox House finds its' way back into this track as creepy chanting makes an appearance to add a lot of depth to the track.
Lyrically the record deals with a wide range of topics. The opener, The Narrow Road deals with Matthew 7:14. Zimmerman passionately erupts, as he begs, "Listen son, don't turn away/ Hide these words deep in your heart/ With the storms approaching/ Don't lose your way/ The storms are approaching/ Hold your ground!". Watch it Burn confronts gossip and how it can effect all the parties involved, "You cross of the names of the lives that you set ablaze/ We're all out of time/ And I know it wont end till it all goes up in flames/ You just stood there and watched it burn". Probably the most controversial song on the album, yet the one that seems to hit the closest to Zimmerman is Die. The song may seem a bit harsh, speaking about the current state of the scene and all those involved, but it's clear that the frontman has been affected, "You have a way of making this all feel so cheap/ The sight of you disgusts me/ Die won't you just die/ I hope you enjoy your little piece of fame/ It won't be here tomorrow/ Die won't you just die/ Won't you just die".
Although "The Narrow Road" is right up my alley in taste, that is not to say that it is without any flaws. While I love the punch this disc packs, there aren't really a whole lot of defining moments to the record. The band seemed to focus too much on creating devastating riffs and breakdowns that most of them seem to blend together a bit. While this is somewhat a turn off, it also makes the unique moments all the more sweet because they stand out so much.
Overall: Greeley Estates have put out a record that is ideal for me: minimal singing and an emphasis on doing what (In my opinion) they band does best by providing pedal to the floor aggressiveness. With that being said, a lot of the songs seem to run together if the listener is not paying attention. That's not to say that there aren't some great tracks on this album though. Songs like The Narrow Road, Lot Lizards, Watch it Burn, and Doomsday all pack a great, memorable punch that will leave you excited for the next EP to drop.
RIYL: Inhale Exhale, Before Their Eyes, Oh Sleeper