Album Review :
God's Servant – Simple Love
By Chris Bach in Reviews | Comments closed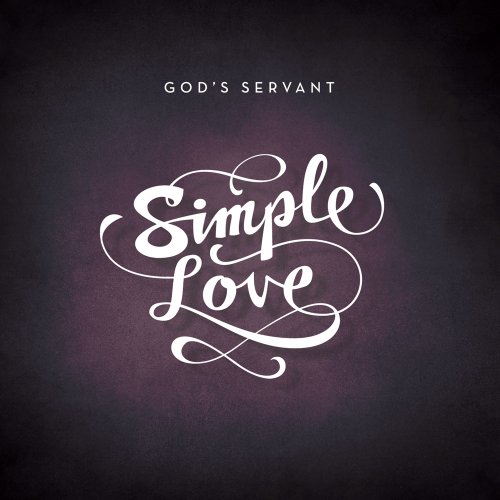 Artist: God's Servant
Title: Simple Love
Label: Lamp Mode Recordings
Release Date: 10/16/12
Reviewer: Chris Bach
Tracklisting:
This Is Love
Boy Meets Girl (feat. Brooks Ritter)
Crown of Thorns
Oh The Deep (feat. Shai Linne, Timothy Brindle & Lauren Monique)
SDG (Soli Deo Gloria) (feat. S.O.) (free download here)
Forgiven It All
Witness
All In (feat. Christon Gray)
Delight (feat. Trip Lee & Melissa T)
Eyes on Him
LLTK (feat. The Ambassador & Shai Linne)
Lay It Down
Worthy Is the Lamb
God's Servant debuts on Lamp Mode Recordings with an album filled with energy and purpose.
Hip-hop is at its best when it's confrontational, and here God has proven His variety in creation by blessing us with a wide variety of different confrontational MC's at Lamp Mode.
Simple Love's lead-off track "This is Love" has a sometimes robotic, swirling dance-floor/video game beat. God's Servant flow is often faster than the beat he's rapping over.
"Boy Meets Girl" is a bit of a sappy love song with a catchy chorus, yet the focus remains on God's love: Weary, about to faint from the weight of the whole, when I'm reminded that it stems from the state of my soul. Without warming my heart by the flame of shalom, at the heel of the death where my Savior is known to have taken my debt, and then paid it in full, demonstrating His love isn't complacent or cold. It's not merely the balm and comfort that He uses to soothe, but it displayed that He died in His route to pursue. Love's a cover for sins and it's patient and kind. It's a healer of hurts – a compassionate mind, and it frees us to serve, cuz' this freedom we taste from Jesus, it makes us meet other people with grace.
"Crown of Thorns" has another radio-ready dance beat.
"Oh The Deep" has thick, buzzing bass and some of the best rhymes on the album. When you play it loud, you can appreciate the sparkling, layered production.
"SDG (Soli Deo Gloria)" is a worship song in a declarative way, bringing glory to God by praising His deeds and proclaiming the finished work of Jesus on the cross.
"Forgiven it All" has a wild synth intro and distorted vocals. Predestination, adoption, wrath, reconciliation, and forgiveness are topics on this song, and the production is hypnotically futuristic. God's Servant really SINGS on this one.
"Witness" has guitar, piano, and tribal drums and another catchy chorus. The lyrics get heavy: Life is a cemetery, so many dead and dry. Then where's the broken hearts? Where is the wetted eyes? Where's the aroma of Christ? Where is the stench of death? They're both effects of the stewardship we were meant to stress. We've been given life, a pack of delivered cats. Yo we've been saved but it's not so we could be sittin' back. We're supposed to light the world, go where the sinner's at. Tell 'em "repent" and go show him where mercy's river's at. Yo they're truly lost. See how they're salivatin'. They thirst for joy and life but steeped in the lies of Satan. Judgment's real, man. We all are bound to face Him. One's where He judges sin, the other's evaluation. So while we're in this tent, and while we say "brothers", knowin' the fear of the Lord let us persuade others. 'Cuz if the Lord should tarry, we gon' be gone and buried. But 'til we give it all to show Him clearly.
"All In" and "Delight" push the club elements to the threshold. "All In" is actually the catchiest song on the album. "Delight" has a Timbaland feel.
"Eyes on Him" has a slow, enchanting sound, soothing like crashing waves. Here's a line from it: 'Cuz He won't neglect His own. He said He'll cherish us. He's working on our hearts in ways we're not aware He does. So I can be encouraged, 'cuz Christ has bore my sin. And God has promised by His might to make me more like Him. I only need to trust Him and to press in more to see Him and to keep believing 'cuz.
"Lay it Down" – which sounds like Json's "Goodybe" without the chants – continues a theme of running to the love of God instead of to sin: I see it's got you caught, it's dangerous and sweet. It's snagging up your legs, entangling your feet, that sin you're feasting on has numbed your heart. You want to run to God, but now it hinders you from running hard. The Lord, He sees your bondage. He's got the secret knowledge of everything you want to try and hide and keep in darkness. If you've been raised with Christ, why would you bring dishonor? When you return just like a dog returns to eat its vomit! You need to stop it, come to the King and drop it! He'll wash you with His blood and clean your evil conscience. He said we'll be his sons. He said we'll be His daughters, so let's complete our holiness as we believe his promise! Come to the rugged cross – you know there's grace for you? He's caused His saints to mourn and burdened them to pray for you, cause though your sin is massive, grace abounds for you to slay it now – so family take your sin and lay it down.
This album is CLUB READY. If you don't like choruses and/or techno beats, Lamp Mode still has Timothy Brindle.
Overall: I really dug the sci-fi elements, and I think the lyricism is a slight bit more towards my tastes than Json's latest (the very poppin' Growing Pains).
RIYL: Json, Shai Linne, Jay-Z.
(You can stream the album for free, as well as purchase a download, on bandcamp)