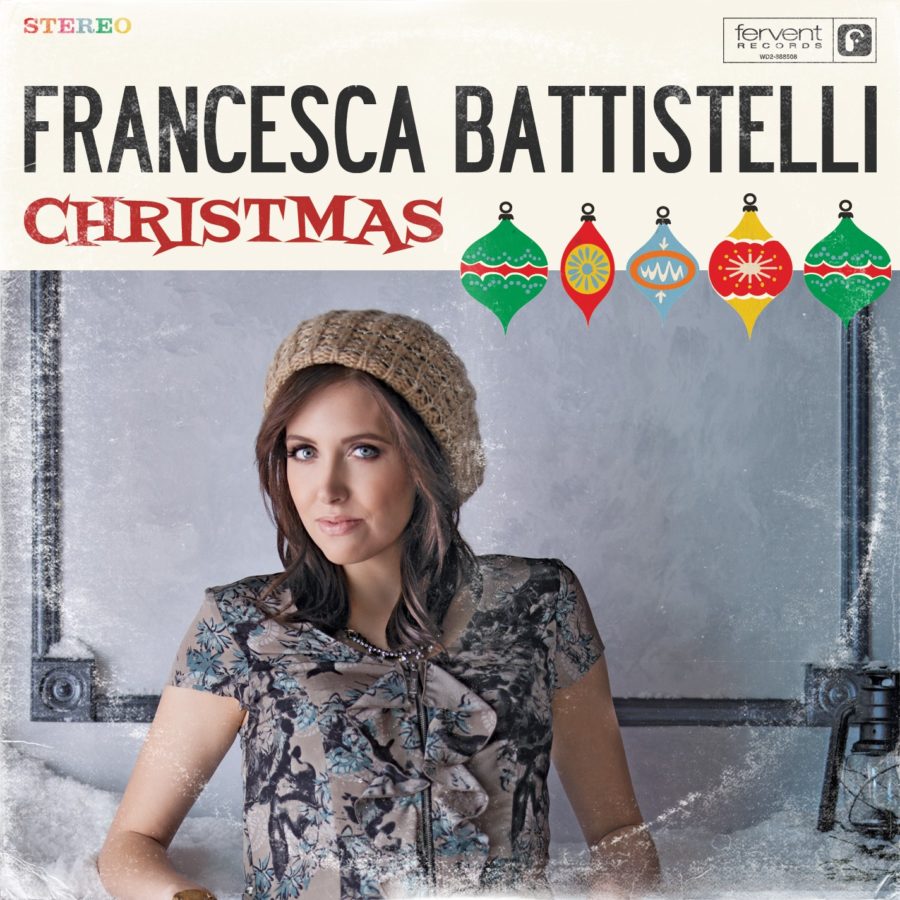 Artist: Francesca Battistelli
Title: Christmas
Label: Fervent Records
Release Date: 10/16/12
Reviewer: Jonathan Andre
Tracklisting:
The Christmas Song
Heaven Everywhere
Christmas Is
What Child is This (First Noel Prelude)
Marshmallow World
O Come, O Come, Emmanuel
Have Yourself a Merry Little Christmas
You're Here
Joy to the World
Christmas Dreams
Go Tell It On the Mountain
December 25
Heaven Everywhere (Acoustic)
Francesca Battistelli burst onto the Christian music scene with her debut album, My Paper Heart back in 2008, with hit singles 'Free to Be Me', 'I'm Letting Go' and 'Beautiful, Beautiful'. Since then she has won numerous Dove Awards (including 'Artist of the Year' at the 2011 Dove Awards), received RIAA-certified GOLD for My Paper Heart, as well as USA Today debuting her latest music video, 'This is the Stuff', back in November 2011, and her songs placed in many TV shows, ranging from Jon & Kate Plus 8, ABC's Extreme Makeover: Home Edition, NBC's The Biggest Loser and Fox's So You Think You Can Dance. Now releasing her first Christmas album in 2012, aptly titled Christmas, this household name for many across the world has been able to give us 13 tracks of holiday cheer and joy, with a distinct and great balance between holiday songs and songs about Christ's birth. Featuring her two radio singles from 2009 on the album ('You're Here' and 'Have Yourself a Merry Little Christmas'), as well as original songs 'Christmas Is', 'Heaven Everywhere' and 'Christmas Dreams'; this infusion of pop and jazz to create a 60s musical atmosphere is a great technique, reminding listeners that Christmas is for all time periods- not just for the 21st century, nor played in 21st century music style. As we understand that '…it's a joy that we feel and the love that we share; there's a little bit of heaven everywhere…' as we approach this merry day of the year, we are encouraged by this song 'Heaven Everywhere', yet through the whole album in general, to spread joy, cheer and love around, not just once a year, as we reflect upon the Saviour's birth and rejoice because '…this, this is Christ the King, whom shepherd's guard and angels sing…' ('What Child is This').
Starting off the album with 'The Christmas Song' (famously recorded by Nat King Cole during the 1940s), Francesca reinvents the well-loved holiday melody from a slow string focused song to a jazz-orientated lively tempo, complete with keyboards, a riveting bass guitar riff, as well as some strings to complete the atmosphere of stepping through a time warp to listen to a song that could've easily fitted during those times. Written about how Christmas is a time for celebration, enjoyment, family, friends and '…chestnuts roasting on an open fire…', we are able to delve into the meaning of Christmas and be reminded that more than friends and family, Christmas is a time to reflect about Christ coming in a manger. Though there is a stanza sung about Santa, it is in keeping with tradition, and also a catalyst for listeners to ponder of Christmas's true meaning, and whether Christmas gifts are of the most priority during the time where giving is to its maximum. 'Christmas Is' is an original song by Francesca, complete with a trumpet and saxophone musical element and light percussion. Along the same theme of 'The Christmas Song', Francesca gives us a humorous and tougue-in-cheek list of what Christmas means to the everyday man '…Christmas is music and family in town, Christmas is Snoopy and Charlie Brown, its anticipating that snow's gonna fall, and praying for someplace to park at the mall…', all the while giving listeners a clear reminder of the true reason for Christmas, and how '…Christmas is all of these fun things for sure, but Christmas is really oh so much more, it's good news of hope for the whole world because Christmas is Jesus…' A great reminder of how sometimes we can miss the true meaning in all the busyness of getting the day perfect for our friends and family, purchasing the Christmas tree and the presents, as well as organising the decorations and work leave; thereby needing to slow down and soak in our worth and importance declared over us by Christ. Well done Francesca for these two heartfelt melodies of joy and remembrance.
Christmas carols 'Joy to the World', 'What Child is This', 'O Come, O Come Emmanuel' and 'Go Tell It On the Mountain' are all featured on this record and are all great reminders of God's presence here with us because of the day when He came to us. 'Joy To the World' is presented against the backdrop of acoustics, creating a warm and grooving representation of this timeless classic as joy is declared over all the earth because of Christ the King. The instrumental bridge of acoustic and electric guitars provide a great harmonisation and segue into the proclamation that '…He rules the world with truth and grace…' 'Go Tell It on the Mountain' starts with a rhythmic acoustic guitar beat and finger clicks as the beat and melody are slowed down to create a mowtown-jazz feel, with Francesca overlaying the track with herself also on background vocals to create a great rendition of an already joyous and reflective melody of how we would declare His love to those who desperately need it. 'What Child is This' is a medley with 'The First Noel' and a keyboard-focused song full of an eerie-tone yet equally mystical, transfixing and reflective as we look back on one of the most celebrated times in history. The strings in the background create the track in its entirety, with Francesca's passionate vocal delivery a great asset, not just on this song, but throughout the album as a whole. Finally, 'O Come, O Come Emmanuel' is a piano-only song of hope to the nations as Francesca cries out '…rejoice, Emmanuel, shall come to thee oh Israel…', giving us a reminder of hope as the season of giving approaches, that Christ's birth is enough for us to sing praises and rejoice for.
With a nicely balanced mixture of holiday melodies and Christmas praise songs; Francesca really shines, lyrically and vocally, on the original tracks of 'Heaven Everywhere', 'You're Here' and 'Christmas Dreams'. Starting off the song with an acoustic riff, 'You're Here' accounts the moments after Jesus' birth, and what Mary could've thought when she held the Saviour in her arms. An acoustic guitar and a light percussion beat with a brush drum stick, 'You're Here' is a reminder, not just to Mary but to everyone that '…someday You're gonna go home again, but You leave your spirit and flood the world with joy…', a reminder of the Holy Spirit's presence as we anticipate Christ's second coming, a time that ought to be anticipated with much joy and eagerness (yet knowing that it is only God the Father that knows when Christ will come again!). 'Christmas Dreams' is a heartfelt piano-focused ballad about all the moments felt by each of the family members up until and including the day of Christmas, and what the experience means to them. Coupled with a strong 1940s musical emphasis, Francesca's assertion that '…a thought comes to mind that I may be the one who's most excited by what's yet to come…' reminds us that the excitement of one of the most enjoyable and memorable days of the year comes with it a joy of giving and remembering the gift given to us of eternal life. 'Heaven Everywhere' is my favourite song on the record, complete with bells, cymbals and guitars as Francesca gives listeners the truth that as Christmas comes around, everyone starts to be a bit more cheery, happy and more giving, as if the holiday prompts something in them that makes them more loving than other times in the year. A comfort as well as confronting, Francesca sings through all the acoustic riffs that '…it's funny how it takes a holiday, to show us how the world can truly change, if we all took the time to really care, there'd be a little more of heaven everywhere…', and as we understand that the greatest gift to give someone is the hope that Christ loves them where they are, we are able to share 'heaven'-(God's love), to everyone without reservation. There is also an acoustic track of 'Heaven Everywhere' on the bonus iTunes edition of the album, which is a great rendition of a track destined to hit the charts as a timely reminder and inspiration for us all during this time of giving, as we are compelled to give more this time around, compared to just during the allotted Christmas times we sometimes previously fall into. Well done Francesca for this thought-provoking melody of grace and hope!
Overall: Francesca's first Christmas album is a great throwback to the 40s, 50s and 60s with some great holiday and Christmas-themed praise songs, from Frank Sinatra's 'Marshmallow World' to the ever popular song of 'Have Yourself a Merry Little Christmas'. Whether it's singing songs about hanging up a Christmas tree, or reminding listeners of the promise given to all of us, Francesca's infectious vocals full of vibrancy, life and hope are able to create an album that's one of my favourites of the year, and certainly destined to earn her a Dove Award nomination for Christmas album of the year! With each track inviting musically and lyrically, Francesca's fresh and relevant musical perspective is translated throughout each song, all the while paying homage to the musical roots of her past- a piano-pop musical undertone with a prominence on vocal delivery, providing us with a well-rounded album to listen to the days leading up to and on the day of Christmas. Whether you're a fan of hard rock, or easy listening or anything in between, Francesca Battistelli's Christmas is a great album to purchase, providing hope as well as the assertion of '…Faith within struggle. Joy amid chaos. They're key to what makes Francesca's music so widely appreciated by critics, fans and peers alike, and to why she has been able to achieve a long-stated goal: "to bring something authentic to the scene that even non-Christians could listen to."…' Well done Francesca for such an enjoyable album experience!
RIYL: Meredith Andrews, Steven Curtis Chapman, Natalie Grant, Tenth Avenue North
Buy the Album: iTunes/Amazon mp3