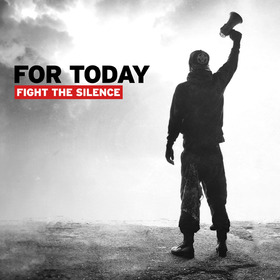 Artist: For Today
Album: Fight the Silence
Label: Razor and Tie
Release Date: 02.04.14
Reviewer: Lee Brown
Track Listing: 
Molotov

Fight the Silence
Pariah
Reflections
Break the Cycle (feat. Matty Mullins of Memphis May Fire)
A Call to Arms
For the Fallen
Fatherless
Dead to Rights
One Voice
Resonate
Hated by the World
An interesting thing happens when a band finds and lands on "their sound." When this happens fans and critics alike, as they are oft prone to do, inevitably make one of two judgements. One group decides that the band has become too generic and has given up on evolving their sound (and perhaps are lazy for doing so) while the other group is excited that the band has found their niche, their groove, and can know what to expect when they invest in each experience.
Your (musical) experience with Fight the Silence will be shaped in large part by which of these two groups you fall in. As can be expected, Fight the Silence is a powerful and passionate album that is lyrically bold, musically aggressive, and goes one-step further than just wearing its message on its sleeve. That being said, it is also largely similar to the band's recent releases Immortal and the Prevailer EP. If you are the type that expects each album to be a completely different experience (as with bands like Project 86), this fact will likely lead to subtle disappointment. However, if you are one who has found a deep appreciation for the sound and style For Today have honed in on since their incredible Breaker album, then Fight the Silence will definitely satisfy.
Fight the Silence, more so than any other For Today album is a call to arms against some very specific evils in this world (and that's saying something!!!). In partnering with the A21 Campaign, which works to free people from human trafficking, the band is making a statement that it is no longer okay for anyone to remain silent when evils like trafficking ("Fight the Silence") and extreme economic inequality/poverty ("A Call To Arms") have become such a stark reality.
For Today have never been ones to shy away from presenting bold, activating/challenging messages in the past, but this album still finds ways to kick it up a notch; including covering growing up without a dad ("Fatherless"), being hated and betrayed by friends ("Hated by the World"), and even in presenting powerful moments of auditory redemption ("For the Fallen"). Combined with the increased "catchiness" of many of the songs, these accessible moments will likely make this the band's most challenging, yet most broadly appealing record to date.
Ever the first to put their money where their mouth is, it should be noted that a portion of all album sales (as well as a partnership in their concerts) will directly go to A21. In this, Fight the Silence backs up the very challenge it lays down. Though objectively this fact has nothing to do with the music itself and its depth/skill or lack of quality, the partnership adds quite a bit of subjective flair to the experience. Fans who make a purchase are not only buying into For Today as a band, they are also doing something of perceptible merit. Whether or not this fact overcomes the similarities to Immortal/Prevailer (for those in the first camp) will be entirely up to you.
Album Breakdown: The album begins with the raucous "Molotov," which is a classic For Today anthem mixed with a bit of Nu-metal flair. Thematically, the song is nearly identical to past jams like "Fearless" or "Devastator," save for the increased inclusion of Ryan's clean vocals. As an opening jam, "Molotov" is a great track that works well to rile up the listener and prepare them for what's yet to come. It will also likely be a highlight track when performed live.
The title track (and primary cause of the album) follows. Little can be said about this track that is not summed up in the opening discourse about the album. Musically, "Fight the Silence" features some nice lows and harrowing moments where Mattie just bottoms it out vocally. Be sure to check the official video out, below, to get a taste of the song and thereby the overall sound of the album as a whole, which follows most of the same patterns and movements.
"Pariah" returns to another of the band's well worn themes of standing for God even in the face of opposition. "You can't kill me, I'm already dead. This is the martyr's cry. So as the crowd demands my head, my time has come to die. Death is only the beginning of everything I'm living for." Musically, Mattie once again burns his vocals with some really deep moments that sell the shear conviction being presented. In many ways, "Pariah" is a follow up to "Stand Defiant," though certain lyrics are a little more graphic (such as the description of being stoned to death and drug through the streets).
"Reflections" takes a much welcomed detour into a much more stripped down and beautifully atmospheric soundscape. As a pace breaker alone the track is great, however the change in style also just works musically. Unfortunately, "Reflections" is a very brief change of pace (at just over two minutes) as "Break the Cycle" immediately crushes back in with some of the heaviest sounds on the album. "Break the Cycle" (which features another Matty – This time Matty Mullins of Memphis May Fire) focuses on the "blind leading the blind" nature of our self-destructive world. In this, it points out the false, broken, misguided leaders who take others down with them and yet points beyond this to a time where, of course, the cycle is broken by the blood of Christ. "In a world heading for self destruction, the answer is here. Are we too blind to see it… there is hope in the blood."
"A Call to Arms," a very aptly named track, begins with some very Ekklesia styled fry screaming and growling. Combined with faster drumming and more crushing guitars, "A Call to Arms" is both the heaviest songs on the album and one of For Today's hardest songs to date. The focus of the track, as mentioned, is the disparity between the very rich and the very poor, who are "dying in the streets."
In my first listen to Fight the Silence I was prepared to say that though the entire album is, as usual, very good, there wasn't really any one song that stood out from the last few albums the way "Crown of Thorns" did on the recent EP. After a few listens, however, I have come to the conclusion that "For the Fallen" is that song. Though it is very typical fare for the band in many places, there are some wonderful moments of sublimity to be found. Between the clean vocals throughout, the occasional nu-metal pacing (even briefly mirroring P.O.D. near the middle of the song), and the harrowing chant of "dead men tell no tales," "For the Fallen" is a highlight track on the album and in the band's discography.
As something of a one-two punch, "Fatherless" directly follows creating two of the most relatable and immediately gripping songs on the album. The heart-wrenching key "tell me who I am, I can hardly stand" sets the backdrop for Mattie's tale of losing his father to cancer when he was just eight years old. As Mattie screams, "I had no one to run to, but everything to run from" "Fatherless" will rip your heart to shreds. Musically, very heavy screams are offset by powerfully melodic cries reaching out to a father that is no longer there… yet, also hinting at the hope found in being fathered by God.
"Dead to Rights" follows the familiar "court room" scenario utilized in the past by artists like KJ-52 to show how guilty we are in our sins. In this, it shows God as the righteous judge who will come to judge the living and the dead. "There was no way out for me, I had blood on my hands. Guilty! Guilty!" The imagery of Christ taking our sentence is then utilized to remind us of the substitutionary atonement Jesus provided for us on the cross. Musically, "Dead to Rights" is in line with the rest of the album.
"One Voice" features some of the best guitar work on the album with some nice winding riffs that play between the foreground and mid-ground nicely. That guitar part aside, "One Voice" did ring a little close to "Under God" from Immortal with a little of the flair of "The Only Name." "Resonate" follows as the second pace-breaker track of the album. As with "Reflections," "Resonate" is a nicely acoustic/atmospheric song that really brings a different flavor along with it. If I had one issue with these two tracks it is that they are such great tracks, but they are sadly gone almost as soon as they start.
The album closes with the aforementioned "Hated by the World," which smacks of the band's personal struggles in finding fame in the mass market and yet being reviled for their faith. It would hard not to hear lyrics like "betrayed and abandoned… rejected…" and not think of such instances as Fronz's unkind words this past year. "Hated by the World" is something of an autobiography of the band that battles the darkness in secular venues and are sometimes less than supported by those within the faith.
As a closing song, I would have preferred "Dead to Rights" close out the album on a more positive/theological note. Putting "Hated by the World" at the end makes the album leave on a bit of a melodramatic note (uncommon for For Today). Still, the line "What I thought was unbreakable, is lying broken at my feet. I haven't given up on you, even if you gave up on me" is a beautifully redemptive moment to end the album on.
Musicianship: Fight the Silence is very much in line with For Today's other most recent albums. In fact, this may be to a fault. Similarities between Immortal and the Prevailer EP are so strong in places that fans looking for a new direction will likely be a bit put off. Still, For Today has made it to the top with their sound for a reason and Fight the Silence only reinforces the great talent the band has.
Lyrics/Spiritual Content: For Today are some of the most bold and faith-filled guys out there. This comes across in every album and it would be hard, considering the level of boldness they've already adhered to in the past, to amp that up in any way. Still, in partnering with A21 and facing some even more relatable issues, Fight the Silence becomes even bolder than before. In addition to this, moments like Mattie's struggle growing up without a dad and the betrayal the band has faced make the album one of their more relatable pieces of work. The trade off in this is that the songs (on the whole) are less theologically focused, however.
Lasting Value: As I've wrestled with giving this album a 3 (based on the large similarity to their past work) or a 4 (based on the fact that For Today is above average in every way that relates to their message, intensity, passion, and musical prowess), it was this category that gave the tipping point. Though the album itself may blend with their past two efforts, the high relateability of several songs combined with the cause behind it leaves me feeling like this album will actually have a bit more impact than what has come before.
Overall: For Today is back with their signature blend of hard music that includes indelible passion, boldness, and lyrical aggression. Mattie Montgomery and company are always willing to step out for what they believe and often wear their faith on their sleeves, but Fight the Silence is somehow an even more passionate call to action than usual. Fans who were engrossed in their last two albums will eat this album up. However, it should be noted that the similarities to those records is strong enough that others may leave feeling that Fight the Silence is really Immortal part 2.
RIYL: August Burns Red, Phinehas, Memphis May Fire