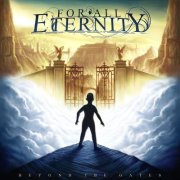 Band: For All Eternity
Album: Beyond the Gates
Release: August 24th
Label: Taperjean/Shock Records
Reviewer: Brody B
Tracklisting:
  Born
  Vacant Room
  Broken Hands
  The Wide Path
  Solid Ground
  Renewer
  Bright Eyes
  Awake To The Sound
  Strength
  All That Awaits
  Beyond The Gates
  Victory
Do you remember a time when the metalcore genre wasn't the over saturated mess it is today? Yeah, me either. The cure most people have found to the depressing conundrum is to find a band doing something completely new and original to take their minds off the fact that a genre they once loved has become a soulless, moneymaking beast. I for one, am one of these folks. The only issue with being this type of elitist personality is the fact that the aforementioned bands are a dime a dozen. So in my mind, the next best thing to do is find bands that may not be the most original, but have plenty of heart and skill in a genre that normally does not.
Enter Melbourne Australia's For All Eternity and their debut record, "Beyond the Gates". While not stepping outside of any boxes and sticking to the tried and true strategy of sing-scream-breakdown, For All Eternity manage to flex their musical muscles enough to separate themselves from most other members of the current metalcore outfit. Not only is strong instrumentation something that makes "Beyond the Gates" stronger than their counterparts, but also the incredibly upfront, Christ-centered lyrics.
After the short intro track, Born ,Vacant Room kicks in with its' crisp, punchy guitars and thumping bass. Soon Shane Carroll makes his presence known with his raspy growls, some of the meanest I've heard in some time, which contrast with the squeaky clean singing of drummer, Michael Buckley. Vacant Room is a great track to listen to if you'd like to get a feel for what the band has to offer. The Wide Path displays musical proficiency from the group as Jeremy Mosiejczuk and Nicholas Page seamlessly switch off between intricate tapping sections and thick breakdowns with apparent ease. For All Eternity are sure to draw many comparisons to popular acts such as August Burns Red and Parkway Drive because of this versatility. Renewer is a song that will be sure to lead to these comparisons as it is fraught with chunky riffs, underlying technicality, and tough breakdowns.
It was right around this point in the album, however that things started to get a little dull. Thankfully, the simple, yet sweet instrumental, Bright Eyes changes up the pace a bit with some ambience and tremolo guitars giving the listener a break from the constant heaviness.
After this slight breather, Awake to the Sound and "Strength" bombard the listener. These two tracks are two stand outs on the album. Awake to the Sound brings to mind a poppier As I Lay Dying, with less distortion and more radio friendly clean vocals. Yet there is no denying the howling of Shane Carroll is reminiscent to Tim Lambesis. The constant lead work also seems to have some inspiration from the legendary metalcore act. Strength is hands down my favorite track on the record, mostly due to the cool underlying riff that hides itself behind towering breakdowns. One of the most impressive on the record coming in at about the three minutes mark as Carroll proclaims, "All the world will see what You have made of me/ Everyone will know that You are King".
On the topic of lyrics, "Beyond the Gates" is full of encouraging, spiritual lyrics that really grabbed my attention. Renewer especially caught my attention with lines like, "Stand down, step aside, my wicked mind and my pride/ I'm done with you/ Take, take it all upon yourself/ To the man I was, to the man I've been, you are dead to me and I am dead to you/ So now I walk in freedom, and I see where I've been. This heart, in my chest has been washed clean". The cleanly sung, piano led track, Beyond the Gates sounds like something that would not be out of place to sing on Sunday mornings in church with lines like "In Your presence I will sing songs that praise Your name/ I will sing loudly with no shame of how You conquered the grave/ In Your presence is where I belong, grant my heart just this one song to sing You forever and ever/ Hallelujah You are my King, hallelujah to You I will sing."
While "Beyond the Gates" is a stellar debut album, it does not go without a few bugs. While Buckley no doubt has a great voice, it is not for me. I felt that his voice seemed to kill the pace that the heaviness had brought. There was also a part of me that wished the band would try to use singing more sparingly. Using the singing every chorus caused it to become over used and occasionally annoying to me. If used less I think it would have really made the cleans more welcomed and all the more impressive. On that same topic of innovating, I would really like to see For All Eternity break outside of the conventional molds of metalcore. It's apparent they have skill, I would just love for them to perfect a sound of their own on the next release.
Overall: For All Eternity have crafted a debut album that should peak the interest of folks looking for a new metalcore band to follow. While overused, borderline whiny clean vocals and a lack of originality are the downfalls of this album, the skill and level of passion put into this album are the saving factors. It should be very interesting to see what the next move will be for these fellows. Whatever they have to offer next, I will be eagerly awaiting to see the band mature.
RIYL: Parkway Drive, Texas in July, The Devil Wears Prada