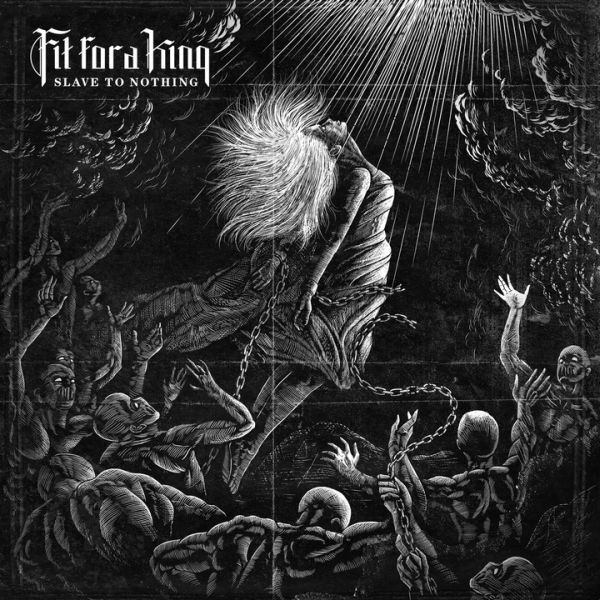 Band: Fit For A King
Album: Slave to Nothing
Label: Solid State Records
Release: 10.14.14
Reviewer: Brody B
Tracklisting:
Kill the Pain
Young & Undeserving
Slave to Nothing
Break Away
Hooked
Selfish Eyes
A Greater Sense of Self
Forever Unbroken
Imposter
Cleanse My Soul
The Final Thoughts of a Dying Man
Fit for a King is a hardworking group of guys. They're a band who has been grinding away for years before inking a deal with a label. When Fit for a King did sign to Solid State Records in 2013, the young band quickly earned the respect they have deserved all these years.
The group's first release on a new label broke sales records for the company and even warranted a re-release of their freshman album, "Descendants". Quickly after dropping those two albums within the span of a year, the gang hit the road, nabbing some major tours and gaining large amounts of momentum.
The band have recently released "Slave to Nothing", the successor to record breaking "Creation/Destruction". Can this album gain the band even more popularity, or will it kill all the momentum the band worked their tails off to gain? The answer to that question is found fairly early on in the album.
In a recent interview, guitarist Bobby Lynge explained that he wanted to stray away from simply chugging and make more interesting riffs to provide the backbone of the sound. After a slightly subdued start to the opening track, Fit For a King flex their muscles with heavy riffing and mind-blowing drumming. Kill the Pain shows a little bit of a different side to FFAK than we experienced on "Creation/Destruction". Their sound is a bit more mature and dynamic as tempos ebb and flow rather than keeping the pedal to the floor at all times. Ryan Kirby's vocals are more powerful than ever while Jared Easterlin lays down drums seemingly more complex than anything in the band's back catalogue.
The addition of new vocalist/bass player Ryan O'Leary had some fans worried when he first joined the band, but after Young & Undeserving it's clear O'Leary has hit his stride with the band as his voice finds the perfect balance of pitch; lying somewhere between manly and soaring. Young & Undeserving is another example of the band's matured songwriting. The formula of choruses and breakdowns does not break down any barriers of the genre, but FFAK take their time to let things build and allow certain parts to breathe which makes the track feel fully fleshed out.
The album's title track, Slave to Nothing, is quite the barn burner proving to be the heaviest track in the band's discography. Fraught with blast beats and racious riffs, this thrashy anthem is sure to make rooms spin in a live environment. The guest vocal spot by For Today frontman, Mattie Montgomery are an incredible addition.
Hooked is one of the most riff happy jams on the album. The track is full of contrasts as Kirby's ferocious vocals give way to O'Leary's crooning while guitar runs filled with bends and pinches bleed into full fledged powerchords. Lyrically Ryan Kirby delves into the gritty subject matter of selfishness. In this particular scenario he takes on the thoughts of a drug addict as he states, "Numb to the damage we're dealing to the ones who stand in our way / When will we see the price we'll pay?".
Selfish Eyes is a track that may seem a bit like the obligatory soft song on a metalcore album at first, but after repeated listens it really started to grow on me. While the placement is halfway through the album, which is a bit strange as it kills some momentum, it definitely still has a bit of an edge to it. Chunky guitars mix with angelic leads and subtle piano to create a powerful backdrop to O'Leary's standout performance. This combination of instrumentation causes the track to feel like something the early Red may have put out.
Lead single, A Greater Sense of Self is a personal favorite track of mine. The riffs in the verses will have guitarheads everywhere nodding their approval while varied and interesting drum patterns hold down the back end of things. The chorus in this track is sure to be stuck in your head for days as O'Leary shows his range off a bit as he quickly goes from soft crooning to adding a little strained rasp to his voice.
The swagger present in Forever Unbroken is undeniable as bouncy riffing in conjunction with Kirby's shouts, "Mark my words / I won't back down" are sure to make this track a favorite in a live setting. In keeping with anthems of revolt, Imposter begs listeners to stand up and raise a fist as it calls out to false teachers. O'Leary and Kirby intertwine their vocals nicely to add some dynamics as they proclaim, "We know that you're faking it!"
The stellar album ends on an incredibly high point. Cleanse My Soul is continually changing, from a breakdown so heavy it would scare the guys in Impending Doom to O'Leary exploring a bit with his vocals as he adds flourishes to make things a little poppier. The Final Thoughts of a Dying Man finds the whole band shining brightly. Ryan Kirby varies his vocal delivery in a multitude of ways as he switches off from spoken word, singing, and screaming with ease. Bobby Lynge stands out on the guitar with impressive noodling and leads sandwiched between muted chugging and riffing. O'Leary lays down another catchy chorus as he hopefully proclaims, "Each and every star will fade / But every night brings a new day".
Overall: Fit For a King have avoided any sort of slump as they have already made waves, breaking the Billboard top 50 in 4 categories for first week sales. The band has continued to mature and push the envelope on their sound rather than sit idle and rake in some quick cash. While they aren't the most original sounding group, you would be hard pressed to find a more solid metalcore act on the market right now.
RIYL: For Today | Forevermore | Phinehas