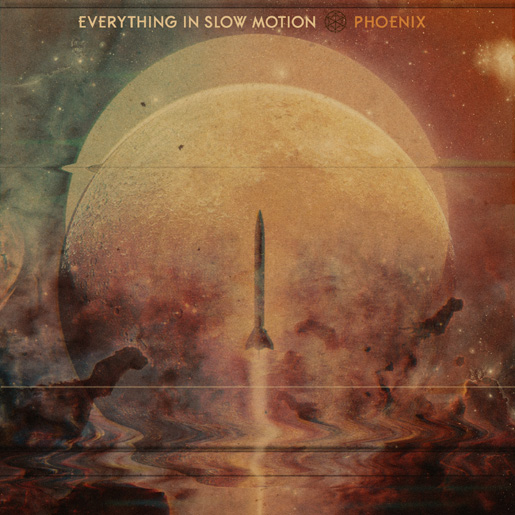 Artist: Everything in Slow Motion
Album: Phoenix
Label: Facedown Records
Release Date: 12.10.13
Reviewer: Lee Brown
Track Listing: 
Get Out

Speak (Feat. Christian Lindskog of Blindside)

Poison

Most Days

You Are

Numbers

The Fool

Come Down

Remember No More

Proxima (Feat. Holly Ann)
I've always found it poignantly humorous that we refer to musicians as "artists." For truly, that is what each musician is. Just as an artist starts with a blank canvas and paints an image said to be worth a thousand words; musicians take a thousand words and seek to turn them back into vibrant brushstrokes on the canvas of life. The painted canvas may bear the strokes of a master such as Picasso or the ink-well dipped hand of a five year old, it makes no difference to the canvas. The beauty of each piece (Picasso or the child's finger painting) remains subjective in its value. Though Picasso's paintings may be worth millions, the finger-painting of a beloved child is worth immeasurably more to a loving parent's heart.
With Phoenix, Everything in Slow Motion paints on the canvas of life a picture of a thousand words that somehow manages to bring together both the beauty of a Picasso with the raw and childlike grace of your little child's first finger-painting. On the one hand, the album is raw and brutally honest, telling the story of an addict who clings to drugs, anger, and all the pain-filled pleasures of the flesh. On the other hand, Phoenix presents the broken tale of a beloved child of God who reaches out to his Father, stumbles and falls, and then looks up for help, hope, and a grace he cannot provide for himself.
It is this duality that defines the album. Phoenix deals intimately and unashamedly with the duality of flesh and spirit, addiction and deliverance, self-reliance and broken submission. This duality is reflected everywhere from the album cover, which brings peaceful colors and a calming moon that are then blended with visual distortion and a rocket symbolically breaking the atmosphere of heaven, to the musical experience which is both as somber and metered as it is aggressive and raw. This duality is expertly balanced throughout the musical experience as individual tracks each begin with a somber and slower paced rhythm that is softly broken by more aggressive choruses. Similarly, Shane's vocals adeptly maneuver between heart-felt, lower key moments and guttural aggression as he paints the tale of an addict who moves from an initial acknowledgment of his many problems, through several small victories and relapses, leading to ultimate healing that comes from God alone, just as the phoenix rises from the ashes of death to new life.
In this, the album does follow something of a three-act format, with a fittingly brief first act (the first two tracks) that hints at the anticipation of hope found in the third, a brutal (in tone, thematically) and extended second act that embraces brokenness and is honest with its pain before cascading into the glorious hope of the Son (the last two tracks). This format, theme, and even the lush soundscapes build on Shane's previous efforts in the band Hands, particularly the masterpiece Give Me Rest, to which there is more than a little commonality. However, Phoenix is a more somber and laid back affair than Give Me Rest. Though it is certainly heavy, this is not as much a metal album as it is a layered hard rock album that incorporates deeply atmospheric undertones and is not afraid to take the road less traveled. In this, there are some obvious similarities to Hands, but also to past acts like The Juliana Theory. Not to be missed, there is also more than a little inspiration drawn from Blindside, which includes frontman Christian Lindskog's amazing guest appearance on "Speak."
The album begins with "Get Out," which is a heavier track in its outset that opens the album with hopeful eyes scarred by the pain to come. The song introduces the villain of the story by boldly painting images of the vices that call out like a siren's song through the pain of this broken world. "Be still and close your eyes. They'll come for you when you're weak. Be still and close your eyes. Don't listen when they speak." The song starts out somber, but rises with impassioned screams as the duality of the demon's call and God's quiet voice begin to enter the picture. This is also the first of a few songs to directly quote or incorporate Scripture. Here we are presented with 2 Corinthians 5:17, which proclaims that the old has passed away and the new, in Christ, has come. However, EISM uses this verse to begin the painting with the "old" before moving on to the hope of the new. "I'm sick, sad, tired and broken… I say I'm fine, but nothing is fine… Flesh and bones will return to dust, but Your love holds me forever."
Just as "Get Out" introduces the demonic siren's call of the world, "Speak" reaches its broken hand out to the Father, longing for His voice. "If I could hear You speak into our hearts… a song to shake the earth… speak to me… love will light the way to lead us home." With full confidence I say that this is a contender for song of the year. As a Blindside fanboy (with roughly eleven great reasons to be so), this song had me at "featuring Christian Lindskog." Although Shane is more than capable, Christian just takes the track to another level entirely. Yet, the two men's voices balance so perfectly as Christian gives a passionately reflective sound and Shane brings an aggressive brutality that once again brings brush strokes to the duality of the disconnect between broken man and a holy loving God.
"Poison" begins the brutally honest second act with a slow and purposeful intro that carries an ambient feeling familiar to Hands' Give Me Rest album. Once again Shane's vocals are somber as he proclaims in false pride, "one more hit should numb the pain… I'd give anything to rest in Your arms tonight… tear the needle from my skin… hide me somewhere before the drugs kick in." Now, I am a message guy first and foremost. I care about the lyrical/spiritual content of an album as much as (or more than) I do the musical quality itself, and I can say with all honesty that the elements presented to paint the addiction serve a grand redemptive purpose. Though many may be offended by the references to needles, suicide, and drugs, the picture they paint will strike home in the heart of the exact person that needs to hear the greater message this album is telling.
"Most Days" once again starts with a slow and atmospheric tempo that betrays the heaviness of the song itself. The title itself refers to the lie the addict tells himself that "feeding the addiction makes me feel well, at least most days." It beckons the listener into the story of a man who tries to free himself under his own power (see the explanation on "Come Down") as he proclaims, "I made a promise I would never do this again, but here I am… I guess I'll never learn."
"You Are" glimpses back to hope found in God and almost presents a veiled worship song in many ways. This track most boldly focuses on the greatness of God set against the failure of man. "I'm a song that only You can sing… You are beautiful… You are." Musically, piano/keys are worked into the mix skillfully and these blend nicely with a more falsetto tone to Shane's voice and an almost worship music (the genre) styled final chorus. In many ways, "You Are" would have fit nicely as the final track in the way it tackles the hope of God through broken man, though that honor rightfully belongs to "Proxima."
"Numbers" once again brings a slow intro, but sets itself apart with an old western feel to the guitar work in parts. The focus of the song is how God never gives up on us, even when "the numbers don't add up." In this, it is an allusion to Romans 5:8, and the proclamation that "while we were yet sinners, Christ died for us." "The numbers don't add up, I think I'll go my own way… but, You're still here." This is a good song, though it does tend to drag a bit more than others for me.
"The Fool" is the unsung hero of the album. While "Speak" is more appealing for many reasons, "The Fool" (a reference, perhaps, to Psalm 14:1) brings bitingly honest lyrics that examine brokenness to the point of a suicide attempt and a heart of pride that screams, "don't try and save me, I'll be just fine." Thus the duality is the pride of man with the shocking humility of a great God who would reach into the gutters of life to find His most precious treasure. "You don't know where I've been, this is more than a cheap conversation… so don't be surprised if I say, 'You can keep Your Words, You can keep your kingdom', keep Your hands to yourself, I bet You've never met a sinner like me." The real heart of the song, however, is when the song turns to God's point of view and reassures the addict (and us, powerfully!) that God is not surprised by, nor does He shrink away from us because of our greatest of sins. Beautifully and accurately Shane gives God's perspective by singing, "Can you feel these words? I will never leave you… I have always known your name. It kills me, son, to hear you say, 'keep your hands to yourself…', I've always known your name."
It should not go overlooked the reference (intentional or not) to "hands," considering Shane's previous band. Without hesitation, I say that "The Fool" is not only one of the very best songs on this album (which itself will – spoilers – be placed highly in my upcoming top ten albums of the year list), but it is one of the most powerful and powerfully honest songs of the year. I once had a roommate in college who put a wall up between himself and God because "Christian music" was so un-relatable to where he was. This is the type song that the most broken sinner (even if the sin is the unholy trinity of pride, judgement, and hypocrisy) will find themselves immersed in. Then, when God's perspective is given, broken hearts may just be mended.
"Come Down" takes a very Scriptural theme of being a double minded (see the duality again) man found in James 1:6-8 to look at the addict's attempts to find faith amidst his own sins and doubts. "Life's a whisper, the answers may not be found" form the battle cry as the man finally admits humbly, "I have never heart Your voice, but have I really listened, have I really tried?" The song moves from the gutter to an unsteady faith filled with doubts. In this, I would have liked to have seen "The Fool" and "Come Down" switch places to bring a more steady progression to the story, though it is not greatly hindered as it is. If they were switched, I would say that the final act boldly begins with God's proclamation of love to the broken sinner as "The Fool" closes out. Instead…
The final act begins with "Remember No More," which highlights (though seemingly with opposite intent) the "silence" theme that Blindside has made a hallmark of their music. "Come closer and break the silence. I am reaching out for You." In this, the song looks again at the problems shown in previous tracks, but focuses like never before on the fact that God separates our sins forever apart and remembers them no more. "I've tried so many times to let this go, but it flows within my veins… How can it be that You say, 'I will remember no more?'" "Remember No More" has one of the heaviest choruses on the album and gives a fitting moment of complete silence, which is then broken by a final scream of redemption.
The album concludes with "Proxima." "Proxima" is an astronomical term (which ties nicely to the beautiful cover). It is a flare star in the constellation Centarus that is the nearest star to the sun, which itself makes the song speak volumes alone through just the title! This is also fitting as "Proxima" is the song that brings the listener (and the addict of the story) to the end of the broken journey and closest to the crucified and risen Son.
The song prominently features Holly Ann, a "rising opera star, turned quirky piano songstress" whose debut album Ravens was produced by former Copeland frontman Aaron Marsh. The track feels in many ways like a hymn of old spliced together with a more modern rock ballad. At just over seven minutes long, the wandering guitars slowly build towards a nice blending of Shane's lighter vocals and Holly's haunting voice in a way that adds even further to the thick atmospheric elements of the album. Though it builds slowly, as mentioned, it does pick up around the 5:30 mark to bring the song tonally back in line with the rest of the album, and thus brings a fitting closure to the foreshadowing of hope that is introduced in the first two tracks and haunts the remaining.
Musicianship: Just as Hands brought a masterpiece of musicianship with Give Me Rest, EISM brings a hugely skillful album together with Phoenix. As mentioned at length, above, there is a deeply atmospheric quality to the songs which feature some more somber hard rock elements.
Lasting Value: Everything in Slow motion have put together an album that is both haunting and honestly broken. From the amazing guest appearances to the depth of passion given to the subject matter, I don't see this album leaving people's hearts for a long time. There are rare moments in the musical industry that an entire album can cling to people's hearts, especially the very lost souls, in such an honest way without feeling either heavy-handed or cheesy. Songs like "Speak" will draw the heart of the already faith-filled closer to God with each listen, while "The Fool" and its companions will truly speak to, and be easily embraced by, "sinful" man in a way that few other faith-based albums will get the chance to do.
Overall: Facedown Records has waited until the eleventh hour (and twelfth month) to deliver one of the strongest albums the label has ever produced. Everything in Slow Motion builds upon everything that made Hands' Give Me Rest great, but somehow goes one step further. "Speak" is unquestionably a candidate for song of the year, while "The Fool" will reach into questioning hearts the way few songs are able to. Whether you can go out and get this album now, add it to the top of your Christmas list, or just wear out the music video embed above, you need to have this album.
Musicianship and lasting value aside, this is one of the few albums you can confidently hand your non-believing friends, knowing that there is no way they will return it and say "this is nice for you, but really out of touch with my life…" if they ever give it back at all.
RIYL: The Juliana Theory, Hands, Blindside, Thrice, Holly Ann
* This album will be featured in Lee's "top albums of 2013" list later this month…so that should say something, too.