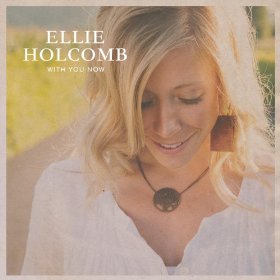 Artist: Ellie Holcomb
Title: With You Now EP
Label: independent
Release Date: 8/20/13
Reviewer: Jonathan Andre
Tracklisting:
With You Now
I Place The Hope
May The Words
Can't Outrun Your Love
He Will Give The Weary Strength
We Shall Always Be With The Lord
2013 is the year of the EP. The extended play. The 5-6 songs released as a collection before the full-length album. Or maybe just the 5-6 songs without the album. Regardless of how you define 'EP', 2013 is the year of them, with many artists releasing the shortened version of albums, from City Harbor, The Sonflowerz, Amanda Noelle, Finding Favour and Vertical Church, to Gabi DiPace, Ryan Stevenson, Unspoken, Jason Gray and Everyday Sunday (and do nine track albums by both Luke Hellebronth and Marthe De La Torre count as EP's or albums?). Enter in folk/acoustic/worship artist Ellie Holcomb, wife of singer/songwriter Drew Holcomb and daughter of producer Brown Bannister, the latest artist to give us an EP, in the form of With You Now. A great collection of songs to listen to and have if you're a fan of folk/acoustic and praise artists like Audrey Assad or Andrew Peterson; this indie artist has given myself at least a welcomed surprise in these 6 songs. Primarily giving us the musical backdrop of the acoustic guitar; Ellie's heartfelt and poignant song writing, to the point where she is also placed and elevated to be within the category of great songwriters (inclusive of Jason Gray, Andrew Peterson, Nichole Nordeman and Bebo Norman), is a great asset for the EP. Initially hearing about the artist for the first time via a kickstarter video link, my respect for Ellie and her music as continued to grow through the listening of this 2013 EP, propelling these songs to be my second favourite EP of the year so far. With her first full-length studio album As Sure as the Sun to be released on February 18th 2014, Ellie's heart for giving us songs and moments of vulnerability is enough to warrant at least a listen from anyone who loves acoustic reflective music, or even anyone who wants some acoustic, new, invigorating melodies, and something different and original compared to the airplay of Christian radio pop/rock.
'With You Now' is the first song from the album, and standing at a length of 3 minutes 19 seconds, is one of my favourite songs on the album. Speaking from the point of view of God (or maybe a good friend), Ellie declares out the words '…when you are silent, I will speak for you, you cannot feel, I will feel for you now…and when your heart is full of this trouble, and when the night whispers your fears out loud, I'll be with you now…', reminding us that just like in the song, the Lord God, as well as our closest family and friends, are certain to be with us throughout every trial and tribulation, achievement and success. A comforting song that accentuates the power in Ellie's vocals, 'With You Now' is one to ponder with as we see if we truly believe God is with us, and whether when faced with the situation, will we be with others the way that God is with us (as in, will we be able to recite these lyrics and mean them as we tell these truths to a friend in need?)? Confronting and hopefully compelling and encouraging, 'With You Now' segues into 'Place My Hope', the longest song on the album and one that encourages us again to lean on the Lord in any circumstance. Reminding me vocally of Centricity Music artist Lanae Hale (not really sure if she's still doing music), Ellie invites us to lift our '…eyes from this fragile life, for You will rescue me, You are my Prince of Peace and I'll lift up my soul to You who makes things whole…in You I place my hope…', a heartfelt prayer that's certain to impact us whenever we hear the melody during our moments of reflection and quiet time. With light acoustic guitars, electric guitar strums and a powerful vocal, 'Place My Hope' comes with a realisation of who we can place our trust in, and continues to assert Ellie as one of the most underrated acoustic/worship artists throughout the last few years.
Ellie continues to bring to the fore the theme of God comforting us with His love in 'Can't Outrun Your Love', a 2 minute scripture-in-song like melody that reminds us that '…even when the darkness covers me, I settle on the far side of the sea, no matter what I do, I can't outrun Your love…'; while 'He Will Give Me The Weary Strength' is a poignant invitation to all to rest in the love of God, reassuring listeners that when we are in His presence, He will give the weary strength, and the broken hope. With light acoustic strums and layered vocals, Ellie delivers an ethereal voice to present to us an eerily enjoyable reflective song that's certain to be on anyone's iTunes playlist if you are in a reflective mood. 'May The Words', presenting to us a similar themed song compared to Tim Hughes's 'May The Words of My Mouth'; is an emotional melody full of hope, heart and comfort as she gives us conviction and strength to make sure that every word and deed that comes from us is pleasing to the Lord. Ending the album with 'We Shall Always Be with the Lord'; Ellie leaves her best reflective song to last as she brings together the acoustics and relay the theme of Christians being with the Lord when the time comes for us to travel to our permanent home in heaven. Written and delivered with emotion and enthusiasm, this is a great song for comfort as we rest and be in communion with the Lord, understanding that '…we shall always be with the Lord…so comfort one another with these words…'
Overall: Ellie Holcomb's latest EP is a great gift to anyone who loves acoustic music. Over the last few years, I have become more appreciative of the acoustic genre, and Ellie's EP is no exception. Each song, while not necessarily as pop or rock as many songs are on the radio, still speaks volumes of truths to us as we hear it. With her full length studio album being released in February 2014 (with funds being raised through kickstarter), Ellie's EP is a fresh, invigorating, unique and encouraging precursor to what listeners can expect come February next year. A great album to purchase if you enjoy artists like Audrey Assad, Nichole Nordeman and Andrew Peterson; Ellie Holcomb is certain to become popular and much more respected and appreciated in months and even years to come. Well done Ellie for such a heartfelt and emotional album. Can't wait for As Sure As the Sun releasing February 18th 2014!
RIYL: Audrey Assad, Bebo Norman, Andrew Peterson, Jars of Clay, Nichole Nordeman
Buy the Album: iTunes/Amazon mp3