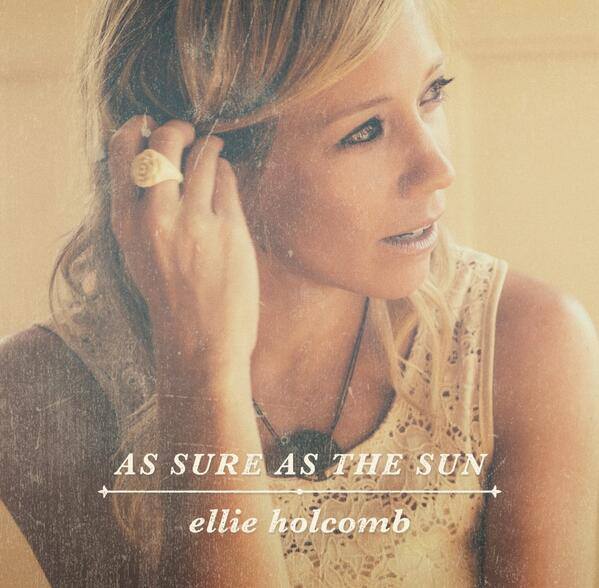 Artist: Ellie Holcomb
Title: As Sure As The Sun
Label: Full Heart Music
Release Date: 2/18/14
Reviewer: Jonathan Andre
Tracklisting:
As Sure as the Sun
Marvellous Light
The Broken Beautiful
My Portion and My Strength
Night Song
Love Never Fails
Love Broke Through
Only Hope I've Got
The Valley
Songs of Deliverance
I Wanna Be Free
Folk/acoustic/pop seems the way to go if you want to be a great lyricist and create moving songs that impact and inspire listeners from around the world. From artists like Steven Curtis Chapman, Jason Gray, Bebo Norman and Nichole Nordeman, to Andrew Peterson, Sara Groves, Caedmon's Call and Derek Webb; these artists listed have been able to tap into a unique sense of lyrical ingenuity to create moments of vulnerability, heart, encouragement and hopefulness and many of their songs seem to stand above the rest of the CCM industry with relation to lyrical prowess and ability to draw in a wider range of listeners, regardless of their own preference in musical genre to listen to. With newcomer artist Ellie Holcomb releasing her debut full length album on February 18th (after her two successful EP's Magnolia and With You Now), this fully funded album via kickstarter is certain to be enjoyed and loved by listeners who have listened to an appreciated the artists I have listened in this above paragraph (Ellie's music is poignant and encouraging, and in my opinion, deserves to be in the group of artists I have just listed). With her latest 2013 EP becoming one of my favourite EPs by an independent artist, Ellie, wife of singer/songwriter Drew Holcomb and daughter of producer Brown Bannister, invites us all to take a journey of hope and self-discovery within this collection of songs that are some of the most lyrically rich out of all the songs released in 2014 so far. Primarily giving us the musical backdrop of the acoustic guitar, keyboards, and some light electric guitar wherever necessary, Ellie's heartfelt and poignant song writing is a great asset for the album. Initially hearing about the artist for the first time via a kickstarter video link, my respect for Ellie and her music as continued to grow through the listening of first the 2013 EP, and now this new album. Ellie's heart for giving us songs and moments of openness is enough to warrant at least a listen from anyone who loves acoustic reflective music, or even anyone who wants some acoustic, new, invigorating melodies, and something different and original compared to the airplay of Christian radio pop/rock.
'Marvellous Light', though not the first radio single from the album, is possibly the most recognisable song on As Sure as the Sun, with the song being released to promote the kickstarter video of Ellie encouraging her fans and anyone else to contribute towards her goal (which she managed to acquire in record time as well). Played in its entirety on the kickstarter video, 'Marvellous Light', though standing at 3 minutes 10 seconds, is a great invitation for all of us to walk '…out of the darkness and into the light, from fear and shame into a hopeful life, mercy called my life, You made a way to fight, out of the darkness and into the light…' A song that encourages us to move from dark to light, concealment to vulnerability, and hurtfulness to healing, Ellie soothingly places her voice at the forefront of what is able to at least draw my own interest into the melody. A great song if you want to introduce anyone to Ellie's music who haven't heard her before; we are called to make a step- and sometimes the hardest one, from out of the shadows and into the light that can be so often scary, daunting and revealing. With lyrical themes similar to Matthew West's 'Into the Light' and Charlie Hall's melody of the same name ('Marvellous Light'), this heavy keyboard based melody (with some acoustics and some looping percussion) is as confronting as it is comforting, as we know that the same marvellous light that shines upon our own issues we long to cover up, is the same light that doesn't condemn, or criticise as we bask in the knowledge that '…there's no place, I'd rather be, Your light is marvellous…You have come to set us free, Your light is marvellous…' A standout on an album full of lyrical gems and moments of realisation, contemplation and praise, this is a great start to Ellie's introduction to full-length albums, and to hopefully more listeners intrigued about her music. Well done Ellie for such a great promotional single, placing 'Marvellous Light' as one of my favourite songs of 2014 so far.
'As Sure as the Sun', possibly the most instrument-lacking song on the album (with just a piano and Ellie's powerful voice) is also one of my favourite songs, and being the first song on the album, I'm sure listeners can and will remember it, given this fact. With emotion and vulnerability, Ellie proclaims from the start that '…there is good news, there is good truth that you could never change no matter what you do, you are loved, more than you know, more than you could hope for, after everything you've done…' A song of comfort, we are met with a fervent promise that as sure the sun rises and sets every day, God's love for us in endless and boundless. A great song to bring in the hope and encouragement at the start of the day, what is great about the song is that it doesn't bring in the instruments right away, and is perfect for an early morning when you're just waking up and wanting something soothing for the soul. The first radio single, 'The Broken Beautiful', is much more upbeat, featuring an electronic keyboard riff to underpin the song as a whole. With Ellie giving us a clear assertion that God makes the broken beautiful, a kind of message that can be comforting as much as a revelation to the people who hear her, especially singing the powerful lines of how '…Your love will never change, and there's healing in Your name, only You can take broken things and make them beautiful…' As I listen and am reminded of the times when Jesus took broken men and women and led them to be leaders and men of God (Moses, Peter, Jacob, David etc.); I can't help but be amazed, knowing that even if I am broken to the extent of being unfixable, I'll still know that Christ will take whatever is inside that even I am too ashamed to see, and create something wonderful and maybe even inspiring out of what I have experienced.
With light acoustics and a slide electric guitar to create an eerie soothing moment in 'My Portion and My Strength', Ellie moves from a joyous mood to more of a contemplative one, pondering the question of whether God can calm the storms inside of her, considering that He is the one who calms the winds, waves and seas. The asking doesn't end there, with Ellie asking the Lord to '…help me to stand, on the promise that You are holding my right hand, help me to know that even when I lose my grip, You won't let go…', and while I know that God will never let us go, sometimes we need that reassurance in trials and other circumstances. 'My Portion and My Strength' does exactly that- give us strength, knowing that Christ is in the situations we face, giving us the hope and comfort whenever we need it the most. Well done Ellie for these three strong tracks, that together with 'Marvellous Light', create a strong set of songs that'll hopefully bring in even the uninterested of listeners to hear what Ellie has to say, about love, life, God and everything else.
With Ellie delivering themes of hope, love, comfort and peace, it is only appropriate for Ellie to sing about the night, and what happens when we're in the night, and need a song to sing. This is where 'Night Song' comes in- a moment of calmness and peace that washes over Ellie as she sings '…all these lies that are owning me, all this fear makes it hard to breathe, will You be, be my night song…' Night isn't necessarily the physical night, and with the acoustic guitar and Ellie's emotion in her voice, she reminds us that 'nights' can plague us when we're not looking- the despair, hopelessness and fear we feel when something disappointing comes our way. Yet 'Night Song' is a call for God to come comfort, and hopefully will comfort ourselves too as we trek through these times (and we will go through them); while both 'Love Never Fails' and 'Love Broke Through' give us great wisdom on the subject of love, and the fact that as God is love, He'll never fail even when everyone else around us do, and that He'll continually break through the barriers of our hearts, just to tell us the simple truth of His continual and overflowing love for His creation. With piano riffs and hand clicks, Ellie recites the passage in 1st Corinthians in 'Love Never Fails', and as she lists all the qualities that love is, I am reminded that as God is love, I am comforted in the truth that God Himself '…never fails and that's a promise…' The CCM-esque nature of 'Love Broke Through', with a stirring introduction with electric guitar riffs, is a great change compared to the folksy nature of the first half of the album, as Ellie provides, with a musical backdrop worthy enough to propel the song to be played on K-Love, that '…Your love has called me out, out of my sorrow, out of my broken places, hope has been renewed, cause there in the darkness, there in the darkness, love broke through…' Some of my favourite songs ever about love, Ellie's strengths of lyrical poignancy, is certainly brought to the fore in these middle songs. Well done Ellie for such emotion and heartfelt songwriting to place this album within my top 5 albums of the year so far!
'The Only Hope I've Got' is an acoustic melody with a confession from Ellie, that sometimes she (and humanity in general) take the credit for something that God has orchestrated or had His hand in (which is everything), as we act prideful, yet fully knowing that there are some circumstances where we know we can't do it (and haven't done it) on our own. With acoustics to highlight the lyrical moments of honesty, Ellie invites to be transparent and to assert, along with her, that Jesus is the only hope that we have, rather than ourselves as we can so often think. The first song ever recorded from the album, 'The Valley' was inspired and '…written for several people in Ellie's life who struggled with depression. It's a song that came from praying Psalm 23 and 69 over these friends' lives, and it cries out, just like David did in the Psalms, for God to rescue and restore…' A moment where Ellie cries out to God to '…make me whole…'; vulnerability is encouraged on the track, where Ellie's heartfelt singing and emotion in the words of how we ought to long for God to '…come and find me in the darkest night of my soul…' Ending the album with 'Song of Deliverance', a call from a point of desperation and deliverance as we pray that God hears our cries of help and mercy, and 'I Wanna Be Free', a hymn like gospel melody that encourages us to be free and rid ourselves from the weights that we have been carrying around (but sometimes not knowing it); Ellie's end to a near perfect album is just as emotional and encouraging as the start. Well done Ellie for such a great balance between reflective and upbeat tracks, and moments of hope, encouragement and cause-to-action songs that have inspired myself in my journey with the Lord (and hopefully others who listen to the album as well)!
Overall: Ellie's first LP is something to behold. With such a moving and powerful voice, Ellie's songwriting skills is just as good as others, like Bebo Norman, Nichole Nordeman and Andrew Peterson. These 11 songs are a great gift to anyone who loves acoustic music. Over the last few years, I have become more appreciative of the acoustic genre, and Ellie's album is no exception. Each song, while not necessarily as pop or rock as many songs are on the radio, still speaks volumes of truths to us as we hear it. Ellie has certainly lived up to expectations (at least mine) that were set since she released her EP last year, and with this album and the hopeful buzz that it obtains, Ellie's popularity in both the CCM and indie markets will hopefully improve. Ellie is certain to become more respected and appreciated in months and even years to come. Well done Ellie for such a heartfelt and emotional album (one of my favourite albums of the year so far- definitely in my top ten albums when 2014 comes to a close!). Can't wait for LP album number 2 whenever it comes.
RIYL: Andrew Peterson, Audrey Assad, Nichole Nordeman, Bebo Norman
Buy the Album: iTunes/Amazon mp3