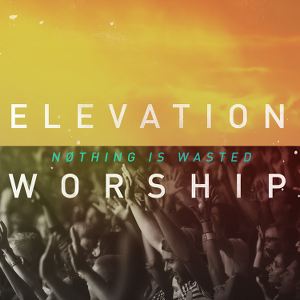 Artist: Elevation Worship
Title: Nothing is Wasted
Label: Essential Worship
Release Date: 2/19/13
Reviewer: Jonathan Andre
Tracklisting:
Great in Us
Be Lifted High
In Your Presence
Let Go
We're Not Alone
I Will Trust in You
Unchanging God
Nothing is Wasted
I Have Decided
Lift Us Out
Open Up Our Eyes
Greater
Birthing the worship movement out of Charlotte, North Carolina; we are given the latest worship effort Elevation Worship as they release their latest offering in a dual disc album Nothing is Wasted in February 2013, a collection of 12 tracks written and recorded as each of these melodies reinforce and surround a central theme of Greater, a book written by Pastor Steven Furtick about the life of the prophet Elisha, with it's message '…a call to follow Jesus as we lay our lives down to make Him greater…' As each chapter of the book corresponds to a song on the album with parallels in its message, theme and inspiration, what has resulted from translating the message of the book into song has given listeners a musical journey worthy of the album being one of my favourite live worship albums since Desperation Band's Update Live. Featuring a double disc, one album recorded on one night of live passionate worship and the other within the confines of a studio to showcase a great variety of instrumentation; we are met with two versions of the same song in the deluxe edition of an album that's destined to stand out in February 2013. With both discs creating a unique experience as we worship alongside the crowd during one session, and hear the post-production and the layers of guitars in the other; Elevation Worship's different and interesting perspective on worship music ought to be given a chance as we hear already fan favourites 'Open Up Our Eyes' and 'Nothing is Wasted' as well as a radio version of the famous hit 'Give Me Faith' (Evan Craft even covered the song on his Spanish album Yo Soy Segundo during 2012). With the worship style in a similar vein to Gateway Worship, Jesus Culture or even Hillsong, this mixture of slower-tempo and upbeat songs are certain to be sung by many Elevation Worship enthusiasts, with a few of them hopefully making their way into churches later on during the year.
With both 'Nothing is Wasted' and 'Open Up Our Eyes' featured on the Nothing is Wasted EP released in December 2012, the familiarity of both these songs anchor the double-disc twelve-song-a-cd album as each song highlights how nothing in our lives happen to the point of it being unrestorable, and that our prayer to Christ is to ask Him to use whatever means necessary for us to understand His intentions to use (not cause) everything to occur and happen for our good and for His glory. As we declare the words to God in 'Open Up Our Eyes', how we want Him to '…open up our eyes, surround us with Your light…Your love endures forever…', we are met with a humble anthem that gives us resolve, longing, hope and peace in that in everything that we do, God is continuously wanting our eyes and ears to be open and receptive to the love being poured out and lavished over us each and every day. The bridge is the most poignant with the words '…our God is fighting for us always…' giving us hope that even in our darkest moments, we have at least one advocate in our corner even if the rest of our family and friends desert our side. 'Nothing is Wasted' also showcases enthusiasm and passion, both in the live and studio setting as we are given the lines '…there is nothing in my life You cannot revive…' and a moment of hope and faith put into action as we believe into the fact that our God makes the impossible possible. The title of the song also gives clarity as we understand that everything we do matters, and that everything is used for our benefit as we continue to grow more Christ-like. With these two songs (as well as the radio version of 'Give Me Faith' on the deluxe edition of the album), Elevation Worship promote the album in right fashion, as both 'Open Up Our Eyes' and 'Nothing is Wasted' are some of my favourite songs on the album. Well done guys for these hopeful melodies destined to become fan favourites in months to come.
As each of the twelve songs on the live and studio counterparts were based upon one single theme solidified and expanded upon in Steven Furtick's Greater, it's only understandable and expected that each of the melodies carry a similar theme of lifting Christ up and elevating Him to the place He deserves and is worthy of. As we declare Him worthy and ourselves in need of Him everyday, our pride is replaced by humility as we continue to bask in His glory for us. 'Be Lifted High' starts off with a light electric guitar riff in the live version and an electronic baseline in the studio version as we are shown surrender in its purest form- the laying down of ourselves as we all declare '…You become greater, I become less…You be lifted higher, I belong to You, I am nothing without You…' One of the most honest and heartfelt worship songs of the year so far; 'Be Lifted High' places our passion and purpose of giving Christ everything at the front and centre as we reflect upon God's sacrifice for us and thus respond with nothing less than reverence, honour, worship and adoration. 'I Have Decided' is a piano focused rendition of a famous classic from many years ago, and as the band places their own twist on the hymn, we are shown how the timeless melody can be sung even as a modern anthem. The resounding words of '…I will give to You my everything, all I am and all I have to bring…' creates a great bridge of surrender, a theme that runs throughout both discs. Both 'Greater' and 'Great in Us' show us God's great power and love within every situation, each song showcasing the exaltation of God and providing us hope that '…through the power of Your cross, Your love is great in us…' ('Great in Us'). The duet between Elevation Worship and Israel Houghton on the live version of 'Greater' is a fantastic moment, with Israel singing with great passion and enthusiasm that you could almost mistake Israel for writing the track. The poignancy of this live version and heartfelt emotion carried with Israel and the crowd is unimaginably powerful, and while the studio version offers us a great electronic rendition, something just feels better when you're listening to a live track and hearing all voices joining as one proclaiming that '…all the earth is singing "God you are greater" You are, you are…' ('Greater').
'Unchanging God' presents to us God's faithfulness in the midst of our circumstances as we are given this piano prominent anthem and a powerful and resounding bridge that declares that '…oceans will rise, kingdoms will fall but the word of the Lord stands forever, the sun will start to fade, the world will pass away but the word of the Lord stands forever…' With worship leader London Gatch (previously on American Idol during 2008) sounding strikingly similar vocally to worship leaders Kari Jobe and Meredith Andrews, her passion is evident in the live version as we are presented with one of my favourite songs on the album! With a great technique by Elevation Worship being to have different singers in both the live and studio versions of the same song, what doesn't change is the passion shown through the heartfelt music. While the studio versions show to us an electronic atmosphere through the worship; it is the live album that really captures the anthems, and brings the themes of giving everything to God to life. 'We're Not Alone' reminds us of God's promises to us that He will always be with us in every circumstance, while 'Let Go' showcases a grunging electric guitar and a mesmerising piano riff as we hear worship leader Wade Joye on the live track declare that it is because of Christ's sacrifice that we can leave everything behind and follow Him, surrendering everything in the name of Jesus. 'I Will Trust in You' gives us an anthem of trust with worship leader Chris Brown; while we are shown a powerful moment of realisation that there is no condemnation in the presence of Christ, but rather healing, hope, freedom, mercy and power. Again sung by Chris Brown in the live version; we are shown a vast difference in all these melodies when it comes to both discs. Well done Chris for these powerful melodies that remind us of our freedom and security in Christ!
Overall: Depending on whether you enjoy live tracks or studio tracks better; Elevation Worship have given us both, each being presented with such thought, ingeniousness and poignancy that each disc can stand on its own if it needs to, without being compared to the other. Regardless of the differences between the versions (crowds, electronic base in the studio tracks, different singers) – each of the songs convey the central theme of God being elevated above all else. While the band may not be as famous, popular or well known as others like Jesus Culture, Passion or Bethel, Steven Furtick's worship movement in North Carolina is slowly becoming noticed for its heartfelt worship. Though the whole album is based upon one central theme of lifting Jesus up, greater than anything else (which many may see as just a way to provide songs with similar themes instead of branching out and writing other thematically different melodies); it is still a powerful album full of tracks that will certainly minister to listeners, regardless of whether you listen to worship music much or not. From the heartfelt 'Open Up Our Eyes' to the electronically infused 'Be Lifted High', Nothing is Wasted invites us into a worship session that tells a story of a God that uses everything in our lives to exalt Himself up and to bring us into the never-ending story of God and create something beautiful and great from a life that would otherwise be wandering without Christ. Well done Chris Brown, London Gatch and the other worship leaders on the Elevation Worship team for an album well done!
RIYL: Bethel Music, Jesus Culture, Passion, Planetshakers
Buy the Album: iTunes/Amazon mp3