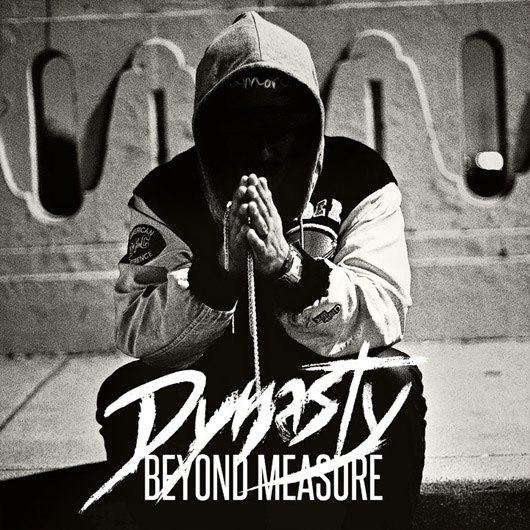 Artist: Dynasty
Album: Beyond Measure
Label: Facedown Records
Release Date: 01/22/13
Reviewer: Lee Brown
Tracklisting: 
Word is Born
Brick by Brick
Rise to Victory (Feat. Jesse Barnett and Tommy Green)
Omni-Death
Hard Pressed (Feat. Roger Miret)
Beyond Measure
Savage Mind (Feat. Martin Stewart)
Undefeated
Death Solution
Burn in Me
Explicit Method
Get Live (Feat. Inspectah Deck)
Dynasty is hardcore. Consider that your soundbite. If you were to look up HXC in the dictionary, Dynasty's picture would belong there and this album would serve as the definition. There are no adjectives that need to be added to what type of hardcore Beyond Measure is, either. This is not melodic hardcore, grindcore, post-hardcore, spirit-filled hardcore, nor metalcore. This is just in your face, straight forward HXC rising up out of Southern California.
Beyond Measure is brutally powerful. Dynasty brings a solid set of tracks to the table that are aggressive and intelligently laid out. If you grew up listening to No Innocent Victim like I did, there have been only a handful of artists who have since taken up their mantle. Dynasty would certainly have a shot at that title, if only they gave the world just a little longer to simmer in their sound.
The reader should know that the album is beautifully brutal, but also just as brutally short. The mean average song length sits under 2:00 on this album with one track ("Brick by Brick") actually clocking in at a minuscule :54, which is almost a full minute less than the interestingly awesome, yet completely wordless intro track. Still, this abruptness and brevity seems to fit the feel the band is going for, at the same time. Just know that with some tracks, they'll be over just as you're really getting into them. For some, this will be annoying at best. Others will revel in the idea that dynamite comes in small packages.
In terms of the flow of the songs, many eschew the standard opening-prechorus-chorus-closing format. Several really don't have a "chorus" section at all. They're just exactly what I said above, brutal and to the point. They are also consistent throughout. Dynasty's part of their songs (there are quite a few guests sharing the twenty-five minute or so album duration) have a similar sound that changes slightly with the tempo of each track. Variety comes in the form of the guest appearances on the album, which are wide and varied at first glance. Lending their vocal talents to the album are former Wu-Tang Clan rapper Inspectah Deck, Martin Steward of Terror, Tommy Green of Sleeping Giant, Roger Miret of Agnostic Front, and Jesse Burnett of Stick to Your Guns.
Beyond Measure opens with a nice little instrumental track that is set apart by the sound of chains rhythmically hitting the floor while the band plays an engaging and industrial western (as in Wyatt Earp) meets hardcore piece. Following the somber final refrain of "Word is Born," "Brick by Brick" bursts in with a blink-and-you'll-miss-it excursion that covers the idea of being "out of step with this world" and building God's glory brick by brick.
"Rise to Victory" increases the brutal brevity with a track that seeks the truth and life found in Christ. The line "hope for the hopeless, peace to the restless. Rise to your feet," sung out by Tommy from Sleeping Giant is the main thrust and center for this track. "Rise to Victory" is a great song, however it would have been great (especially considering the two amazing guests on this track) to get to spend a little more time with this song.
"Omni-Death" speaks to the "chaos and mass hysteria" of the world we live in today. It reaffirms the idea that though the natural world is vacant and bereft of hope where everyone will die in their misery, there is hope to be found in Christ. "Omni-death" is a little more musically versatile than the tracks preceding it, and the chant "no one gets out alive" at the end of the track provide a nice anchor.
"Hard Pressed" continues the overarching pattern of being brutal and straight-forward, however there is a really wicked guitar lick sitting behind the music that becomes quite addictive. If I'm not wrong, there is also a very fleeting moment where a sitar plays something quite incredible. I only wish that moment happened more than once on the song. Then again, its ephemeral nature makes you want to go back again for more.
"Beyond Measure," the longest track on the album at 3:27, begins by showing off just how deeply gifted the band is with just under forty seconds of musical obliteration before the vocal obliteration ensues. In terms of mixing, "Beyond Measure" places the drums front and center, with the guitars and vocals just behind them. While it doesn't overly mar the track, I would have liked to see the vocals stand out a little more. This slight issue comes up on other tracks, as well, though not quite as prominently. The main vocals also get placed behind some fantastic and hypnotic "aahhh" vocals later in the song that close the song out with a really beautiful touch.
On "Savage Mind" the inclusion of Martin Stewart from Terror brings some of the aforementioned variety, with the whole track reminding me of some early Snuff the Punk era P.O.D. Where some of the other guest vocals on the album can mix seamlessly with Joel's, Martin Stewarts contrast in a very pleasing manner. As I listened through the album, this track kept sticking out due to the solid musicianship and the interplay of the vocals.
"Undefeated" is a solid anthemic track with a message of finding victory only through Christ's death. In terms of the Dynasty only (no guests) tracks, "Undefeated" is certainly my favorite. "Death Solution" follows and is possibly the heaviest fare on the album. The message "everybody dies" follows that of "Omni-death," but is more straightforward with the "solution" as Dynasty screams, "Our solution laid it at the cross."
"Burn in Me" continues the brutal onslaught with the recurring and mainstay message of all Christian hardcore; Christ burning in us. While it is unfair to compare execution of messages, I would have loved to have seen Dynasty tap into a little more of what For Today did with "Seraphim." The message is there and the track is solid, but there was just so much untapped potential on this track.
With "Explicit Method," however, brings that potential to full realization. This is one of the better tracks on the album due to the overwhelming So Cal hardcore execution from start to finish. Unlike my complaint on previous tracks, the vocals are mixed in much better and that allows the strong message to shine. With a chant of "arise," Dynasty takes "Explicit Method" out in grand fashion.
In terms of variety, "Get Live" stands out more than any. Joel opens up with some Cali rap/hardcore which is quickly eclipsed by Inspectah Deck's own hip-hop style. As before, this track feels very much in line with Snuff the Punk era P.O.D., especially with how the Inspectah flows over the guitars. Following Joel's quoting of the Beastie Boys ("mmmm drop"), the track closes with a skillful musical outro. Then, just that fast the experience is over.
Overall: Dynasty has graduated from Strike First up to Facedown with Beyond Measure. From start to finish, the album is filled with brutality that is skillfully executed and bleeds deeply with the band's So Cal style. Unfortunately, just as you're really getting entrenched in any particular song, they're at their end. This is unfortunate, because Dynasty really has something to offer. I just wish they offered up more of it. Putting its brevity aside, Beyond Measure has some solid musicianship and some fantastic guest appearances. One can only hope we get a little longer to marinate in what Dynasty serves up for their next foray.
RIYL: Stick to Your Guns, No Innocent Victim, P.O.D. (early early albums), The Rugged Spud