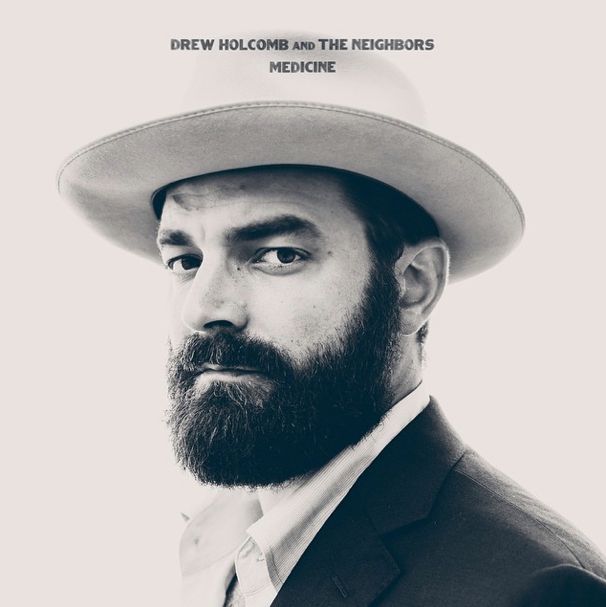 Artist: Drew Holcomb And The Neighbors
Title: Medicine
Label: Magnolia Music
Release Date: 01/27/2015
Reviewer: Anthony Peronto
Tracklisting:
American Beauty
Tightrope
Here We Go
Shine Like Lightning
Avalanche
Heartbreak
You'll Always Be My Girl
Sisters Brothers
The Last Thing We Do
Ain't Nobody Got It Easy
I've Got You
When It's All Said And Done
Nothing says America quite like apple pie, Nascar, and good ol' Americana music. But like a homemade apple pie or that "one" lap of a Nascar race that's different from the other 199, good Americana music is hard to find. It's like The Stranger said, "I guess that's the way the whole durned human comedy keeps perpetuatin' itself." Enter Tennessee-based Drew Holcomb & The Neighbors. With their critically acclaimed Good Light, the band reached the height of their sound. And like "the wine we drink," that sound has now aged into a more satisfying experience with their aptly titled Medicine.
Today's top musicians, with their committee of writers and producers, can go their entire careers without making something so beautifully simple as "American Beauty." With Holcomb's voice and guitar, the album begins on an optimistic tone with a touch of melancholy. In fact, nearly every song strikes that tone in some way or another. That's not to say it's a dour record, as the simile-heavy "Tightrope," feel-good "Here We Go," and Petty-influenced "Shine Like Lightning" prove after the standout opener. Things then slow down with the laid-back "Avalanche" and introspective "Heartbreak," but this calm middle section of the album culminates in the acoustic-waltz "You'll Always Be My Girl." A spiritual cousin to "American Beauty," the song's simple arrangement and Holcomb's soaring voice perfectly capture the ups, downs, and promises of a relationship with lyrics such as:
"When the harvest is plenty and it feels like it should, and the fruit is ripe on the vine/ But then the rain falls and the flood comes and it feels like the end of the line."
Giving Needtobreathe a run for their money, "Sisters Brothers" show Holcomb & Co. in rousing gospel mode as they advocate love and unity. The Tom petty-esque "The Last Thing We Do" soon follows, detailing the perseverance that comes with life's memories and journeys. The most out-of-place song on the album would be the bittersweet folk song "Ain't Nobody Got It Easy," if only because it's followed by the delightful and whistle-heavy "I've Got You" and inspiring closer "When It's All Said And Done."
Overall: It may not have the broad appeal of Good Light, but Drew Holcomb and The Neighbors have created their best album to date. Continuing their union of melancholy and redemption (not in the overtly-spiritual sense, that can be found on Mrs. Holcomb's solo work), the album is consistent from start to finish. Blending the traditional singer-songwriter template with contemporary sensibilities, it may be a modern classic (the album cover is a clear indication). So if you're sick of today's mainstream music, Medicine is the perfect remedy.
RIYL: Bruce Springsteen, Tom Petty & The Heartbreakers, Bob Dylan, Tom Waits, Neil Young