Album Review :
Destroy Nate Allen - With Our Powers Combined
By Fallon Braddy in Reviews | Comments closed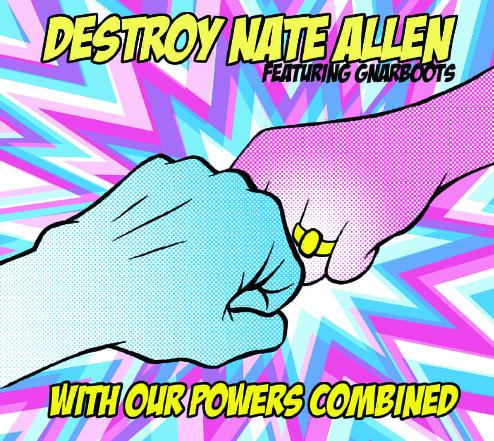 Band: Destroy Nate Allen
Title: With Our Powers Combined
Label: High Endurance Records
Release Date: 6/5/12
Reviewer: Fallon Braddy
Tracklisting:
Waking Up Is Hard To Do
Emergency
Chick Flick
We Talk Occasionally On The Internet
Our First Apartment (Ghetto)
Boobie Bar
Long Weekend Blues
Distracted Nate-O-Bot
El Diablo Tacos Are The Best
Hospital
I Need To Know
We're Gonna Make It
Almost Out Of Texas
Vegetables
Great Idea
Nate Allen and I have talked occasionally on the internet since I saw Destroy Nate Allen play at a house in June 2011, and since then my entire attitude and philosophy toward musicianship and showmanship, as well as total interactivity within the various music scenes, has been molded into something wonderful. My best way of communicating this to you would be by comparing my experience seeing The Almost with seeing Destroy Nate Allen. The Almost was essentially an Aaron Gillespie droolfest, his main crowd interaction being some "guitar moves" and telling everyone to lift their hands in the air, which was incredibly awkward and lacking a single genuine feeling (at least from my perspective). Nate and Tessa Allen played in a circle of people they had previously conversed and extended their cheery and excited demeanors with, encouraging the crowd to fully be a part of the experience by singing in their faces, dancing, sweating, and enjoying themselves and each other. It's clear from which experience I walked away enthralled and inspired by. Being at this point in time, conveying my few, yet precious, experiences with the duo to you, I know full and well that I have a few degrees of bias in this review that would contribute to a positive score. But with this in mind, I can honestly say that With Our Powers Combined is an experience that puts long-time fans and brand new listeners on the same boat; consider this album Destroy Nate Allen's awesome alter-ego.
Folk with a punk edge and a light heart is what DNA has always garnered in terms of a reputation. Now, with the help of Asian Man Record's Gnarboots, they've been been amped up with a full band, bringing in swigs of eclectic punk, skank-worthy ska, good 'ol rock n' roll, and more. Their transition from acoustic to electric suits their unique musical personalities entirely, only amplifying the levels of fun known before. The guys in Gnarboots keep things versatile with roaring background vocals (their inclusion in "Distracted Nate-O-Bot" adds a level of excitement and emotion nearly unparalleled on the entire album), blaring horns, a stellar-sounding organ (my personal favorite addition), an electric bass walking up and down the fret board, a drummer that grooves and places fills in all the right spots, and a couple other instruments that give the album a stimulating, energetic consistency. The creative collaboration between the married duo and Gnarboots produced a musical maturity that supersedes the 3 to 4 chord progressions DNA's familiarized themselves with over their 6 year span (they still keep it punk with the song lengths, with only one song breaching the  3-minute mark). We get one song that sticks to their traditional style, "Long Weekend Blues", as well as another song that slows the party down, unexpectedly wells up the eyes, and keeps the record balanced, "I Need to Know". Besides those elements of balance, the rest of the tracks want nothing else but to get you off your seat and on your feet.
Charisma and down-to-earth character are abundant throughout all fifteen tracks, every song worthy of a sing-a-long, from the memorable verses to the catchy choruses. Nate and Tessa will take on vocal duties as individuals, playing off of one another, or sharing the duty with yells, screams, and harmonies. Nate shares the primary vocal duties with Tessa more than ever before, which makes well for the high-energy she's known to portray. Tessa's strengths lie in yell-talk-sing fashion, which keeps the atmosphere fun and relatable, but will prove unsavory to audiophiles who cringe at anything that may jump out of tune, which she does. Nate's voice is tonally pleasing and pretty tame when he's not throwing in a little folk-punk style goat-like vibrato, but the Allen's aren't here to impress you vocally, and it is in that very fact that you can find their music a bit more relatable and see into their characters.
With such a casual approach to their eccentric method of vocabulary delivery, you can equally expect that light-hearted simplicity throughout word choice and topical diversity. You have songs like "Boobie Bar", simply singing for the respect of the female body, which adds a touch of quirky irony from first impressions I'm sure you gathered from merely reading the song title. There's other songs that approach ideological grounds with well-intended simplicity, such as resisting temptation and the devil's influence in "El Diablo Tacos are the Best" and their values of friendship in "We Talk Occasionally on the Internet", but other songs are humbling stories or encouraging coffee drinkers like Nate to double up on their vegetables. While the sing-a-long style is almost a guaranteed initial fun factor, if you listen to these songs too frequently within a short period of time they are prone to fade from interest to irritation, but it comes with the style.
Overall: With Our Powers Combined has heart, energy, charisma, and lovable personality. Destroy Nate Allen's alliance with talented the Gnarboots as the married couple's backing band was a complete success, ensuring that DNA's traditional upbeat folk-punk sound would transform to a ska/rock n' roll party a hundred times more exciting and approachable than their previous efforts. Half-an-hour of these fun tunes make you wish the party was a bit longer, but that won't stop you from giving the CD multiple spins, each one drawing the duo closer to your heart. But we live in a digital download age, so grab the album on their Bandcamp (for free, if you'd like) and get listening! With Our Powers Combined's is an auditory glimpse into Destroy Nate Allen's desire to pound on and break that fourth wall.
RIYL: The Aquabats, Insomniac Folklore, Andrew Jackson Jihad, Self Proclaimed Narcissist