Album Review :
Derek Webb - I Was Wrong, I'm Sorry & I Love You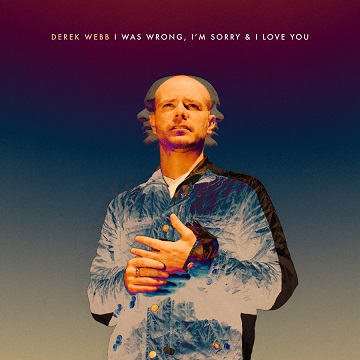 Artist: Derek Webb
Title: I Was Wrong, I'm Sorry & I Love You
Label: Fair Trade Services
Release Date: 9/3/13
Reviewer: Ian Zandi
Tracklisting:
I Was Wrong, I'm Sorry & I Love You
Eye of the Hurricane
Lover Part 3
Closer Than You Think
Heavy
Everything Will Change
I Measure the Days (Simplified Anglican Chant)
A Place At Your Table
Nothing But Love
The Vow
Your Heart Breaks In All The Right Places
Thy Will Be Done
Being an off-and-on member of the CCM band Caedmon's Call since 1993, releasing 7 albums under his own solo name, and running the free and legal music distribution site Noisetrade, Derek Webb has been in the music scene for quite a while now. Back in 2003, he released a controversial folksy solo album by the name of She Must and Shall Go Free. Now at the 10th anniversary of its release, Derek Webb has put forth all of his musical knowledge to create a follow-up album to SMSGF. He has formed the masterpiece entitled I Was Wrong, I'm Sorry & I Love You.
Named to stand for the top 3 things that can be said to fix a broken relationship, this new release seems to be directed from Webb to the Church (much like he did with She Must…). Over the course of a decade, Derek has had time to grow musically, emotionally and lyrically. This is all very apparent on I Was Wrong… . If SMSGF was a movie, then IWWISILY would be the sequel of that movie for this generation. Clearly describing different albums in his discography (From the start of Caedmon's Call to present), Webb takes a unique approach in his apology in the title track.
"It's been 20 years since I rose & cleared my throat/
It's been 10 years since I stood outside the church/    
It's been 9 years since the ground became the sky/
It's been 8 years since I found an alibi/
It's been 6 years since the dogs picked up the game/
It's been 4 years since I learned to love the pain/
It's been 1 year since I stole life from the grave/
And over all these years, just three things I've tried to say/
I was wrong/'m sorry/And I love you"
While She Must and Shall Go Free was an acoustic folk album, I Was Wrong, I'm Sorry & I Love You is a mix of all of Derek Webb's musical endeavors to date. The album starts off with a indie pop-rock influence that sounds very much like Heath McNease's The Weight of Glory albums. This comparison makes total sense because the Glory albums were both released for free via Webb's Noisetrade website (Derek himself is featured as a guest on one of the tracks). After, the catchy opening songs such as the title track, "Closer Than You Think" and "Eye of the Hurricane", the indie rock fades into the slower end of the album.
One of the mid-tempo songs, Lover Part 3, is the final piece to a trilogy of songs that has been in the works for over a decade. Being a happy accident, Derek Webb describes the story…
"I didn't realized until after I had written and recorded 'Lover Part 3′ for the new album that each one of these songs represents one member of the Trinity. 'Lover,' from my first album, was clearly about Jesus, important moments of his story and life. 'Lover Part 2,' from my second album, was very abstract & mysterious, heavier on the poetic side for me, and remained a bit of a mystery even to me until i wrote 'Lover Part 3' for the new album. And that's when I realized the heavy connection of 'Lover Part 2' to the spirit. That's what it clearly represents to me.
And at that same moment I was realizing that 'Lover Part 3' is clearly about the father. So I unintentionally wrote three songs about the three members of the Trinity, all called 'Lover' over 10 years.
And just realized it a few weeks ago."
Another highlight aside from the concluding "Lover Part 3" are the promising lyrics included on the kickback Caribbean-ish song "The Vow" Oh, I can't see the day after tomorrow/I don't know the future, even still/I don't promise 'cause I know I'll always love you/I make my vow to guarantee I will". Other noticeable points worth mentioning include the light riff on "Eye of the Hurricane", the escalating melody on "Heavy", and a possible influence from The Doors on the song "Closer Than You Think".
Overall: Taking on a fresh perspective on some of his previous topics, Derek Webb is at the top of his game. Having preformed all of the instruments on the album by himself, he has also proven himself a force to be reckoned with musically and lyrically. I frankly think that Mr. Webb is often regarded as "that one guy who uses cuss words in his Jesus songs". Let's try and throw those preconceived notions behind us. Derek Webb is an artist whose work is under-appreciated.
RIYL: Heath McNease, Caedmon's Call, The Doors, Jon Foreman
Added Bonus: A stream of the album is available on Relevant Magazine's The Drop. All 3 parts of the "Lover" trilogy can be downloaded for free as an EP on Noisetrade for a limited time.